For The Love Of StoriesBig Finish produce fantastic full-cast audio dramas for CD and download.
Torchwood One - Before The Fall
19 January 2017
Out today - a thrilling boxed set which goes to London to find out how things are done by Torchwood One...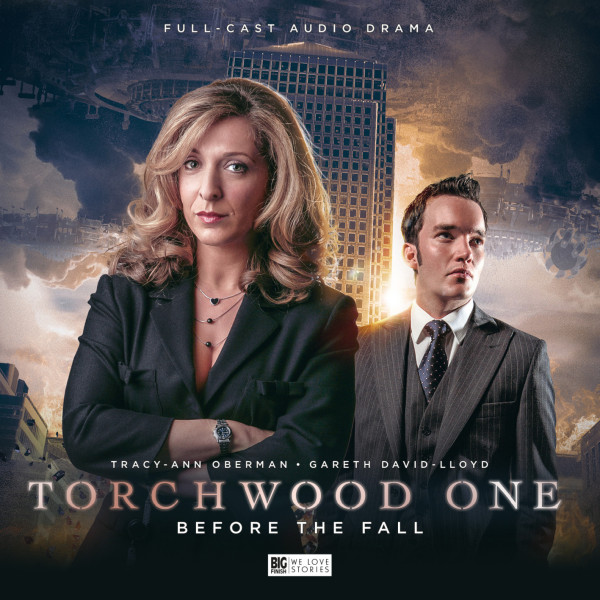 When the Tenth Doctor crossed paths with Torchwood in Army of Ghosts and Doomsday, he found a tight, efficient team with a tough "if it's alien, it's ours" philosophy. Today's Big Finish release Torchwood One - Before the Fall goes to the Canary Wharf HQ a little earlier than those apocalyptic events, to find Yvonne Hartman's team and business as usual - when their business is anything but the usual...
New Girl by Joseph Lidster
It's Rachel Allan's first day at Torchwood. Torchwood only takes the brightest and the best – and Rachel's wondering if Yvonne Hartman's made a terrible mistake in picking her.
Plunged into a world of alien invasions and office politics, Rachel's desperate to fit in. For one thing, she really wants this job. And, for another, she knows what happens at Torchwood if you fail.
Through The Ruins by Jenny T Colgan
Away Days at Torchwood aren't what you'd expect. Yes, there's the forced camaraderie, the team-building exercises, and the chance for long-held rivalries to boil over. But Torchwood Away Days also have the potential to get very lethal very quickly.
Yvonne Hartman's extremely worried by this year's Away Day. But she's got other things on her mind – something's very wrong with Torchwood.
Uprising by Matt Fitton
Torchwood has experienced some radical changes, but things are finally settling down. Everyone has pulled together and is trying to put the past behind them.
Well, except for Yvonne Hartman – she's out to win the future. There's one problem. Someone seems to have started an interstellar war. Someone who knows Torchwood from the inside out.
Torchwood One - Before The Fall is directed by Barnaby Edwards, written by Joseph Lidster, Jenny T Colgan and Matt Fitton and stars Tracy-Ann Oberman, Gareth David-Lloyd, Sophie Winkleman and Gerard McCarthy. It 's currently available at (a frozen pre-release price of) £15 on Download and £20 for the 3-CD set, becoming £20 and £25 respectively when on general release at the end of March.
Any CD purchase unlocks instant access to a digital version as a Big Finish exclusive, so there's no reason not to be listening within minutes of buying. The free Big Finish app on iOS and Android platforms makes this even easier!
Investigate Big Finish's entire Torchwood range here, with the next release due in March: Torchwood - Visiting Hours: