For The Love Of StoriesBig Finish produce fantastic full-cast audio dramas for CD and download.
21 August 2019
In possibly the most emotional Torchwood release to date, Owen Harper and PC Andy Davidson explore the darkest case in Torchwood history. Torchwood: The Hope is out today.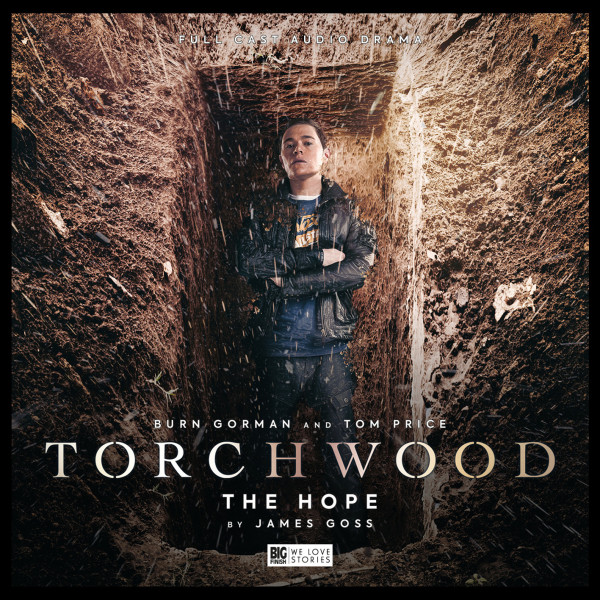 Dame Siân Phillips stars alongside Burn Gorman and Tom Price in this new Torchwood story.
Megwyn Jones is one of the most hated women in Britain. She used to run a home for troubled children in an isolated part of Snowdonia called The Hope. For a long time there were rumours about what was happening there, and then one day it was realised that the children had gone missing. Ever since, Megwyn's kept her peace. Is she innocent? Is she guilty? Where are the bodies?
The years have been long and hard on Megwyn and on the families of the children. But now Megwyn's dying, and she's agreed to go back to The Hope, to reveal the horrible secret she's kept all these years.
Director Scott Handcock told us more about having Welsh acting royalty in this release: "Torchwood is such an unashamedly Welsh series, and Dame Siân Phillips is a national icon and acting powerhouse. It's been a dream of mine for a long while to bring the two together and it was just a matter of waiting for the perfect role to come along… The Hope offered just that role.
"It's a chilling script, and Siân's performance as Megwyn Jones is perfectly judged. Everything in this story happens because of her, and she's a fantastic foil for the rest of our cast as a result, with everyone bringing their A-game."
Torchwood: The Hope is available now priced at £9.99 on CD or £7.99 on download. Don't forget that all CD purchases unlock a download option via the Big Finish app or the Big Finish website.
You can buy and/or pre-order the Torchwood Monthly Range individually, or why not save money with a Torchwood bundle. A six-release bundle is £50 on CD or £45 on download, and you can save even more money by ordering all 12 Torchwood Monthly Range releases coming out in 2019 and 2020 for £90 on CD or £84 on download.
Please note that Torchwood contains adult material and may not be suitable for younger listeners.
Coming next in the Torchwood monthly range, we bury one of Torchwood's finest and find out who joined Torchwood before Toshiko in Torchwood: The Vigil.
Sebastian Vaughan is the brightest, newest recruit to Torchwood. He's come from a very good family, an excellent school, and with a degree from the finest college. He's the kind of person bred for Torchwood.
Sebastian Vaughan is exactly the person Torchwood needs. He's charming, he's smart, and he's good in a fight. He's taken Torchwood's other new recruit under his wing. With his help, Toshiko Sato will make something of herself and fit in at Torchwood.
Sebastian Vaughan is dead. Toshiko Sato's been given permission to bring his body home to give him the send-off he deserves. How will Torchwood cope without him?
PLUS, we return to Torchwood One in Latter Days, also out in September. Torchwood One continue to save the world – and most importantly, the Empire – from alien threats. And we also meet Yvonne Hartman's mother!
3.1 Retirement Plan by Gareth David-Lloyd
Torchwood's Head of Alien Acquisitions is retiring. But there's something very wrong in the idyll of El Cielo. And it's going to kill Ianto.
3.2. Locker 15 by Matt Fitton
A mysterious force is wiping out Torchwood, and the only person who can save London is a cleaner called Dave.
3.3 The Rockery by Tim Foley
Anne Hartman has retired to the country, which comes as a surprise to her daughter. Has Yvonne met a problem even she can't solve?