For The Love Of StoriesBig Finish produce fantastic full-cast audio dramas for CD and download.
Twelfth Doctor at Big Finish!
28 February 2019
It's a big day at Big Finish as the first story from the Twelfth Doctor's era is released. The Astrea Conspiracy, part of the Doctor Who Short Trips monthly range, is narrated by Neve McIntosh (Madame Vastra of the Paternoster Gang).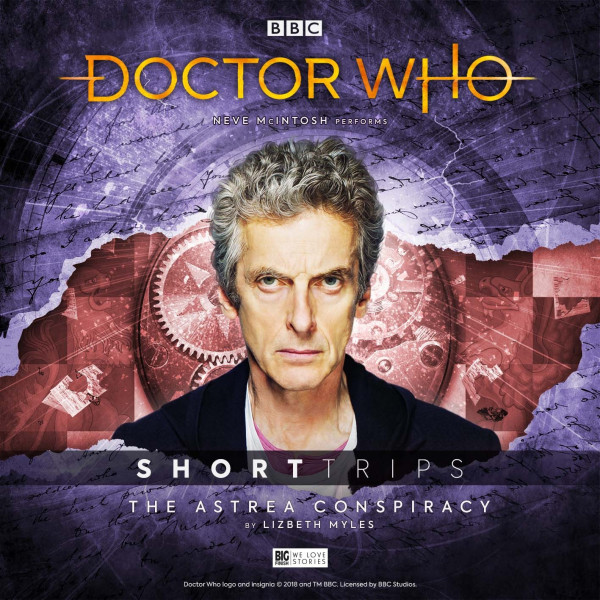 Doctor Who – The Astrea Conspiracy is out now. Featuring the Twelfth Doctor, you can get the latest Doctor Who Short Trip for just £2.99 on download, exclusive to Big Finish.
The conspirators sit in Antwerp, plotting to kill King Charles the Second. Aphra Behn's mission is simple, get former lover William Scot to turn against his treasonous comrades. But her money is running out and the complications don't stop there. A strange Scottish man arrives at her inn with troubling news.
William Scot is out and the Doctor is in.
Writer, Lizbeth Myles, told us in December's Vortex magazine if she was daunted by writing Big Finish's first story with Peter Capaldi's incarnation: "It'd have been scary if I'd known while I was writing it. But I didn't. Knowing now I'm delighted and only a little bit scared!"
Summing up the story, she teased: "The Doctor helps out Aphra Behn while she's spying for Charles II. She does not want his help. It's a sort of historical screwball comedy... I'm honoured to have been given the chance to write for one of my most beloved Doctors, and it's tremendously exciting that it's also Big Finish's first Twelfth Doctor story."
Alfie Shaw, producer of the Short Trips range, added: "We couldn't ask for a stronger opening adventure for him (the Twelfth Doctor). It came as a real surprise to me that an Aphra Behn historical story had never been done before."
The Astrea Conspiracy is available now for £2.99 on download (only) from Big Finish. Or you can save money with a bundle of the Short Trips range and get the 12 stories from series 9 for just £30 a year.
Coming next in the Short Trips range the Seventh Doctor plays a most deadly game… Doctors and Dragons is written by Short Trips producer Alfie Shaw.
Reya always knew she was different. Only she could see the numbers that govern the universe. When her sister is poisoned, Reya quests for the only substance that can save her. The blood of the last dragon. The only thing that stands in her way is a strange little man called the Doctor. He's refusing to let her kill the dragon, even though it will save her sister.
Defeat the Doctor, kill the dragon, save her sister. What could be simpler?