For The Love Of StoriesBig Finish produce fantastic full-cast audio dramas for CD and download.
Two Monks A-Meddling for Missy!
6 July 2021
Missy's in double trouble in her third box set of full cast audio adventures, due for release in September 2021 from Big Finish Productions.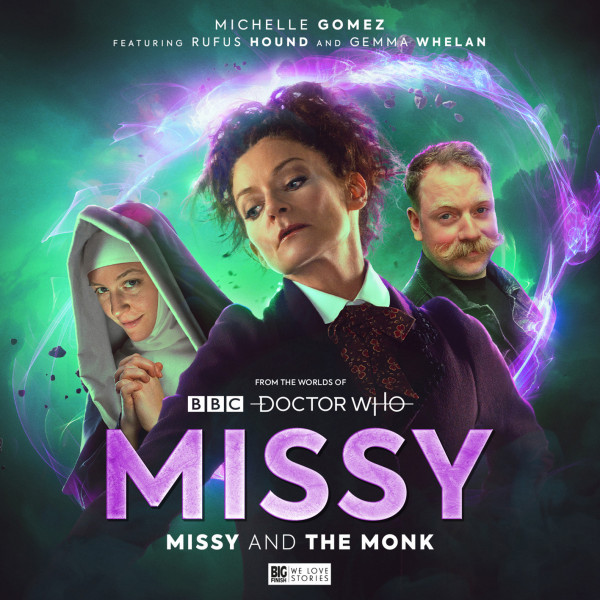 Further story details and cast are today revealed for Missy and the Monk, as this trio of brand-new stories finds Missy (Michelle Gomez) and her reluctant companion the Monk (Rufus Hound) causing mayhem across the galaxies.
And in the third tale, fresh from her mischief-making in Dalek Universe, Gemma Whelan makes her return as fan-favorite, the Meddling Nun, running headlong into Missy and the Monk in sixteenth century Italy...
Missy and the Monk is available to pre-order as a collector's edition box set (on CD for just £24.99) or a digital download (for just £19.99), exclusively here.
Missy… no longer alone, unleashed and unfettered! She's stuck with a Meddling Monk, in a TARDIS that won't fly without both pilots.
It's a partnership neither one wants – the Monk thinks Missy wants him dead. Whereas, Missy thinks the Monk is annoying. And wants him dead.
The two Time Lords must learn to live together, or die trying…
Body and Soulless by James Goss
Stuck with a co-pilot, Missy has taken extreme measures. After all, she only needs the Monk's brain to fly his TARDIS. But when Missy and the bodiless Monk end up on different sides of a planetary war, they may need one another to survive…
War Seed by Johnny Candon
Missy takes the Monk to Earth to make a point – she can be nice if she wants. In fact, she can save the planet! While the Monk tries to charm the corporate sharks, Missy makes them a better offer. To supply the ultimate warrior, created in the ultimate war…
Two Monks, One Mistress by James Kettle
On the trail of some weapons-grade plutonium, Missy and the Monk visit Renaissance Italy and the house of an elderly Borgia. But someone else is en route to the Tuscan villa with designs on the old man's treasures. Someone the Monk will soon know very well…
Gemma Whelan said: "I was just thrilled by the reaction to the Nun in Dalek Universe – it's so nice to hear that people are enjoying our recordings. The scripts are so brilliant and the way she's written is so informative as to how I play the character, so it's a great team effort.
"Bringing her back in Missy and the Monk has been enormous fun because I loved playing her so much last time – she's such a great character to put all sorts of lovely inflection into, and she can get away with anything. I really have relished bringing her back."
Missy and the Monk is available to pre-order as a collector's edition box set (on CD for just £24.99) or a digital download (for just £19.99), exclusively here.
Please note that Big Finish is currently operating a digital-first release schedule. The mail-out of collector's edition CDs and limited edition vinyl LPs may be delayed due to factors beyond our control, but all purchases of this release unlock a digital copy that can be immediately downloaded or played on the Big Finish app from the release date.