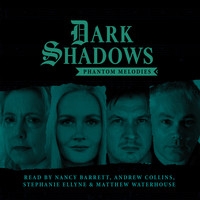 Starring Matthew Waterhouse, Andrew Collins, Nancy Barrett, Stephanie Ellyne
"I urge you all to turn the lights down, turn the volume up and lose yourself for a couple of hours in the worlds of Dark Shadows and experience...
Out now!
Other recent releases

Starring David Selby
Out now!

Starring Kathryn Leigh Scott, Jerry Lacy, Lara Parker & Marie Wallace
Out now!