3. The War Master: Rage of the Time Lords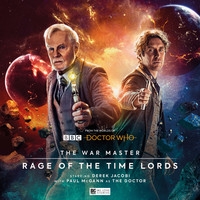 Out in July


Prices
Pre-order CD
US $29.65
Pre-order Digital
US $20.00

Web Special Price!


Synopsis
Four new stories featuring the Master's exploits in the Time War…
1. The Survivor by Tim Foley
2. The Coney Island Chameleon by David Llewellyn
3. The Missing Link by Tim Foley
4. Darkness and Light by David Llewellyn
With all of space and time in chaos, the Master plots his most audacious project yet. Only one other Time Lord has ever been able to stop him. But where is that Time Lord when the universe needs him?
Written By: Tim Foley, David Llewellyn
Directed By: Scott Handcock
Cast
Derek Jacobi (The Master), Paul McGann (The Eighth Doctor)
More cast details to be confirmed.
Producer Scott Handcock
Script Editor Nicholas Briggs
Executive Producers Jason Haigh-Ellery and Nicholas Briggs