169. The Wrong Doctors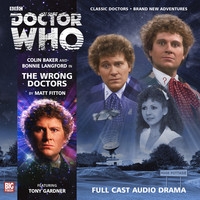 Released January 2013


Prices
| | |
| --- | --- |
| CD | US $19.33 |
| Download | US $12.99 |


Behind the Scenes
Colin Baker talks about the Sixth Doctor releases including The Wrong Doctors. The full interview can be found in Vortex #49 HERE.
Welcome back, Colin! It's been quite the trilogy this time around, kicking off with the wrong doctors.
In this one I'm playing the post-regeneration Doctor – the brash version of old Sixie – and the more mellow, blue-costumed Doctor, who is the Doctor that I had in mind when we started doing it back in 1983 that we would evolve to, but never got the chance to do so. So it's quite nice in a way. It certainly puts me on the spot because I've got to prove there's a difference! I've got the same vocal equipment but hopefully there's a difference inside the old brain pan which will come winging through, especially in scenes where I'm talking to myself. He's still a bit in your face, old Sixie, and he's still a bit mock-boastful, whereas immediately post-regeneration he was very boastful. So it's just a question of degree really.
It's a lighter story than the Sixth Doctor tends to get as well.
I love the light touch. [Writer] Matt Fitton has got a very good eye for when to bring in the humour without detracting from the drive and the importance of the story. It's a very literary script, it's one not embarrassed by using the joys of the English language of which I'm a particular champion, as anyone who knows me knows. He keeps the story motoring along but there's this vein of humour and lightness running through it. It's a really good story.
You've been back with Mel in these stories; which companion would you like alongside you next?
It's like all things. People say do you prefer stage or camera, and whenever I've done a lot of one, I want to do something of the other. Change is brilliant. I've had some fantastic companions. Now I've done some with Mel I want to do some with Peri [Nicola Bryant] again, and then I'd like to do some with Flip [Lisa Greenwood] again because I like her a lot, and then I want to do some with Maggie [Stables, Evelyn] again because Maggie and the Sixth Doctor, I think, were a brilliant pairing. Poor Maggie's not been well, but I'd love the opportunity to do another story with Maggie. And I loved Charley Pollard [India Fisher] as well. I enjoyed working with Frazer [Hines, Jamie]. I've been blessed with some really fantastic companions, so doubtless they'll come up with more. Now, you see, if I could do one story with each of them every year, that would a) keep me nice and busy and b) it would tick along very jollily. But Nicola was my first, so I am loyal to Nicola.