We love StoriesBig Finish produce great full-cast audio drama for CD and download, featuring many popular television fantasy series.
13 March 2016
Catch up on a week of news and reviews from the worlds of Big Finish.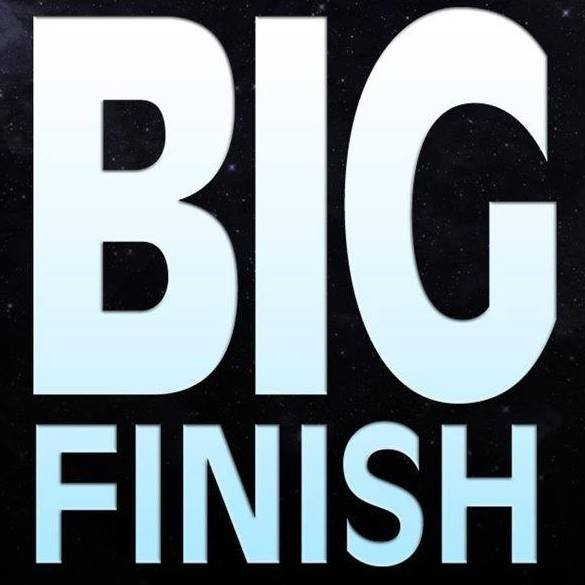 After last week's Doctor Who extravaganza, we've turned our attention to some other Big Finish heroes with updates from some of our most popular ranges!
We start with our major release of this week; Torchwood: The Victorian Age, the first instalment of Torchwood: Series 2! John Barrowman returns as Captain Jack Harkness, for an adventure in 19th Century London – where an alien monstrosity is on the loose. The city's only hope? Her Majesty Queen Victoria (Rowena Cooper) armed with a plasma gun!
Written by AK Benedict, this new story has already been receiving high praise from reviewers, with Gallifrey Archive calling it 'One of the best character pieces that Big Finish has ever produced... AK Benedict has the potential to be one of the most talented and well renowned writers in Big Finish's arsenal.'
Order your copy today for just £9.99 on CD or £7.99 to download – or subscribe to the whole of Series 2 today at the special introductory rate of £45 on CD or £40 to download (the price being held through to the end of this month).
If you're a fan of Torchwood, you may like to check out Big Finish's other adult series The Confessions of Dorian Gray. Starring Alexander Vlahos (Merlin, The Indian Doctor, Versailles), the series is based on Oscar Wilde's infamous novel and set in a world where Dorian was real and his endless quest for hedonistic pleasures has continued into the modern day.
Four series and multiple specials are now available to order; and this October, the saga will reach its conclusion in The Confessions of Dorian Gray: Series 5. The set's second story Angel of War by Roy Gill was unveiled this week and sees Dorian in the trenches of World War 1. Joining him in battle is his commanding officer Captain James Anderson (Daniel Brocklebank); who first appeared in the special episode The Confessions of Dorian Gray: The Prime of Deacon Brodie.
The Confessions of Dorian Gray: Series Five can be pre-ordered today for just £20 on CD or £18 to download. UK customers can enjoy free postage when they pre-order. And remember, when you choose to buy this release on CD directly from Big Finish, you will also unlock instant access to a digital copy for download upon release.
Those new to The Confessions of Dorian Gray will find a complete guide to the series in our latest Big Finish podcast – where Executive Producer Nicholas Briggs interviews creator Scott Handcock. Download the podcast here or listen via the SoundCloud player below!
Before Dorian's final confession however, Scott will be putting the finishing touches to Gallifrey: Enemy Lines, the latest instalment of our long-running Doctor Who spin-off. After the launch of the trailer last week, we've now been able to unveil the haunting new cover for this six-episode set. Check it out on the product page and listen to the trailer below:
Starring Lalla Ward, Louise Jameson, Sophie Aldred, Seán Carlsen, Miles Richardson and Celia Imrie, you can pre-order the set today from the Big Finish website for just £14.99 on CD or £12.99 to download.
More time-travel will be found in June with the highly anticipated release of Dark Shadows - 50th Anniversary Special: Blood and Fire, Big Finish's celebration of the classic horror-soap opera series!
Originally transmitted from 1966-1971, the iconic television show brought us a range of unforgettable characters, from the vampire Barnabas Collins (Andrew Collins, reprising the role originally played by Jonathan Frid), to the witch Angelique (Lara Parker). Since 2012, Big Finish producers Joseph Lidster and David Darlington have worked together on continuing the Dark Shadows saga; and this week they revealed some of their anniversary plans for us in an exclusive interview. Click here to read the whole article and to pre-order your copy of Dark Shadows: Blood and Fire today.
There's more previews to be enjoyed this week, included a new extract from The Avengers – Steed and Mrs Peel: The Comic Strip Adaptations Volume 1. In this sequence from Simon Barnard and Paul Morris' adaptation of The Miser, Steed (Julian Wadham) and Mrs Peel (Olivia Poulet) investigate a mysterious train crash.
Featuring an all-star cast, including Julian Wadham, Olivia Poulet, Jacqueline Pearce, Sheila Reid, Graham Seed and Phillip Pope, The Avengers - Steed and Mrs Peel: The Comic Strip Adaptations Volume 1 is available to pre-order now from the Big Finish website for just £25 on CD and £20 to download.
Volume 2 of the Comic Strip Adaptations will be released in November, as will a graphic novel collection of the original comic strips. All three Steed and Mrs Peel releases can be pre-ordered together as part of a special bundle.
Next we have two new previews from April's Pathfinder Legends – Mummy's Mask: The Slave Trenches of Hakotep. Continuing the Pathfinder's' quest in the desert country of Osirion, the penultimate adventure of the series finds our heroes facing Sky Pharaoh Hakotep I (Ramon Tikaram) and his terrifying flying pyramid! Listen to the trailer below:
A new extract from the story is also available, where Valeros (Stewart Alexander), Ezren (Trevor Littledale), Harsk (Ian Brooker) and Merisiel (Kerry Skinner) examine their latest find...
This double-disc adventure written by Mark Wright can be pre-ordered today for £14.99 on CD or £12.99 to download. The entire Mummy's Mask series can also be subscribed to today, with the previous series Rise of the Runelords still available to order as a money-saving series bundle.
In March, we add another entry to our occasional series of interview releases with Call Me Jacks: Jacqueline Pearce in Conversation. Over a bottle of champagne, Jacqueline Pearce (Blake's 7, Doctor Who: The War Doctor) gives an uncompromising interview to Big Finish's Nicholas Briggs, discussing her past triumphs and times. Listen to a new extract below!
You can pre-order your copy of this double-disc title today for just £8.99 on CD or £6.99; with all copies of the CD version purchased before the March 2016 release being signed by Jacqueline.
Please note that this release contains very strong language and material which may be unsuitable for younger listeners.
Finally, we looked ahead to April for the eagerly awaited return of Sheridan Smith as Lucie Miller in Doctor Who – Short Trips: The Curse of the Fugue. Written by Alice Cavender, this download-exclusive title tells a brand new tale for the Eighth Doctor and his fan-favourite companion, set against Britain's three-day week.
You can pre-order the story today for just £2.99 – with the entire run of twelve 2016 Short Trips available to subscribe to for just £30, with downloads available on the day of release, and everything released to date instantly in your account. For a behind-the-scenes look at getting Sheridan back in studio, check out our podcast here, or listen via the SoundCloud player below.
There was one more Eighth Doctor reveal this week, in the form of a new limited edition vinyl release! Doctor Who: The Chimes of Midnight Limited Vinyl Edition is a brand new repressing of Robert Shearman's beloved story, which claimed the number one position in our 2015 Top 20 Poll. Starring Paul McGann as the Eighth Doctor and India Fisher as Charlotte Pollard, this gripping adventure finds the travellers trapped in a Christmas Eve murder mystery, in a house where nothing is as it seems.
The set can be pre-ordered today ahead of its release in October 2016 for the pre-order price of £79 (rising to £89 upon release). The set contains four heavy 180g vinyl discs enclosed in deluxe premium packaging, alongside brand new special features exclusive to this release. The case features four-way gatefold sleeves, rigid slipcases and specially designed covers by artist Tom Webster. A download copy of the story is also included with the order.
The set will be followed in April 2017 by Doctor Who: Spare Parts Limited Vinyl Edition, a new repressing of Marc Platt's popular Fifth Doctor story, featuring the origins of the Cybermen. Both vinyls are strictly limited to 500 copies each, and are delivered by courier – so order yours today!
That's all for this week, but join us again soon for more brilliant releases and reveals from the worlds of Big Finish.