We love StoriesBig Finish produce great full-cast audio drama for CD and download, featuring many popular television fantasy series.
18 July 2018
Yvonne Hartman is required: Torchwood One is under threat from the Law Machines and WOTAN, and it's payback time. Torchwood One: Machines is out now.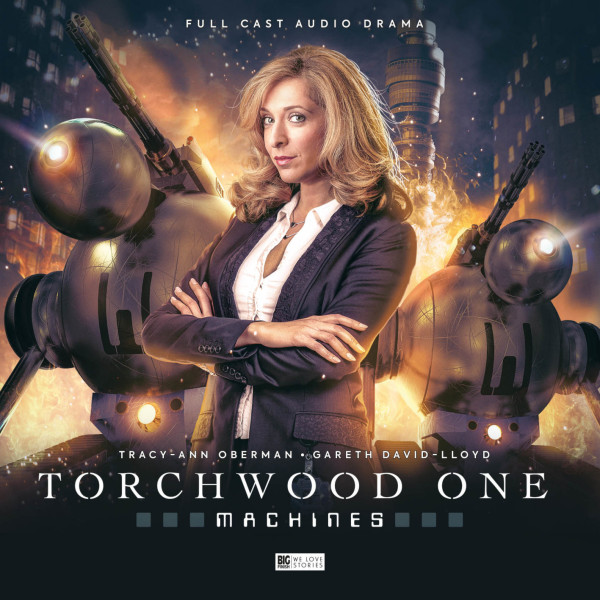 Torchwood One – we defend the British Empire. We keep everyone safe. For your own good.
Something's happened. Something's twisted its way into Torchwood One. Something old. Something which should have been forgotten, wiped, abandoned. Something which has been waiting. Something which knows how the world should be ruled, how people should be used.
When humanity's threatened, Yvonne Hartman is required.
Torchwood One: Machines is out now.
The Law Machines by Matt Fitton
The Mayor of London is launching her bold new law and order initiative. The capital will be kept safe from crime, from fear, from terrorists. The Law Machines are launching. What could possibly go wrong?
Blind Summit by Gareth David-Lloyd
Ianto Jones has just moved to London. He's broke, has no friends, no future. One day he loses the one thing he's been holding on to, and suddenly people around him are dying. Could a mysterious woman really offer him salvation?
9 to 5 by Tim Foley
It's Monday morning. Stacey loves Mondays. Stacey loves every day. Stacey lives to work. She's a temp and she loves it. Only there's a man in the coffee queue who has a terrible warning for her. Stacey is going to die today.
Producer James Goss tells us about returning to Canary Wharf: "Barnaby Edwards has matched Tracy-Ann Oberman and Gareth David-Lloyd with the greats of stage and screen. Jane Asher (from everything!) plays Yvonne's nemesis, Elaine; Adjoa Andoh (Doctor Who, Thunderbirds, Invictus) plays the Mayor of London; and we even have James Wilby (Howard's End, Poldark, Titanic) playing a biochemist.
"The scripts are just as ambitious. We've the debut of Gareth David-Lloyd with a heartbreaking, hilarious story about Ianto's first(ish) meeting with Yvonne; Tim Foley has written a cruel satire about work; and Matt Fitton has resurrected WOTAN.
"Fans of Doctor Who TV episode The War Machines will be delighted to know that the villainous super-computer is back, every bit as menacing as ever. And this time he has wi-fi!"
Torchwood One: Machines is available now at £20 on CD or £15 on download, going up in price on general release to £25 on CD and £20 on download.
If you're new to Yvonne Hartman and Torchwood One, why not try Torchwood: One Rule on download throughout July at the special offer price of just £2.99.
Yvonne Hartman is visiting Cardiff to retrieve an invaluable alien device. She's in charge of Torchwood One, she's saving the British Empire and she doesn't care about local politics. But she is going to find herself caught up in that fight. There's a bloodthirsty alien stalking the streets and there's a special offer on at the all-you-can-eat Chinese buffet.
It's the 26th of March 2005 and it's the day that everything changes.
Yvonne Hartman also joins the Torchwood team in series 6 Torchwood: God Among Us, starting in October 2018. When a god comes to Cardiff, the world goes to Hell…