For The Love Of StoriesBig Finish produce fantastic full-cast audio dramas for CD and download.
12 Days of Big Finishmas #10 - 20 years of Bernice Summerfield
3 January 2018
For Bernice Summerfield's 20th anniversary at Big Finish this year get her first box-set, Epoch, for just £9.99.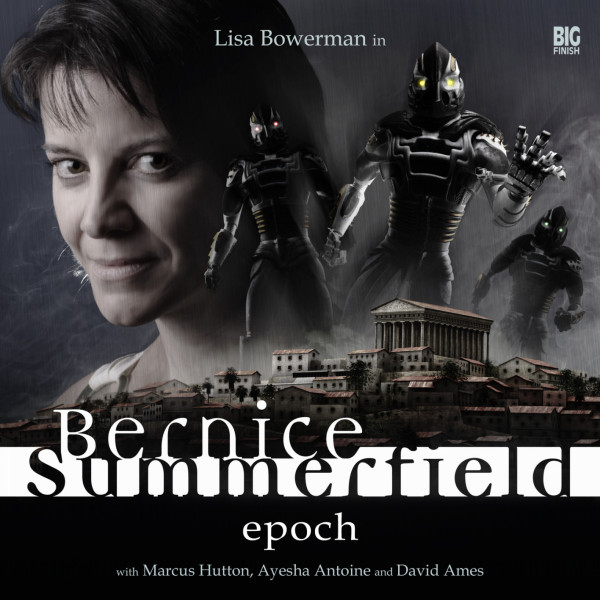 The first box-set of Bernice's adventures is available at a special price on the tenth day of Big Finishmas.
Epoch contains four adventures for Benny as she is flung far from her home, friends and family into unfamiliar territory. New allies join her and new enemies lie in wait.
1. THE KRAKEN'S LAMENT by Mark Wright
"Gather round, wretched peoples of Atlantis, for Acanthus the Talesmith has a story to tell! Come one, come all and listen! Listen to Acanthus the Talesmith and let him amaze you with his story… the story of Professor Bernice Summerfield and the Kraken's Lament!"
2. THE TEMPLE OF QUESTIONS by Jacqueline Rayner
Life can be dangerous when a god's got it in for you. Bernice and her Historian allies, Ruth and Leonidas, are trying to unearth the truth behind the mysterious world they're living in.
Bernice's new family is in danger of being ripped apart by forces that are beyond their understanding. To keep her friends, she might have to lose the games... and her life with them.
3. PRIVATE ENEMY NO. 1 by Tony Lee
The Great Leader is dead… Long live the Great Leader!
Atlantis is in disarray. The Historians are hiding Bernice, Leonidasand Ruth within their safe house – but the world is changing more than they could have ever imagined.
Can Bernice and her friends save Atlantis from the end of existence? Or will they too be assimilated?
4. JUDGEMENT DAY by Scott Handcock
Atlantis has fallen. The Epoch are in command. And terrible decisions lie in wait for Bernice Summerfield.
Their journeys have been long and arduous. But soon, they will all end. Because Bernice Summerfield dies today… and, when she does, reality will fall apart around her.
Get this box-set of four classic Bernice Summerfield tales on download today. Head to page https://www.bigfinish.com/offers/v/bigfinishmas17 and enter the code PLUMPUDDING to access this special offer.
Producer of The New Adventures of Bernice Summerfield, James Goss, shared some thoughts on Bernice's anniversary (originally shared on the blog of Benny's creator, Paul Cornell): "Bernice Summerfield is unique. There have been radio Sherlocks, Marples and Paul Temples, but runs of these have come and gone, casts have changed. Bernice Summerfield has persevered.
"Benny has endured because Paul Cornell created such a perfect, likeably flawed character. Who doesn't love a time-travelling archaeologist? She's remarkably future-proofed. She's a strong female character (so now). She aces the Bechdel test – men talk about HER (again, so now). She's not afraid to show off her knowledge (again, 2017). And, bonus, she likes cats.
"Benny has endured because she's played by Lisa Bowerman. Handed the impossible task of sounding like someone readers had an idea of in our heads, she's been perfect right from the start. She has the voice of the sensible older sister, the dangerous best friend, the fun one. Lisa's love for the character is boundless – she doesn't just love the fans, she knows as much about the character as they do.
"Benny has endured because of Big Finish. Big Finish started off as a firm who wanted to make occasional science fiction audio dramas about Bernice Summerfield. They made them in a damp basement in South London at weekends. Now Big Finish is the UK's largest creator of original audio drama outside of Radio Four. They do everything from Doctor Who to Captain Scarlet, from Torchwood to King Lear. They give countless aspiring actors, writers, directors and editors their big break. They win awards. They no longer work in a damp basement.
"In the time I've written that paragraph they've released at least three things (only some of them starring Sir Derek Jacobi). But the one thing that Big Finish always does? It's Bernice Summerfield. Because she got them started, and they're always grateful to her. Just ask executive producer Jason Haigh-Ellery – Big Finish is just one of several dozen firms he runs; he's doing deals at the ends of Earth! But he's always got time for Benny. When humans land on Mars, Jason will already be there to recommend a good hotel saying "Welcome to Mars. In 1998, Big Finish got our start with Bernice Summerfield…"
Keep an eye out for more news and new tales to celebrate Benny's big anniversary this year, coming soon from Big Finish.