For The Love Of StoriesBig Finish produce fantastic full-cast audio dramas for CD and download.
A Novel Blake's 7 Adventure
20 October 2022
Celebrate a decade of Blake's 7 at Big Finish Productions with the first of three collectable hardback books, The Clone Masters: The Rule of Death, released today!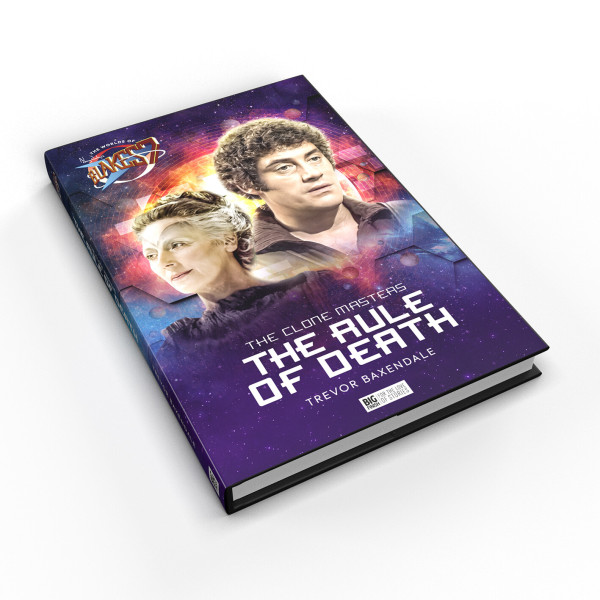 Since 2012, Big Finish has given the Liberator crew a second life with various audio adventures based on Terry Nation's BBC sci-fi classic, which originally ran from 1978 to 1981.
Marking this 10 year anniversary, a trio of popular audiobooks from The Worlds of Blake's 7 range are being adapted into premium hardback novels with stunning full-colour jacket sleeves – starting with Trevor Baxendale's clone-centric tale...
When Orac picks up information about a Clone Master living in secret on an outlying planet, Blake is intrigued.
Then, a message from the freed bond-slave, Rashel, makes visiting the outpost a priority: the Blake Clone is dying. But things are never as straightforward as they seem, and with psycho-strategist Carnell lurking in the shadows, this visit soon becomes a life or death battle for all the Liberator crew…
The Worlds of Blake's 7 – The Clone Masters: The Rule of Death is now available to own as a traditional hardback printed book (for just £16.99) or as an eBook (for just £12.99), exclusively here.
Writer Trevor Baxendale said: "It's so good to see The Rule of Death published as a hardback – it was great fun to write the audiobook version. Blake's 7 fans who would like to read the story for themselves will find it full of all the action, romance, drama and intrigue they'd expect, plus a few surprises!
"This is a chance to catch up with the Liberator crew in an exciting new adventure and find out what happened to Blake's clone, the slave Rashel and the Clone Masters…"
Range Producer Peter Anghelides added: "Trevor's novel cleverly links to our Clone Masters audio box set from The Worlds of Blake's 7, and incorporates elements of the Blake's 7 TV story, Weapon.
"It's particularly satisfying to read another novel featuring Blake and his second season crew – in fact, you get two Blakes for the price of one with this adventure!"
As well as The Rule of Death, the full trilogy of The Worlds of Blake's 7 hardbacks will include Bayban Ascending and Zero Point – due for release in November and December 2022 respectively.
Big Finish listeners can save money by purchasing all three titles together in a bundle for just £45 (hardback printed books) or £36 (eBooks). Alternatively, each adventure is available for just £16.99 (hardback book) or £12.99 (eBook) per title, exclusively here.