For The Love Of StoriesBig Finish produce fantastic full-cast audio dramas for CD and download.
31 August 2021
In 1950s London, there's danger lurking under the surface that only one team can stop – Torchwood Soho return in a brand-new adventure set for release in October 2021.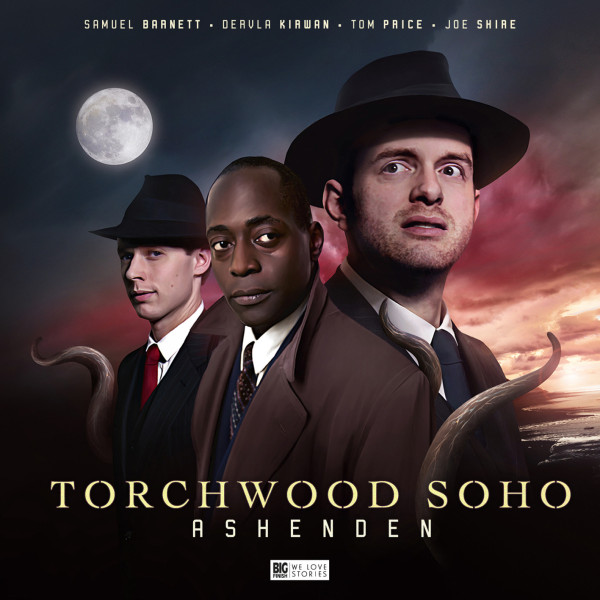 Today the cover and full cast are revealed for Ashenden, the full cast audio drama in which Samuel Barnett's Norton Fulgate navigates strange goings-on, alongside Sergeant Andy Davidson (Tom Price), Lizbeth Hayhoe (Dervla Kirwan) and Gideon Lyme (Joe Shire).
Torchwood Soho: Ashenden is available to pre-order as a collector's edition CD at £19.99 or on download at £16.99, HERE with the six epic episodes as follows:
1. Pimlico
Sergeant Andy finds himself chased through the ruins of London with only a dead woman for company.
2. O Little Town Of Ashenden
Ashenden was once a listening station. It's become something far worse.
3. The National Health
Sergeant Andy must fight his way out of a hospital that offers care from the cradle to the grave.
4. Rivers Of Blood
Miss Satterthwaite always dreamed that the stars were listening to her, and now they're changing her life forever.
5. Now Is The Time For All Good Men
Lizbeth Heyhoe is looking for help from those in power. But they are turning a deaf ear.
6. The Hour Of The Hollow Man
Some things in life cannot be escaped. Death, taxes, and a picnic on the beach.
Along with the previously announced cast, the other inhabitants of Ashenden include Laura Riseborough (Cicero) as Miss Satterthwaite, Jacob Dudman (The Eleventh Doctor Chronicles) as Fotheringay, Rachel Atkins (The War Master) as Miss Pinkerton, Shvorne Marks (The Diary of River Song) as Matron, Diveen Henry (Doctor Who – The New Adventures of Bernice Summerfield) as Amanda, Raj Ghatak (The Box of Delights) as Speaker, Daniel Brocklebank (The Confessions of Dorian Gray) as Ornadel and Russell Bentley (Doctor Who – The Monthly Adventures) as Bowers.
Writer James Goss said: "Ashenden is a saga about aliens and town planning. We realise something's happening across the bomb sites of London; we find out that Norton Folgate is being hunted down; and we're led to the very strange new town of Ashenden which was once a radio research station until someone contacted alien life…
"Along the way Torchwood Soho go up against lethal picnics, murderous matrons, sinister landladies and a very 50s government notion of 'How much is a life worth and what do we do with the ones that are below par?' It's a tribute to the alien paranoia movies of the period but it's also a celebration of how a bunch of unusual outsiders really can save the day."
Director Scott Handcock added: "It goes without saying that Sam and Tom are a delight – individually and together – and so the prospect of recording with them again was an instant thrill. Along with the fantastic Dervla and Joe reprising their roles from the first box set, we're so, so lucky to have actors of that quality wanting to come back and record more – but even luckier that they're genuinely lovely and fun to work with.
"The same goes for the guest cast. We've a lot of really great talent populating this world, all of whom just got what the tone of the box set is about. They're all familiar Big Finish faces so you know you can throw almost anything at them and they'll instinctively run with it. It was also enormous fun to reunite Sam with his Cicero-spouse Laura Riseborough, playing a character who couldn't be further away from Terentia! It's a really fun, bold, bonkers world."
Torchwood Soho: Ashenden is available to pre-order as a collector's edition CD at £19.99 or on download HERE at £16.99.
Big Finish listeners can also save more by ordering this tale with Torchwood Soho: Parasite as a bundle for £38 on CD and £33 on download.
Please note that Torchwood contains adult material and may not be suitable for younger listeners.
Big Finish is currently operating a digital-first release schedule. The mail-out of collector's edition CDs may be delayed due to factors beyond our control, but all purchases of this release unlock a digital copy that can be immediately downloaded or played on the Big Finish app from the release date.