For The Love Of StoriesBig Finish produce fantastic full-cast audio dramas for CD and download.
An Anderson Entertainment Audio Extravaganza!
22 June 2022
Anything Can Happen in an exciting anthology of narrated audio tales from the worlds of Gerry Anderson, set for release in August 2022 from Big Finish Productions.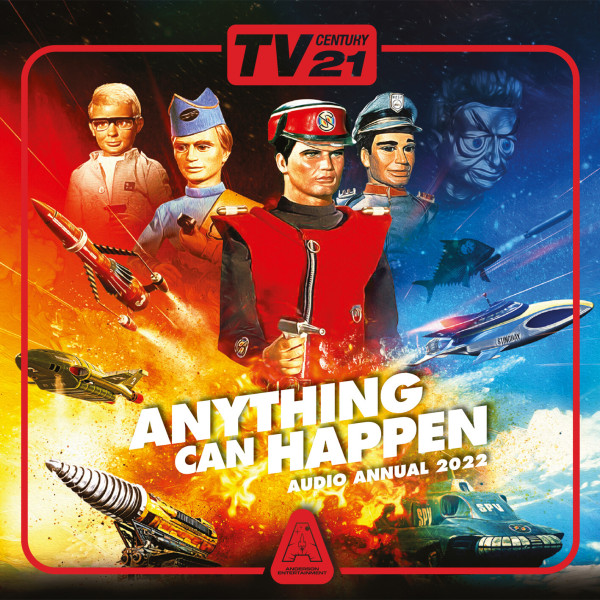 Big Finish and Anderson Entertainment are launching a nostalgic range of Audio Annuals — revamping classic Gerry Anderson stories as audio adventures — starting with Anything Can Happen.
In this box set, Nicholas Briggs (the voice of Doctor Who's the Daleks) and Wayne Forester (The House, Captain Scarlet) narrate various stories set in the universes of Thunderbirds, Stingray, Captain Scarlet and Joe 90.
TV Century 21 Audio Annual 2022 — Anything Can Happen is now available to pre-order as a digital download (for just £17.99) exclusively here.
Excitement, danger and adventure await you in seven thrilling stories from the pages of classic Anderson Annuals of yesteryear.
Join the Tracy brothers of International Rescue, Troy Tempest, Captain Scarlet, Joe 90 and many more of your favourite heroes as they face perils and threats that will leave you on the edge of your seat.
From last-minute rescues to nefarious criminal schemes and menacing alien foes… in the fantastic worlds of Gerry Anderson, Anything Can Happen!
Thunderbirds: Four Hours to Eternity narrated by Nicholas Briggs
A daring heist goes badly wrong, trapping two crooks in a high-security vault with only four hours of air left. International Rescue are soon on the scene but the vault's steel walls prove too tough for even the Mole to penetrate. Could this be the Thunderbirds team's first failure?
Thunderbirds: Aquaphobia narrated by Wayne Forester
Searching for sunken treasure, a bathysphere is forced to stop as it reaches its maximum depth tolerance. However, one of the men on board will stop at nothing to reach the lost prize, even if it means risking his life, and he's not about to let Gordon Tracy stand in his way.
Stingray: Aquacade Emergency narrated by Nicholas Briggs
Surface Agent X-2-0 means to use an upcoming Aquacade celebration to destroy Troy Tempest and Stingray. A mock sea battle suddenly becomes a deadly reality when the demonstration weapons are substituted for the real thing.
Stingray: Marineville Must Go narrated by Nicholas Briggs
Relics of a lost civilisation are thought to be buried somewhere under Marineville and government orders are issued for their recovery. There's only one problem: to reach the relics, Marineville's Control Tower must be demolished and Commander Shore will do whatever it takes to stop that from happening!
Captain Scarlet: Mirror of Vengeance narrated by Wayne Forester
Determined to starve half of the world's population, the Mysterons threaten to destroy all the fish in the sea and rivers. Utilising an incredible new satellite equipped with devastating hyper-high frequency sonar waves, they begin their attack. This time even Captain Scarlet may be unable to stop them.
Captain Scarlet: The Midas Menace narrated by Wayne Forester
The gold vaults of Fort Knox are targeted by the Mysterons in an attempt to destabilise the world's financial base. Spectrum mobilises an army of personnel and equipment to counter the threat but the Mysterons are already one step ahead and Spectrum's efforts may be in vain.
Joe 90: The Cracksman narrated by Wayne Forester
A near-fatal air crash leaves Joe 90 believing that he is really the master cracksman whose brain pattern he had received for his latest mission. Taken in by the real cracksman's disbelieving criminal associates, Joe is soon asked to put his talents to a sinister use. Will he regain his mind before it's too late?
Jamie Anderson, Gerry Anderson's son and Managing Director of Anderson Entertainment, said: "Dad was always looking to tell new stories and expand on the worlds he created, so having the opportunity to bring these overlooked gems to life is very much in keeping with what he would want.
"The work we're doing on these Audio Annuals will continue to develop those worlds as we prepare for the next phase of Anderson Entertainment's evolution."
TV Century 21 Audio Annual 2022 — Anything Can Happen is now available to pre-order at £17.99 (as a digital download only) from the Big Finish website. This release is also available to pre-order on CD from shop.gerryanderson.co.uk.
All the above prices include the special pre-order discount and are subject to change after general release.