For The Love Of StoriesBig Finish produce fantastic full-cast audio dramas for CD and download.
ASDA stores stocking selected Doctor Who releases on vinyl
28 August 2020
A comprehensive list of the ASDA stores selling selected Doctor Who adventures on vinyl.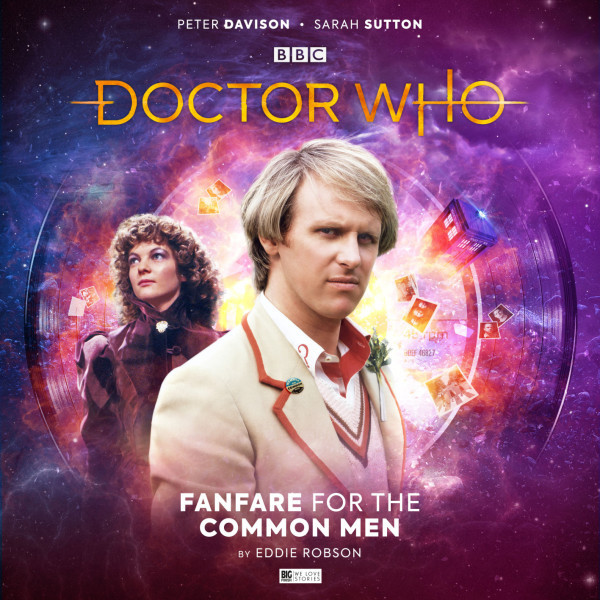 Six classic Big Finish Doctor Who stories, will be available as new vinyl releases, exclusive to ASDA, from September.
Look out for more details coming soon!
The first title will be Doctor Who: Fanfare for the Common Men, which will be stocked in 98 ASDA stores from 25 September 2020 from just £20 RRP!
If you remember the Sixties, they say, then you can't have been there.
The Doctor remembers the Sixties. That's why he's taking Nyssa on a trip back to November 1963. Back to where it all began. Back to the birth of the biggest band in the history of British music. Back to see those cheeky lads from Liverpool...
Mark, James and Korky. The Common Men. The boys who made the Sixties swing with songs like Oh, Won't You Please Love Me?, Just Count To Three and Who Is That Man.
The Doctor remembers the Sixties. And there's something very wrong with the Sixties, if the Beatles no longer exist…
Further releases to appear in ASDA stores will be:
Doctor Who: Fallen Angels by Phil Mulryne
Doctor Who: Judoon In Chains by Paul Morris
Doctor Who: Harvest Of Sycroax by James Goss
Doctor Who: The Sontaran Ordeal by Andrew Smith
Doctor Who: No Place by James Goss
Please note: these special vinyl editions are stocked in selected stores only, subject to availability.
NOTE: THE LIST BELOW MAY NOW BE OUT OF DATE. PLEASE CHECK THE UPDATED LIST HERE.
As always, we recommend that Big Finish listeners call to check if their local store is stocking this exclusive LP before making a special journey.
| | |
| --- | --- |
| 4249 | Aberdeen Beach |
| 4643 | Aintree |
| 5002 | Ashington |
| 4137 | Ashton (Retail Academy) |
| 5807 | Ayr |
| 4144 | Barrow |
| 5894 | Bearsden |
| 4647 | Bedminster |
| 4680 | Benton |
| 4997 | Birchwood |
| 4169 | Blackpool |
| 4955 | Blyth |
| 4127 | Bolton |
| 4128 | Bridge of Dee Supercentre |
| 4281 | Bridgend |
| 4646 | Brighton Hollingbury |
| 4697 | Broadstairs |
| 4244 | Burnden Park |
| 4182 | Canterbury |
| 4640 | Carlisle |
| 4668 | Clayton Green |
| 4171 | Coatbridge |
| 4634 | Colindale |
| 4631 | Corby |
| 4685 | Crawley |
| 4190 | Crewe |
| 4280 | Crown Point Living |
| 4179 | Cwmbran (Retail Academy) |
| 4140 | Dagenham |
| 4954 | Doncaster |
| 4964 | Dudley |
| 4577 | Dumbarton |
| 4927 | Dundee Milton |
| 4931 | Eastbourne |
| 4216 | Eastgate Supercentre |
| 4584 | Eastlands Supercentre |
| 4967 | Eastleigh Supercentre |
| 4625 | Edinburgh Supercentre |
| 4935 | Elgin |
| 4677 | Falmouth |
| 4669 | Fareham (Retail Academy) |
| 4220 | Folkestone |
| 4636 | Fulwood (Retail Academy) |
| 5876 | Galashiels |
| 4615 | Gloucester |
| 4661 | Govan |
| 4657 | Great Bridge Supercentre |
| 4628 | Grimsby Supercentre |
| 5819 | Halifax |
| 5761 | Harlow |
| 4906 | Hartlepool |
| 4619 | High Wycombe |
| 4652 | Horwich |
| 4181 | Hull Bilton |
| 4645 | Hunts Cross |
| 5864 | Huyton Supercentre |
| 4644 | Ipswich |
| 4957 | Irvine |
| 4622 | Isle of Dogs |
| 4135 | Kingswood |
| 4327 | Leckwith Road |
| 4176 | Livingston Supercentre (Retail Academy) |
| 5878 | Llandudno |
| 4666 | Mansfield |
| 4164 | Merthyr Tydfil |
| 4977 | Minworth Supercentre |
| 4158 | Morley (Retail Academy) |
| 5895 | Motherwell |
| 4617 | Norwich |
| 4596 | Park Royal |
| 4980 | Parkhead Forge |
| 4917 | Patchway Supercentre |
| 4662 | Pentwyn |
| 4960 | Perth |
| 4178 | Peterlee |
| 4155 | Pilsworth |
| 5840 | Poole |
| 4583 | Portsmouth |
| 4947 | Pudsey Supercentre |
| 4133 | Queensferry Supercentre |
| 4676 | Queslett |
| 5883 | Rawtenstall |
| 4651 | Robroyston |
| 4932 | Roehampton |
| 4929 | Runcorn |
| 4174 | Scunthorpe |
| 4580 | Sefton Park |
| 4154 | Slough |
| 4585 | Southport |
| 4152 | St Austell |
| 4582 | Stevenage Supercentre (Retail Academy) |
| 5900 | Strabane |
| 4638 | Sunderland |
| 4170 | Tamworth Supercentre (Retail Academy) |
| 4961 | Taunton Supercentre (Retail Academy) |
| 5719 | Thurmaston |
| 4678 | Toryglen |
| 4620 | Wakefield |
| 4163 | Wallington |
| 4692 | Washington |
| 4642 | Watford Supercentre |
| 4611 | Wigan Supercentre |