We love StoriesBig Finish produce great full-cast audio drama for CD and download, featuring many popular television fantasy series.
ASDA-exclusive Fifth Doctor vinyl out today!
25 September 2020
Peter Davison and Sarah Sutton star in Doctor Who: Fanfare for the Common Men, now reissued on red and purple vinyl, exclusively at selected UK ASDA stores.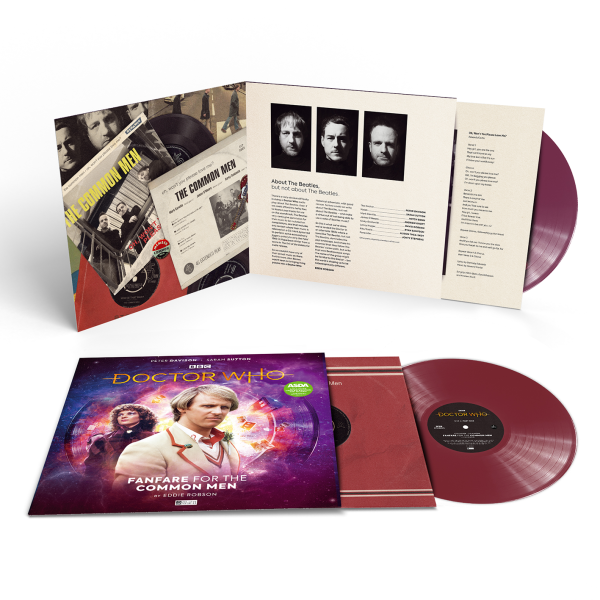 Today sees the release of a limited-edition vinyl reissue of the Big Finish audio adventure Doctor Who: Fanfare for the Common Men issued by Demon Records and exclusive to UK ASDA stores.
This gatefold double LP is pressed on 140g red and purple vinyl and limited to 1,000 copies. The RRP is £20 and it is distributed to selected stores (please see list below) subject to availability.
As always, we recommend that Big Finish listeners call to check if their local store is stocking this exclusive LP before making a special journey.
This full-cast adventure is written by Eddie Robson and stars Peter Davison and Sarah Sutton, reprising their roles as the Fifth Doctor and Nyssa respectively. The story was originally released in 2013 as part of Big Finish's 1963 audio trilogy celebrating the 50th anniversary of Doctor Who, and also features comedian Mitch Benn (The Now Show) as a member of the band, The Common Men, mentioned in the very first Doctor Who episode.
If you remember the Sixties, they say, then you can't have been there.
The Doctor remembers the Sixties. That's why he's taking Nyssa on a trip back to November 1963. Back to where it all began. Back to the birth of the biggest band in the history of British music. Back to see those cheeky lads from Liverpool...
Mark, James and Korky. The Common Men. The boys who made the Sixties swing with songs like Oh, Won't You Please Love Me?, Just Count To Three and Who Is That Man.
The Doctor remembers the Sixties. And there's something very wrong with the Sixties, if the Beatles no longer exist...
Listen to the first episode free here.
The selected UK ASDA stores stocking this limited edition vinyl release are:
| | |
| --- | --- |
| 4249 | ABERDEEN BEACH |
| 4643 | AINTREE |
| 4337 | ASDA LIVING BELFAST |
| 4372 | ASDA LIVING BROUGHTON |
| 4523 | ASDA LIVING COVENTRY BINL |
| 4313 | ASDA LIVING DURHAM |
| 4332 | ASDA LIVING FORSTER SQUAR |
| 4816 | ASDA LIVING HULL |
| 4348 | ASDA LIVING ISLAND GREEN |
| 4280 | ASDA LIVING LEEDS CROWN |
| 4393 | ASDA LIVING MAIDSTONE |
| 4314 | ASDA LIVING OLDHAM |
| 4374 | ASDA LIVING ROTHERHAM |
| 4791 | ASDA LIVING STAFFORD QUEE |
| 4366 | ASDA LIVING STRATFORD UPO |
| 4320 | ASDA LIVING TEESSIDE |
| 4266 | ASDA LIVING THURROCK |
| 4352 | ASDA LIVING TOTTENHAM HAL |
| 4378 | ASDA LIVING TROSTRE PARC |
| 4357 | ASDA LIVING VALENTINE LIN |
| 4540 | ASDA LIVING WAKEFIELD TRI |
| 4225 | ASDA LIVING WALSALL |
| 4351 | ASDA LIVING WREKIN PARK |
| 5002 | ASHINGTON LINTONVILLE TER |
| 4137 | ASHTON |
| 5807 | AYR (NEW) |
| 4144 | BARROW |
| 5894 | BEARSDEN |
| 4647 | BEDMINSTER |
| 4680 | BENTON |
| 4181 | BILTON-HULL |
| 4997 | BIRCHWOOD |
| 4169 | BLACKPOOL |
| 4955 | BLYTH |
| 4639 | BOLDON |
| 4127 | BOLTON |
| 4128 | BRIDGE OF DEE (NEW) |
| 4281 | BRIDGEND |
| 4646 | BRIGHTON |
| 4244 | BURNDEN PARK |
| 4141 | CAERPHILLY (NEW) |
| 4182 | CANTERBURY (NEW) |
| 4627 | CARDIFF |
| 4640 | CARLISLE |
| 4668 | CLAYTON GREEN |
| 4674 | CLYDEBANK (NEW) |
| 4171 | COATBRIDGE |
| 4634 | COLINDALE |
| 4685 | CRAWLEY |
| 4190 | CREWE |
| 4179 | CWMBRAN (NEW) |
| 4140 | DAGENHAM |
| 4954 | DONCASTER |
| 4964 | DUDLEY |
| 4577 | DUMBARTON |
| 4931 | EASTBOURNE |
| 4216 | EASTGATE |
| 4584 | EASTLANDS |
| 4967 | EASTLEIGH |
| 4625 | EDINBURGH |
| 4677 | FALMOUTH |
| 4669 | FAREHAM |
| 4792 | FERRING |
| 5876 | GALASHIELS |
| 4615 | GLOUCESTER |
| 4661 | GOVAN |
| 4657 | GREAT BRIDGE |
| 4628 | GRIMSBY |
| 5819 | HALIFAX |
| 5761 | HARLOW |
| 4906 | HARTLEPOOL (NEW) |
| 4672 | HAVANT |
| 4619 | HIGH WYCOMBE |
| 4652 | HORWICH |
| 4645 | HUNTS CROSS |
| 5864 | HUYTON (NEW) |
| 4644 | IPSWICH |
| 4957 | IRVINE |
| 4622 | ISLE OF DOGS |
| 4135 | KINGSWOOD |
| 4648 | KIRKCALDY |
| 4327 | LECKWITH ROAD |
| 4566 | LEICESTER |
| 4176 | LIVINGSTON (NEW) |
| 5878 | LLANDUDNO (NEW) |
| 4956 | LONGSIGHT |
| 4614 | LONGWELL GREEN |
| 4666 | MANSFIELD |
| 4164 | MERTHYR TYDFIL (NEW) |
| 4690 | MILTON KEYNES (NEW) |
| 4927 | MILTON OF CRAIGIE |
| 4158 | MORLEY |
| 5895 | MOTHERWELL |
| 4617 | NORWICH |
| 4596 | PARK ROYAL NEW |
| 4980 | PARKHEAD |
| 4917 | PATCHWAY |
| 4662 | PENTWYN |
| 4960 | PERTH |
| 4155 | PILSWORTH |
| 5840 | POOLE |
| 4583 | PORTSMOUTH |
| 4636 | PRESTON FULWOOD |
| 4947 | PUDSEY |
| 4133 | QUEENSFERRY |
| 4676 | QUESLET (NEW) |
| 5883 | RAWTENSTALL (NEW) |
| 4651 | ROBROYSTON |
| 4932 | ROEHAMPTON |
| 4929 | RUNCORN |
| 4580 | SEFTON |
| 4684 | SHEFFIELD (NEW) |
| 4952 | SITTINGBOURNE |
| 4154 | SLOUGH |
| 4229 | ST MATTHEWS |
| 4152 | ST.AUSTELL |
| 4965 | ST.LEONARDS |
| 4582 | STEVENAGE |
| 4638 | SUNDERLAND |
| 4990 | SUTTON ASHFIELD |
| 4581 | SWINDON HAYDON |
| 4170 | TAMWORTH |
| 4961 | TAUNTON |
| 5719 | THURMASTON |
| 4678 | TORYGLEN |
| 4565 | TRAFFORD PARK |
| 4620 | WAKEFIELD DURKAR |
| 4163 | WALLINGTON |
| 4642 | WATFORD |
| 4688 | WEMBLEY |
| 4903 | WEST BRIDGFORD |
| 4611 | WIGAN (NEW) |