We love StoriesBig Finish produce great full-cast audio drama for CD and download, featuring many popular television fantasy series.
ASDA stores stocking Doctor Who Max Warp on vinyl
14 November 2019
A comprehensive list of the ASDA stores selling Doctor Who - Max Warp on vinyl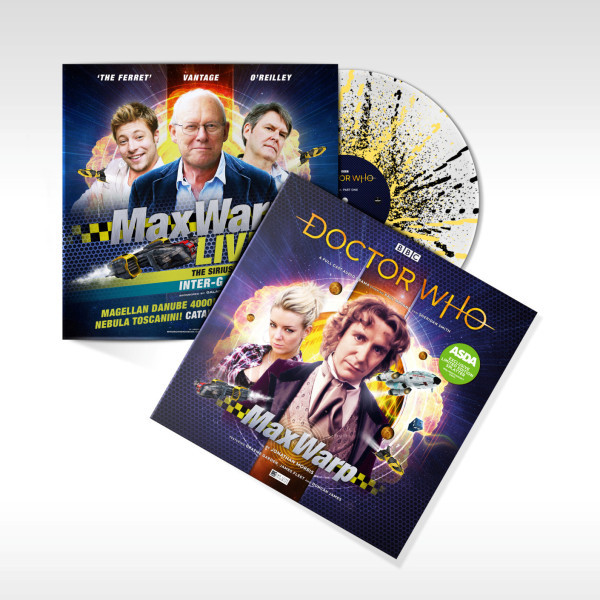 On Friday 15 November 2019, the limited edition vinyl release of Doctor Who: Max Warp, starring Paul McGann, Sheridan Smith, Duncan James, Graeme Garden and James Fleet will be arriving in UK ASDA stores.
Please note: this special vinyl edition is stocked in selected stores only, subject to availability.
| | |
| --- | --- |
| ABERDEEN | GARTHDEE ROAD |
| ABERDEEN | BOULEVARD RETAIL PARK |
| ALLOA | WHIN ROAD |
| ASHINGTON | LINTONVILLE TERRACE |
| ASHTON-UNDER-LYNE | CAVENDISH STREET |
| AYR | LIBERATOR DRIVE |
| BARROW-IN-FURNESS | WALNEY ROAD |
| BASILDON | EASTGATE SHOPPING CENTRE BASIL |
| BELFAST | UNIT 7-8 |
| BIRMINGHAM | BRICKHOUSE LANE |
| BIRMINGHAM | 6 OLD HORNS CRESCENT |
| BLACKPOOL | CHERRY TREE ROAD |
| BLYTH | COWPEN INDUSTRIAL ESTATE |
| BOLDON COLLIERY | NORTH ROAD |
| BOLTON | MOSS BANK WAY |
| BOLTON | BURNDEN PARK |
| BOLTON | THE LINK WAY |
| BRADFORD | FORSTER SQ RETAIL PARK |
| BRIDGEND | COYCHURCH ROAD |
| BRIGHTON | 1 CROWHURST ROAD |
| BRISTOL | UNITS EASTGATE RETAIL PARK |
| BRISTOL | CRAVEN WAY |
| BRISTOL | EAST STREET |
| BRISTOL | HIGHWOOD LANE |
| BROADSTAIRS | 96 WESTWOOD ROAD |
| BROUGHTON | BROUGHTON SHOPPING PARK |
| BURY | PILSWORTH INDUSTRIAL ESTATE |
| CAERPHILLY | PONTYGWINDY ROAD |
| CANTERBURY | STURRY ROAD |
| CARDIFF | CAPITOL RETAIL PARK |
| CARDIFF | LONGWOOD DRIVE |
| CARDIFF | DERRING ROAD |
| CARLISLE | KINGSTOWN INDUSTRIAL ESTATE |
| CHORLEY | CLAYTON GREEN CENTRE |
| CLYDEBANK | 31 BRITANNIA WAY |
| COATBRIDGE | MAIN STREET |
| CORBY | PHOENIX PARK WAY |
| CRAWLEY | PEGLAR WAY |
| CREWE | VICTORIA CENTRE |
| CROYDON | MARLOW WAY |
| DARTFORD | UNIT 4 |
| DEESIDE | ASTON ROAD |
| DONCASTER | DOME LEISURE PARK |
| DUDLEY | MERRYHILL CENTRE |
| DUNDEE | MILTON OF CRAIGIE ROAD |
| DUNFERMLINE | ST LEONARDS STREET |
| DURHAM | UNIT 3 ARNISON RETAIL CENTRE |
| EASTBOURNE | PEVENSEY BAY ROAD |
| EASTLEIGH | BOURNEMOUTH ROAD |
| EDINBURGH | 100 THE JEWEL |
| ELGIN | EDGAR ROAD |
| ENNISKILLEN | DERRYCHARA ROAD |
| FALKIRK | 3 NEWMARKET STREET |
| FALMOUTH | JENNINGS ROAD |
| FAREHAM | SPEEDFIELDS PARK |
| FELTHAM | LONGFORD CENTRE |
| FOLKESTONE | BOUVERIE SHOPPING CENTRE |
| GALASHIELS | CURRIE ROAD |
| GATESHEAD | MAPLE ROW METRO CENTRE RETAIL |
| GLASGOW | 1 TRYST ROAD |
| GLASGOW | ST JAMES RETAIL PARK |
| GLASGOW | 1 MONUMENT DRIVE |
| GLASGOW | 500 HELEN STREET |
| GLASGOW | 555 PROSPECT HILL ROAD |
| GLASGOW | THE FORGE CENTRE |
| GLASGOW | 80 MILNGAVIE ROAD |
| GLOUCESTER | BRUTON WAY |
| GRIMSBY | HOLLES STREET |
| GWENT | MONMOUTH SQUARE |
| HALIFAX | THRUM HALL LANE |
| HARLOW | SOUTHGATE STREET |
| HARTLEPOOL | MARINA WAY |
| HATFIELD | 98 TOWN CENTRE |
| HAVANT | LARCHWOOD AVENUE |
| HIGH WYCOMBE | HOLMERS FARM WAY |
| HULL | HESSLE ROAD |
| HULL | KINGSWOOD RETAIL PARK |
| HULL | MAIN ROAD |
| HYDE | WATER STREET |
| IPSWICH | WHITEHOUSE INDUSTRIAL ESTATE |
| IRVINE | RIVERGATE SHOPPING CENTER |
| LEEDS | HOWLEY PARK INDUSTRIAL ESTATE |
| LEEDS | CROWN POINT RETAIL PARK |
| LEEDS | KILLINGBECK DRIVE |
| LEEDS | OWLCOTES CENTRE |
| LEICESTER | NARBOROUGH ROAD SOUTH |
| LEICESTER | BARKBY THORPE LANE |
| LEIGH | ATHERLEIGH WAY |
| LINCOLN | VALENTINE RETAIL PARK |
| LIVERPOOL | SMITHDOWN ROAD |
| LIVERPOOL | ORMSKIRK ROAD |
| LIVERPOOL | HUNTS CROSS SHOP CENTRE |
| LIVERPOOL | 54 - 56 HUYTON LANE |
| LIVINGSTON | ALMONDVALE CENTRE TOWN CENTRE |
| LLANDUDNO | CONWAY ROAD |
| LLANELLI | UNIT 5 |
| LLANTRISANT | UNIT 4 GLAMORGAN RETAIL PARK |
| LONDON | MERRIELANDS CRESCENT |
| LONDON | UNIT 4 |
| LONDON | 130 CHASE SIDE |
| LONDON | 2 - 20 WESTERN ROAD |
| LONDON | TOLLGATE ROAD |
| LONDON | 151 EAST FERRY ROAD |
| LONDON | EDGEWARE ROAD |
| LONDON | WEMBLEY PARK |
| LONDON | 31 ROEHAMPTON VALE |
| LONDON | 204 LAVENDER HILL |
| MAIDSTONE | ST PETERS WHARF RETAIL PARK |
| MANCHESTER | TRAFFORD PARK |
| MANCHESTER | ASDA SPORT CITY |
| MANCHESTER | STANLEY GROVE |
| MANSFIELD | OFF MILL LANE |
| MERTHYR TYDFIL | DOWLAIS TOP |
| MILTON KEYNES | BLETCHAM WAY |
| MINWORTH | WALMSLEY ASH ROAD |
| MOTHERWELL | WATSON STREET |
| NEWCASTLE | WHITLEY ROAD |
| NEWPORT | NEWPORT RETAIL PARK |
| NEWPORT | PENCARN WAY |
| NORWICH | DRAYTON HIGH ROAD |
| NOTTINGHAM | 184 LOUGHBOROUGH ROAD |
| PERTH | 89 DUNKELD ROAD |
| PETERLEE | SURTEES ROAD |
| PLYMOUTH | EASTOVER DISTRICT CENTRE |
| POOLE | WEST QUAY ROAD |
| PORTSMOUTH | THE BRIDGE SHOPPING CENTRE |
| PRESTON | EAST WAY |
| ROSSENDALE | ST MARYS WAY |
| ROTHERHAM | UNIT SIXTEEN RETAIL WORLD |
| RUNCORN | WEST LANE |
| SCUNTHORPE | BURRINGHAM ROAD |
| SHEFFIELD | HANDSWORTH ROAD |
| SITTINGBOURNE | TRINITY TRADING ESTATE |
| SLOUGH | TELFORD DRIVE |
| SOUTHPORT | CENTRAL 12 SHOPPING CENTRE |
| ST. AUSTELL | CROMWELL ROAD |
| STEVENAGE | MONKSWOOD WAY |
| STRABANE | RAILWAY ROAD |
| STRATFORD-UPON-AVON | MAYBIRD RETAIL PARK |
| SUNDERLAND | LEECHMERE RD INDUSTRIAL ESTATE |
| SWINDON | ORBITAL SHOPPING PARK |
| SWINDON | WEST SWINDON SHOPPING CENTRE |
| TAMWORTH | BITTERSCOTE RETL PARK |
| TAUNTON | CREECHBARROW ROAD |
| TELFORD | ST GEORGES ROAD |
| WAKEFIELD | ASDALE ROAD |
| WALSALL | UNIT 1 |
| WALSALL | ST MATTHEWS QUARTER |
| WARRINGTON | COCKHEDGE CENTRE |
| WARRINGTON | 1 DEWHURST ROAD |
| WASHINGTON | THE GALLERIES |
| WATFORD | ODHAMS INDUSTRIAL ESTATE |
| WELLINGTON | UNIT E |
| WIGAN | SOHO STREET |
| WOLVERHAMPTON | MOLINEUX WAY |
| WORTHING | LITTLEHAMPTON ROAD |
| WREXHAM | ISLAND GREEN SHOPPING PARK |
| YORK | MONKS CROSS SHOPPING PARK |