For The Love Of StoriesBig Finish produce fantastic full-cast audio dramas for CD and download.
Bambera's UNIT Squad Has Arrived!
13 July 2022
Brigadier Winifred Bambera's back in command! The first box set from the UNIT — Brave New World range is released today by Big Finish Productions.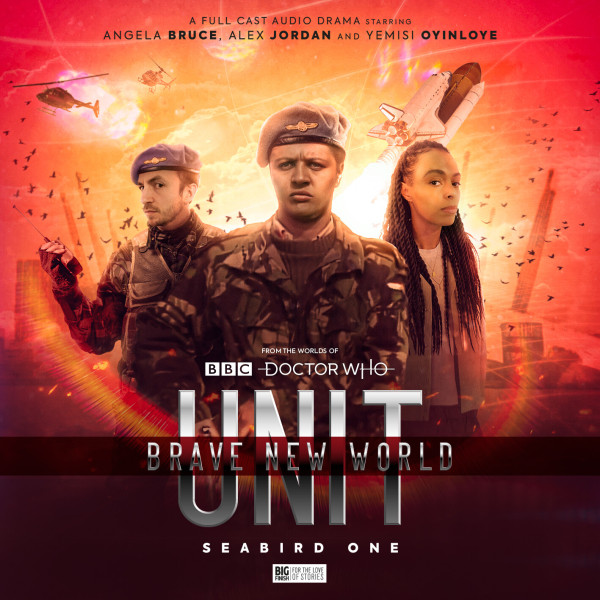 Angela Bruce — who made her Doctor Who debut in the 1989 TV story Battlefield — stars in three action-packed full-cast audio adventures set during the 1990s.
The incredible cast also includes Alex Jordan (as Sergeant Jean-Paul Savarin), Yemisi Oyinloye (as Dr Louise Rix), Liz Sutherland-Lim (as Dame Lydia Kingsley), and Silas Carson (as Dr Winston Grange).
UNIT — Brave New World: Seabird One is now available to own as a collector's edition CD boxset (+ download for just £19.99) or a digital download (for just £16.99), exclusively here.
The Cold War is over, the Millennium is fast approaching, and Brigadier Winifred Bambera is the new head of UNIT.
But in this shadowy, unpredictable world of deadly threats and hidden enemies, Bambera and her new team – Sergeant Jean-Paul Savarin and Dr Louise Rix – will need to prove their mettle. The stakes are higher than ever.
The three exciting adventures in this box set are as follows:
Rogue State by Robert Valentine
In the war-torn republic of Valge Maja, Brigadier Bambera is hot on the trail of arms-dealing terrorist, Roman Krojač, when she's ordered back to Geneva. Her old sponsor, Dame Lydia Kingsley, offers her a job as the new head of UNIT. Reluctant to accept, she nevertheless teams up with sarcastic UNIT officer Sgt. Jean-Paul Savarin to prevent a monstrous Soviet-era weapon from falling into Krojač's hands.
Time Flies by Alison Winter
Bambera and Savarin are summoned to a secretive genetic research facility by Dr Louise Rix, UNIT's rebellious new scientific adviser. Two scientists have vanished in mysterious circumstances, and despite the assurances of the sinister Dr Grange, UNIT suspects there's something very wrong with the centre's caterpillar population. Can they survive the fruits of Dr Grange's experiments? And will Savarin survive Bambera and Rix's rocky new relationship?
Dark Side of the Moon by Alfie Shaw
A new British space station, the Britannia, is due to be launched at the end of the week, but Bambera, Rix and Savarin fear that some kind of psychic entity is trying to sabotage it. Is it really the spirit of Helena McNamara, deceased astronaut and old friend of Rix? And does it speak the truth when it warns that something terrible is waiting for humanity on the dark side of the moon?
Robert Valentine , Script Editor and writer of Rogue State, said: "I'm a Doctor Who fan who lived through the wilderness years and to this day I still ache for all of the 1990s stories we never got.
"The great crime is that Bambera was totally being set up as the new Brigadier for the 1990s. Battlefield is a passing of the torch story from Lethbridge-Stewart to her but then we had that whole new era snatched away from us before it could even happen. I can't tell you how thrilled I was to write the return of Angela Bruce as Brigadier Winifred Bambera.
"These adventures are set the year after Battlefield and are basically a take on a late 1980s guess at what the 1990s were going to be like."
Time Flies writer and Big Finish newcomer Alison Winter added: "To write for my Brigadier from my childhood was very inspiring and UNIT set in the 1990s is a dream come true. I'm really excited for the fandom and I think they're going to love it."
Alfie Shaw, Script Editor and writer of Dark Side of the Moon, said: "Battlefield was one of the first Doctor Who stories I ever saw and I loved it. I adored writing for Bambera! She's got a shorter fuse than Lethbridge-Stewart so there's more room to give her jokes. It's Brigadier Bambera — what more could you want!?"
UNIT — Brave New World: Seabird One is now available to own for just £19.99 (collector's edition CD boxset + download) or £16.99 (digital download only), exclusively from the Big Finish website.
Big Finish listeners can save money by purchasing this box set and UNIT — Brave New World: Visitants together in a bundle for just £38 (collector's edition CD box set + download) or £33 (download only).
For a strictly limited time, the Lost Story featuring Bambera, Doctor Who: Animal is available for less than half price. Click here to get the deal. (Hurry! This offer expires at 23:59, UK time, on 17 July 2022.)
All the above prices include the special pre-order discount and are subject to change after general release.
Please note that Big Finish is currently operating a digital-first release schedule. The mail-out of collector's edition CDs may be delayed due to factors beyond our control, but all purchases of this release unlock a digital copy that can be immediately downloaded or played on the Big Finish app from the release date.