For The Love Of StoriesBig Finish produce fantastic full-cast audio dramas for CD and download.
Big Finish's 15th Anniversary of Doctor Who releases
23 July 2014
Fifteen years ago, we released Doctor Who: The Sirens of Time, starting a tradition of audio storytelling for the worlds of Doctor Who and beyond. To celebrate the events of 1999, we've got some quotes from our friends, and some special offers for our listeners...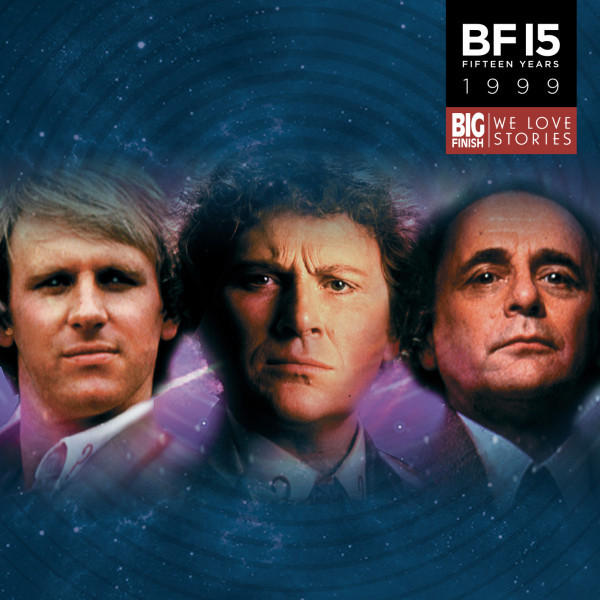 "Huge congratulations to Big Finish. I remember attending one of the first meetings about the projected Who audios, and I'm afraid I left early, dubious that it would work, and convinced that my Doctor Who obsession would never be allowed anywhere near my professional life. Even I am not usually that wrong twice in one evening. So here's to 15 years of Doctor Who brilliance, made by a team who genuinely love the TARDIS and want to keep her flying. I'm so glad I was so wrong, and so happy that I've been proved wronger with every passing year. Don't stop now!"
Steven Moffat, Producer Doctor Who 2009 – Present Day
"Big Finish is undoubtedly unique, in the whole world of fiction. Who else can take actors and stories and ideas you have loved, and bring them to life again, as good as they ever were, and sometimes, dare I say, even better? No one else is this lucky! Other shows get left in the dust. What could be better than Doctor Who, made by people who love Doctor Who, played by people who ARE Doctor Who? Happy birthday, Big Finish!"
Russell T Davies, Producer, Doctor Who 2005 – 2009
"Big Finish are cool! Congratulations on your 15th Birthday. Such a lovely bunch of talented people who care deeply about creating imaginative, thrilling and above all, authentic adventures for world of Doctor Who. Long may they continue!"
Marcus Wilson, Producer, Doctor Who 2011-2013
"When Gary Russell and I first sat down in a restaurant to plot asking the BBC for the rights to Doctor Who on audio, we hoped that we might get away with producing six productions a year for three years. Eighteen productions seemed like a huge new catalogue of adventures, and we'd have been happy to have had a good go and achieved something close to our hearts – a continuing original series of Doctor Who adventures at a time when it seemed that the show had run its course and no new productions would ever be made again. Gary would work as producer on the series part time and I would look after the business side and distribution after hours. Looking back now, it's easy to forget that the new audio adventures of Doctor Who was greeted with such euphoria by a starving fandom. So much so, that within two months we had ramped up to one release a month and started to establish a proper production office.
And here we are fifteen years later. We've made new friends, and sadly lost a few along the way. Worked with a plethora of Doctors and companions. Created our own Doctors and companions. Won a BBC Audio Drama Award (how did that happen!). But above all, we've just had the time of our lives making Doctor Who. Thanks to the BBC for trusting in us and to you for sticking with us all these years."
Jason Haigh-Ellery, Big Finish MD
"Fifteen years ago I had my first job at the BBC. It was very exciting, but what was strange was that you could see the ruins of Doctor Who everywhere. On your way to lunch you'd pass a forlorn TARDIS in the proper store. Wobbly desks were propped up with Doctor Who books. Dalek toys gathered dust in the BBC Shop. It all felt terribly sad. Doctor Who just wasn't cool any more.
I remember when The Sirens Of Time came out. There was a two-page spread about Big Finish in a newspaper. I know this because it was left open on a coffee table. People kept walking past, stopping and reading it and nodding. Perhaps they were reading about Geri Halliwell's diet in the newly-launched Heat Magazine. But I knew they were really reading about The Sirens Of Time and speculating. Imagine if Big Finish ran for a year - that would mean there would be almost ten Doctor Who audio adventures in total.
At lunchtime I went to the BBC Shop at Television Centre. There was a little display of The Sirens of Time and they'd dusted out their Dalek toys for the occasion. My copy still has the sticker on it. Which is sad really, as the BBC Shop, and incredibly, even Television Centre are no more. But Big Finish is still going strong."
James Goss, Producer at beeb.com. It was the BBC's first proper website, and he jumped ship before it was dismantled and replaced by BBC Online, where he ran the BBC's Doctor Who website to much mockery and derision up until 2007 by which time everyone loved Doctor Who again and he considered his work was done...
Big Finish's Doctor Who at 15 - Day 1
To mark the first day of our celebration, we're making the download of the first story - Doctor Who: The Sirens of Time available for £1.
Thanks to our friends at Doctor Who Magazine, we can also make available Talkin' 'Bout My Regeneration as a download - 1999's hour-long audio documentary about the making of the story.
Also never available through the Big Finish website before are two more free stories on download as MP3 and Audiobook formats: No Place Like Home and The Ratings War, featuring the Fifth and Sixth Doctors respectively.
To mark our first three Big Finish Doctors, you can also get more recent titles in a special offer: The Fifth Doctor's The Butcher of Brisbane, the Sixth Doctor's The Fourth Wall, and the Seventh Doctor's Protect & Survive - each available for £5 on Download or CD.
And lastly, for those wondering how it all began, or wanting a glimpse behind the scenes, both volumes of comprehensive and informative The Big Finish Companion book can be bought for £20 each, or as a bundle for £35.
All these special offers (apart from the free stories) last only 24 hours.
And we'll see you tomorrow for Day 2...