We love StoriesBig Finish produce great full-cast audio drama for CD and download, featuring many popular television fantasy series.
Big Finish's 15th Anniversary of Doctor Who releases - Offer 8!
3 August 2014
Fifteen years ago, we released Doctor Who: The Sirens of Time, starting a tradition of audio storytelling for the worlds of Doctor Who and beyond. To celebrate the events of 2006, we mark the start of one of Big Finish's longest-running audio ranges with news of an amazing new series, and talk to the current producer on his Big Finish years, while there's some appropriate special offers including the entire run of titles focused on the early years of one of Doctor Who's most significant villains...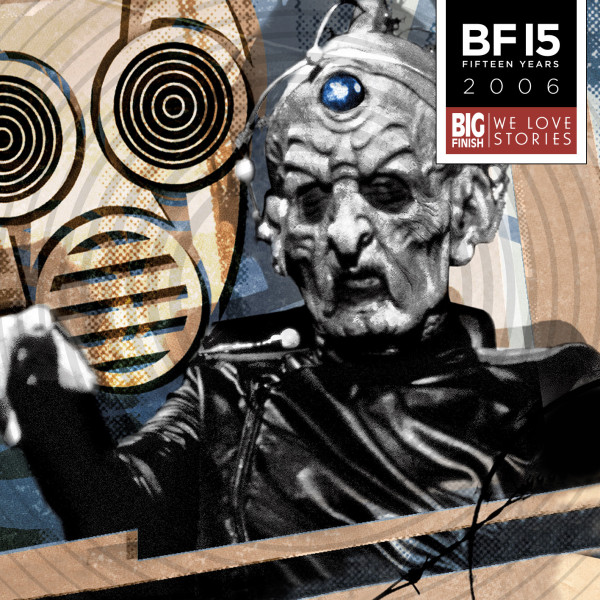 As part of the Big Finish 15 celebrations, we're very, very pleased to be able to bring you:
Blood will have blood...

Big Finish Productions are pleased to announce that Dark Shadows will return early in the new year as a 13-part miniseries.

Dark Shadows: Bloodlust will see the town of Collinsport unravel as a tragic death causes repercussions for all its inhabitants – human, vampire, werewolf and ghost.

The series, written by Alan Flanagan, Will Howells and Joseph Lidster, opens with the arrival of newly-married couple Melody and Michael Devereux. Through their eyes, we'll see what happens when the town is ripped apart by a murder. A murder that may have been committed by a vampire…

"It's very much a new series of Dark Shadows," says co-producer Joseph Lidster. "While it will pick up on elements from the previous full cast series and the dramatic readings, it's the beginning of a whole new era for Collinsport."

"There's a slight feel of Twin Peaks to this series," says co-producer David Darlington, "as this single death causes many secrets to be exposed - and more blood to be spilt..."

Some describe it as the town at the edge of the world.

When Melody and Michael Devereux come to Collinsport on their honeymoon, they don't know the secrets that are hidden behind closed doors. But those secrets will be unearthed when an innocent is viciously murdered.

Collinsport will be a town divided. One woman's rise to power will lead to further death and destruction. Families will be divided. Blood will be spilt.

And the dark forces that wait in the shadows will wait no more. For in Collinsport, death is never the end...
The series will be available from early January, as a twice-weekly £2.99 download on Tuesday and Fridays, followed by the release of boxsets 1 & 2 collecting the episodes together (£25 on CD, £20 on Download each). Further details, including casting, will be announced throughout the year. Dark Shadows: Bloodlust is available to for special pre-order prices now including a download subscription and bundle of the two collections.
Big Finish's Doctor Who at 15 - Offer 8

Big Finish started their Dark Shadows range in 2006, bringing to life the cult American fantasy soap opera with the same care and attention it was giving Doctor Who. Today we make four of these titles available at £2.99 on Download and £5 on CD each: House of Despair, The Book of Temptation, The Christmas Presence, and The Rage Beneath. If you've never heard a Dark Shadows title, now's a very good time to start...

In the Doctor Who universe today, we celebrate the 2006 launch of dark, psychological four-volume I, Davros with volumes 1 - Innocence, 2 - Purity, 3 - Corruption, and 4 - Guilt each available for £1 on Download or £2.99 as CD. We've also put hidden gem The Davros Mission available at £1 for the Download-only title!

The clock is ticking. in 24 hours, we'll be here for offer nine and some new offers!
A Few Words About 2006

"In 2006, Stuart Manning launched the Dark Shadows range. I, like many UK residents I suspect, hadn't even heard of the TV series but his initial audios piqued my interest and now I'm addicted to it. Two of my favourite things – a soap opera and horror – combined!
When Stuart decided to step down, I asked if I could co-produce the range with James Goss. As someone who'd never produced anything, following on from Stuart was a challenge but I think we did okay! I now co-produce the series with David Darlington and, for both of us, it's a real labour of love. One of the things I like most about the job is the opportunity to employ new writers – people who've never written for Big Finish before and, in some cases, who've never written anything professionally at all before. Back in 2001, I was given my first professional writing gig by Gary Russell and it changed my life. I owe pretty much everything I've gone on to do in my life to that first opportunity and I feel really privileged to be able to give other new and upcoming writers that same opportunity. Each year, we've employed new writers passionate about the stories they want to tell who have given us some stunning dramas and I'm just incredibly proud of what we've all achieved alongside James and David
Long live Dark Shadows and long live Big Finish Productions."

Joe Lidster, Big Finish Producer on the Dark Shadows range