We love StoriesBig Finish produce great full-cast audio drama for CD and download, featuring many popular television fantasy series.
Blake's 7: Special Offers across the entire range!
4 March 2016
This weekend you can catch up on the Liberator's voyages so far, with special offers across the entire Blake's 7 range!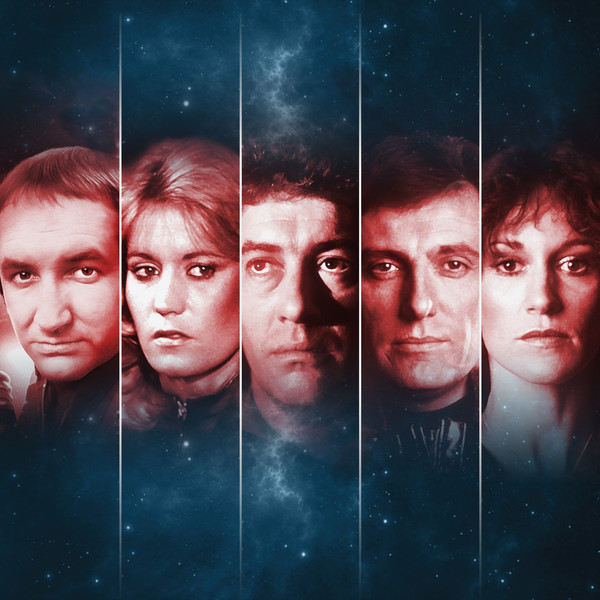 Since 2012, Big Finish have been pleased to release brand new audio dramas from the world of Terry Nation's classic sci-fi series Blake's 7. Featuring Paul Darrow, Gareth Thomas, Jacqueline Pearce and many more, these releases shed new light on the crew of the Liberator; and are set to continue in April with the release of Blake's 7: The Liberator Chronicles Volume 12.
To help listeners catch up with the story so far, this weekend we're offering special prices on our entire range of Blake's 7 audios and books.
Our first series of full cast Classic Audio Adventures (including the epic opening story Blake's 7: Warship) are already permanently reduced to just £5 each – and this weekend you can pick up Series 2 for the same price! Set within the third television series, these six adventures see Kerr Avon (Paul Darrow) take his rightful place as leader of the rebellion, hunting for his kidnapped crew member Dayna.
The search begins on an abandoned warship in Blake's 7: Scimitar, before a visit to a galactic tourist trap in Blake's 7: Fortuitas. Then Cally (Jan Chappell) receives a calling from a mysterious voice in Blake's 7: Mindset, while Vila (Michael Keating) is haunted by revenants in Blake's 7: Ghost Ship. Del Tarrant (Steven Pacey) finds his past catching up with him in Blake's 7: Devil's Advocate before the crew's search comes to an explosive end in Blake's 7: Truth and Lies.
Both the first and second series can be bought together in a Bundle for just £45, with separate bundles of both series available for £25. Bundles include free UK postage and reduced shipping for overseas customers. And remember, when you choose to buy this release on CD directly from Big Finish, you will also unlock instant access to a digital copy for download.
Next we have our series of box-sets; Blake's 7: The Liberator Chronicles. Each set contains three stories performed by the series' stars. Volumes 1 to 6 are already reduced to just £15 each on CD or £12.00 to download; and this weekend they're joined by Volume 7, Volume 8 and Volume 9! All eleven volumes released so far are also available in two Bundles; on CD for £160 and to download for £130 (again with free UK postage and reduced international shipping).
For the readers out there, our first seven Blake's 7 novels are also available to order for just £5 each with both hardback and e-book versions available. The range includes all three instalments of Paul Darrow's Blake's 7: Lucifer trilogy, continuing Avon's adventures on past the end of the series. An e-book only version of Blake's 7: Warship is also available to download for just £2. You can pick up all nine releases in the series together in a bundle for just £45 – with both physical and download options available.
You can also pick up audiobook readings of the first two Lucifer novels for £15 on CD or £12 to download. The two audiobooks have also been collected with the three novels in a bundle for £40 physical or £35 to download. A mega bundle of every book release, plus the autobiography Paul Darrow: You're Him, Aren't You? and an audiobook reading of Terry Nation's celebrated children's novel Rebecca's World is also available for £75 in physical formats and £70 to download (note that the download version does not contain Paul Darrow: You're Him, Aren't You?).
Finally, the alternative world retelling of the Blake's 7 saga Blake's 7: A Rebellion Reborn (featuring Derek Riddell, Colin Salmon, India Fisher, Benedict Cumberbatch, Keeley Hawes, Zoë Tapper and Tracy-Ann Oberman) is also available for just £20 on both CD and to download.
For the true Blake's 7 fans out there, you can also order the Blake's 7 – March 2016 Supreme Bundle, containing every single Big Finish Blake's 7 release for just £300 (or £280 for the download version, not including Paul Darrow: You're Him, Aren't You?). Like all of other bundles, this set includes free UK postage and reduced international shipping.
All of these offers must end noon Monday March 7th (UK time) – so order now!
For more from the world of Blake's 7, look out for our upcoming March release of Call Me Jacks: Jacqueline Pearce in Conversation, the latest in our range of interview CDs. Over a bottle of champagne, Jacqueline enjoys an uncompromising conversation with Big Finish Executive Producer Nicholas Briggs, discussing her past triumphs and times. You can pre-order this CD today - with all copies of the CD version purchased before the release later this month signed by Jacqueline.
Please note that Call Me Jacks: Jacqueline Pearce in Conversation contains very strong language and material which may be unsuitable for younger listeners.
The release will be followed in August by an audiobook version of Paul Darrow: You're Him, Aren't You?, which includes an extra chapter of exclusive material from the original book, as read by Paul himself. Pre-order your copy here.