We love StoriesBig Finish produce great full-cast audio drama for CD and download, featuring many popular television fantasy series.
24 November 2020
Olivia Poulet narrates an epic adventure, written by debut Big Finish author, Niel Bushnell.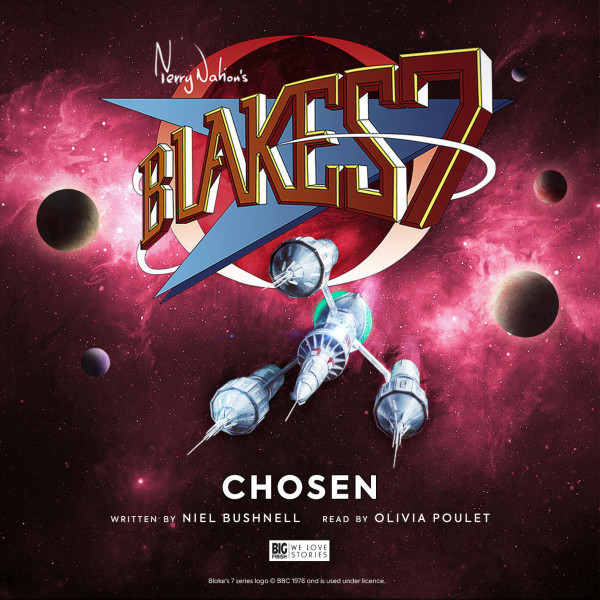 The Liberator is damaged while flying through an asteroid field. Each member of the crew must fight their own battle if they are all to survive and remain together.

Set between some of the early episode of Blake's 7 on television, this audiobook focuses on the original characters from the series, just as they are starting to get to know one another.

Blake's 7: Chosen is now available to own as a digital download for just £9.99 HERE!

+PLASMA BOLTS INBOUND AT VECTOR SIX EIGHT THREE.+

Zen's detached voice filled the flight deck, his measured tone at odds with the urgency of the situation.

+FORCE WALL CANNOT SUSTAIN A DIRECT HIT IN THAT SECTION. RECOMMEND EVASIVE ACTION...+

As a damaged Liberator drifts in the skies above, Blake, Vila and Jenna scope out the planet below. But what they believe to be an abandoned mining facility turns out to be less deserted - and more dangerous - than they could have known.

Meanwhile, the crew members left on board are facing problems of their own. Avon and Gan must work together to outwit Midrey Wraithe, a ruthless Space Commander who is willing to risk everything to get what she wants. And Cally lies unconscious on the flight deck, lost in a vivid dream of an innocent young boy, wandering the wastelands of a desolated planet...

Writer Niel Bushnell said: "My love of Blake's 7 goes all the way back to the original transmission which I saw at the impressionable age of seven. It gripped me from the first episode, and once I saw the Liberator there was no turning back. I've been hooked ever since, and I've wanted to play in the Blake's 7 universe for a very long time. I was lucky enough to animate the intros for the DVDs but this is the first time I've written for the series, so this is a dream come true for me."

Producer Xanna Eve Chown added: "Lockdown has made this a bit of an unusual recording. Luckily, our narrator Olivia Poulet is a true professional - with a professional recording set up at home too! We had a flurry of emails about accents, characters, pronunciations before she began, and she did a great job. Niel is a joy to work with, and he has written a fantastic story - with an intriguing twist that I am sure will surprise everyone."

Blake's 7: Chosen is now available to own as a digital download for just £9.99 HERE!