For The Love Of StoriesBig Finish produce fantastic full-cast audio dramas for CD and download.
Calling Comedy Scriptwriters!
16 January 2023
A brand-new comedy writing opportunity launches today at Big Finish Productions, paying homage to the legendary British TV series, Comedy Playhouse. This is no joke!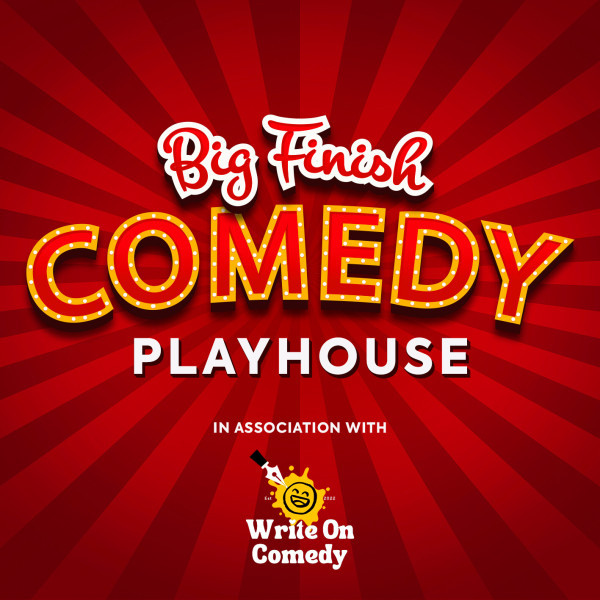 The long-running anthology, Comedy Playhouse, launched on BBC1 in 1961, with the first two series written exclusively by Ray Galton OBE and Alan Simpson OBE.
Over its initial 14-year run, the series showcased a selection of one-offs and pilots, many of which were later developed into popular sitcoms, including Steptoe and Son, Are You Being Served? and Last of the Summer Wine. Throughout the 1960s and 1970s Comedy Playhouse gained a reputation as a fertile ground for budding comedy talent.
Now Big Finish Productions and the writing association, Write on Comedy, have united to revive this winning formula on audio with The Big Finish Comedy Playhouse Script Writing Competition.
This exciting opportunity – open from today until 01 April 2023 – is in search of original and hilarious scripts which are suitable for a pilot episode of an audio production.
The winner will receive a cash prize of £500 and the Galton & Simpson Godfathers of Comedy Award (in honour of the Comedy Playhouse writers). Five runners-up will also each receive a cash prize of £350.
Joining Big Finish Productions on the judging panel is Robert Ross (author, comedy historian and the founder of Write On Comedy) and prolific comedy writer Jane Lamacraft. Jane's writing credits include Smack the Pony, Never Mind the Buzzcocks and many BBC Radio 4 productions.
Robert Ross said: "When we founded Write On Comedy as a community to celebrate and champion comedy people who create everything from crime thrillers to comic books, it was always hoped that we could revive the Comedy Playhouse as a platform for both fresh and established writers of situation comedy.
"Now, with the blessing of Tessa Le Bars, the legacy of the godfathers of situation comedy, Ray Galton and Alan Simpson, and in association with the peerless Big Finish, here it is! We are so excited to read your scripts."
Chairman of Big Finish Productions, Jason Haigh-Ellery said: "I am delighted we are working with Write On Comedy to create a series of new comedy pilots for the Big Finish Comedy Playhouse. This competition gives comedy writers an opportunity to have their work produced and hopefully this will lead to new series for Big Finish that comedy fans will enjoy."
Here are the guidelines for the opportunity:

1. All entries must be submitted electronically to the Promoter, comedy@bigfinish.com, no later than 17:00 (UK time) on the Closing Date, 01 April 2023. Entries must consist of two parts: a script and a synopsis.
2. The script must be no more than 30 pages with a font size of at least 11.
3. The script must be humorous, have no more than six characters, and be suitable for a pilot episode of an audio production.
4. The synopsis must detail the writer's plans for a full series and be no more than 500 words.
5. All entries must be submitted with your full name(s), recent photograph(s), postal addresses, brief biographies and email addresses.
6. The shortlisted competition entries will be judged in conjunction with a panel of judges based on the quality of writing, content, originality, humour and suitability for recording.
7. The Promoter will notify you by email to confirm whether or not your script has been shortlisted, by 31 August 2023.
8. The writers of the final six Scripts shall be known as the Finalists. The Promoter will notify the winner and the other five Finalists by email, post or telephone shortly before the Announcement Date.
9. If a Script is jointly written, the prize for that Script will be split equally between the writers of that Script.
10. The Promoter will publish the surname and county of major prize winners and, if applicable, their winning entries on the Big Finish website (www.bigfinish.com) on or before 30 November 2023 (Announcement Date). If you object to any or all of your
surname, county and winning entry being published or made available, please contact the Promoter comedy@bigfinish.com.
11. Entry is not open to people who have received payment for a script from Big Finish Productions in the 12 months preceding the competition opening date.
The full list of terms and conditions can be found here and should be read by anyone planning to send in a new script submission.
COMPETITION FAQ's
Are you allowed more than six characters? You cannot have more than six main characters, but you can have some other minor characters.

Can I enter the competition if I'm not based in the UK? Initially this is just for writers holding a valid UK passport, and a current UK bank account but if the competition is successful, we'll open it up to other territories.  

Are there any example scripts? No, but scripts should be written as an audio series in standard format.

Can I submit a TV/film script? No, it must be written as an audio series.

Is there a minimum length the script should be? No, but it should be no longer than 30 pages.

Should my script be anonymous, or should I put my name on the title page? It's fine to do either.

Do you accept adaptations? Adaptations of third-party material will not be accepted. Submissions must be the writer's original work, and may not be based wholly or in part, on the work of any other person, whether known, published, produced or not.

I don't have any professional commissions as a writer, am I eligible to apply? The competition is open to submissions from all writers, including those that don't yet have professional writing commissions.

Why are the winners required to give Big Finish 50% of the rights? The intention is for Big Finish to develop the winning scripts into full comedy series with a view to becoming television/film/stage projects.