For The Love Of StoriesBig Finish produce fantastic full-cast audio dramas for CD and download.
Captain Scarlet and the Mysterons - The Spectrum Files
11 September 2017
Spectrum is Gold! In preparation for the 50th Anniversary of Captain Scarlet this month, we look at the Spectrum Files, tales of Spectrum's fight against the Mysterons.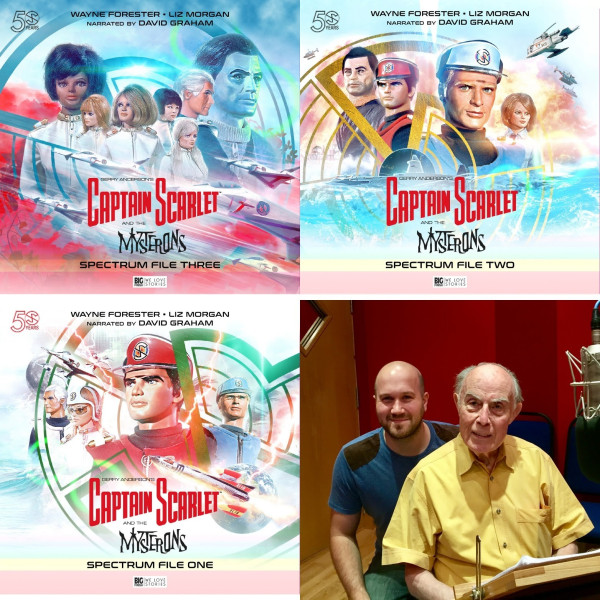 For fans of Gerry Anderson, there's a treat coming soon from Big Finish! Three new tales from the world of Captain Scarlet are coming in The Spectrum Files, written by John Theydon. Taken from three novels released in 1967, the same year as the original series of Captain Scarlet, The Spectrum Files have come to life with the vocal talents of Wayne Forester and Liz Morgan and narrated by David Graham.
Today we reveal the synopses for the Spectrum Files 2 and 3.
CAPTAIN SCARLET AND THE MYSTERONS - SPECTRUM FILE 2
The disappearance of the Oceanus X stealth submarine coincides with the Mysterons announcing their intention to devastate the world's greatest nation, and Spectrum are mobilised to locate the rogue vessel. Captains Scarlet and Blue join forces with a scientist who claims to be able to track the Oceanus - but even as they do so power stations around the world come under devastating attack from the Mysteron-controlled submarine.
As the hours count down to the destruction of North America Scarlet and Blue race against time to locate and destroy the Oceanus X – but even if they succeed, will this thwart the Mysteron plan?
CAPTAIN SCARLET AND THE MYSTERONS - SPECTRUM FILE 3
A chance encounter with Captain Black leads Melody Angel to uncover a plot by the Mysterons to devastate the world's food supplies by contaminating them with a deadly new bacteria. While Destiny Symphony and Harmony pursue Black, Rhapsody is on the trail of the only man who may be able to destroy this new culture – but the Mysterons are one step ahead of her, and soon a new and even greater danger looms.
As a wave of death and destruction begins sweeping across Canada all five Angels are deployed to combat the threat – but will their attempts to stop it only make things worse?
Hear a sample from the first of the Spectrum Files below:
We chat with Jamie Anderson, producer and director of these gripping new Captain Scarlet releases
- Hi Jamie! Thanks for chatting with us today. We're all very excited for the upcoming release of the Spectrum Files. It's fantastic to have these books back with us, as they're hard to get.
You can always pick one up on eBay - but they won't be brought to life in the same way we've done with these releases :)
- And with the wonderful voices of Wayne Forester and Liz Morgan - how was it in studio with them recreating that Spectrum sound?
Great fun! Wayne, Liz and David all like to remind me that they've known me since I was "this high" at which point they drop their hand to somewhere near their knees. The continuity here is one of the loveliest things for me. Knowing that they all worked with Dad, and now I get to do the same.
- We've been very lucky to have their vocal talents, and the voice of David Graham!
It was the perfect mix of Liz bringing old voices out of retirement, Wayne recreating an era, and David bringing his voice to a show that he never worked on originally. But they all did a brilliant job!
- What do you think makes Captain Scarlet endure in people's memory this time? It really built a whole world around itself. And many people loved the storylines, complex and scientific, but also strong. Sometimes Spectrum loses and the Mysterons win.
It's the darkness. Always the darkness. The show is full of death. You never got that in Thunderbirds or Stingray. That raises the stakes, and makes everything a lot more exciting. Add in the more advanced puppetry, model and effects work, throw in a dash of moral dubiousness (since we started the war with the Mysterons, albeit by mistake) and you've got a really interesting mix that sticks in people's memories.
- These adventures continue Spectrum's fight versus the Mysterons, and the Angels even get their own adventure for the first time. What's it like to explore these different characters? Liz Morgan must've had her work cut out!
Liz and Wayne both had a tough time. Both doing multiple characters in the same scenes. It's great to see other characters at the forefront of the show - especially in Spectrum File 3 with the Angels. It's just a really nice way to expand the Scarlet universe.
- And these Spectrum Files are very separate from the Anniversary boxset, which contains adapted TV adventures. So these Spectrum Files have been heard for the very first time?
Yep - first time ever for these to be brought to life in this way. A great addition to Scarlet cannon and to the whole Century 21 universe.
- What is the difference between the TV adaptations and the mini albums? The mini albums are stories that are separate from the TV episodes, correct? And one explores Spectrum before the end of the first episode of Captain Scarlet.
The mini albums were written as 'play at home' audio adventures back in 1967. Although the first story takes place around the same time as the pilot TV story, it's told from a different perspective.
The adapted TV stories are soundtracks from the original TV episodes with added linking descriptive material recorded by Ed Bishop playing his character Captain Blue - as if he were giving mission reports.
- And, just because I'm sure Anderson fans are desperate to know, what's your favourite Scarlet story? And why?
I've always been fond of Big Ben Strikes Again. It's such a nice little idea - and still a really enjoyable watch. It also seems particularly appropriate now that Big Ben will remain silent for a few years!
You can get these adventures at £16.99 on CD or £14.99 on download each, or save in a bundle. Get all three Spectrum Files for £35 on CD or £30 on download.
And don't forget about the 50th Anniversary Limited Edition Deluxe boxset for Captain Scarlet and the Mysterons, out this month!