For The Love Of StoriesBig Finish produce fantastic full-cast audio dramas for CD and download.
Christopher Eccleston travels in hope
3 August 2023
Three brand-new full-cast audio adventures for Christopher Eccleston's Ninth Doctor are released today from Big Finish Productions.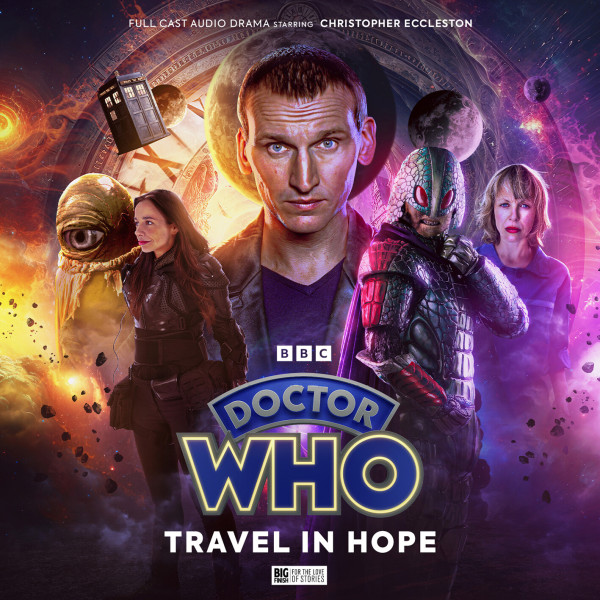 An all-star cast, including Jane Asher (Alfie, The Sarah Jane Adventures), Kelly Adams (Hustle, Holby City) and Paul Thornley (The Gold, Les Miserables), board the TARDIS for this spectacular audio drama box set.
The Doctor crosses paths with many travellers – some at the start of their journey, some well on their way.
From the remote nodes of a transmat network, to solving crimes at a spaceship service station, or helping a friend climb the political ladder - sometimes the journey is more interesting, and more dangerous, than the destination...
Doctor Who – The Ninth Doctor Adventures: Travel in Hope is now available to own as a collector's edition 4-disc CD box set (+ download for just £29.99) or as a digital download only (for just £22.99), exclusively here.
The writers of each of the thrilling stories comment below:
Below There by Lauren Mooney and Stewart Pringle
Vyx works on a teleport relay station in the darkest depths of space – and she's afraid. Strange voices crackle through comms channels, shapes gather outside the starless viewing ports, and visions of death and destruction plague her dreams.
Then she gets a call from the Doctor, who warns Vyx that her worst nightmares are about to become a reality.
Co-writer Stewart Pringle said: It's a ghost story, really, our tribute to Charles Dickens's The Signalman, which is maybe the best ghost story of them all. It's the scariest thing we've written. We really went all out to shake up the listener!"
Co-writer Lauren Mooney agreed: "I'd also add that I enjoyed writing this one perhaps the most of everything we've done for Big Finish so far. The Signalman is one of the most brilliant ghost stories ever written. It is a real privilege to get the chance to pay tribute to it here."
The Butler Did It by James Moran
The Doctor lands at a spaceship repair port on a dusty planet to tune up the TARDIS engines. But someone has poisoned an old friend of his, and now everyone at the station is a suspect.
It's time to round up the clues, get out the magnifying glass – or sonic screwdriver – and check the butler's alibi...
Writer James Moran said: "I wanted to write a big scary story, full of bombast. And I ended up going with a completely, bizarre, quite madcap romp. The Doctor has some really dramatic moments, but I also wanted do some more light-hearted stuff. Honestly, I want to see the Ninth Doctor being funny.
"Even if it's a dark story, you want to show how the Doctor comes into people's lives and hopefully makes things better – and they make him better as well."
Run by Robert Valentine
When heinous demagogue Bellatrix Vega threatens the stability of the Galactic Federation, the Doctor convinces newly elected representative Alpha Centauri to run against her for president.
As Vega's team mount a campaign of dirty tricks, the Doctor and Alpha must thwart a murderous conspiracy or see the galaxy's greatest democracy become a brutal dictatorship.
Writer Robert Valentine said: "It's really exciting to be writing for Christopher Eccleston, and it's also a lot of fun spending time with the Ninth Doctor. He definitely feels different from the others, and that keeps you on your toes a bit.
"'Run', obviously, was one of the Ninth Doctor's first words spoken on screen, and this is indeed a story about running… but possibly not the kind you are expecting."
Praise for Doctor Who – The Ninth Doctor Adventures: Pioneers:
"The overall sensation after three fun-filled hours is the warm glow of time well spent in good company..."
Doctor Who Magazine

"Christopher Eccleston continues to shine, with this box set celebrating a couple of his personal passions..."
Cultbox

"It's great. My love of the 9th Doctor has grown exponentially through Big Finish..."
Tin Dog Podcast
Big Finish listeners can save money by pre-ordering all four volumes of this Ninth Doctor Adventures series together in a bundle for just £108 (collector's edition CD box set + download) or £88 (download only).
All the above prices include the special pre-order discount and are subject to change after general release.
Series 1-2 of The Ninth Doctor Adventures are still available to purchase as triple LP vinyl bundles – limited to a pressing of 1,000 per volume – for £140 per series. Collector's edition (CD box set + download) bundles are also available at £110 per series, as are digital download bundles, for just £96 per series.
Please note: the vinyl editions do not include any behind-the-scenes extras. However, listeners purchasing vinyl LP editions will receive a download of the story automatically and be given access to the CD edits as a bonus download. Episodes will be edited specifically for the vinyl format, presented as 2 episodes, one on each side, each with opening and closing music. In addition, all pre-orders of the vinyls will also receive the behind the extras as a bonus download.
Big Finish is currently operating a digital-first release schedule. The mail-out of collector's edition CDs may be delayed due to factors beyond our control, but all purchases of this release unlock a digital copy that can be immediately downloaded or played on the Big Finish app from the release date.