We love StoriesBig Finish produce great full-cast audio drama for CD and download, featuring many popular television fantasy series.
21 August 2018
Class is back in session - with the original television cast. Greg Austin plays Charlie Smith, Fady Elsayed plays Ram Singh, Sophie Hopkins plays April MacLean, Vivian Oparah plays Tanya Adeola, Jordan Renzo plays Matteusz Andrzejewski and Katherine Kelly plays Miss Andrea Quill.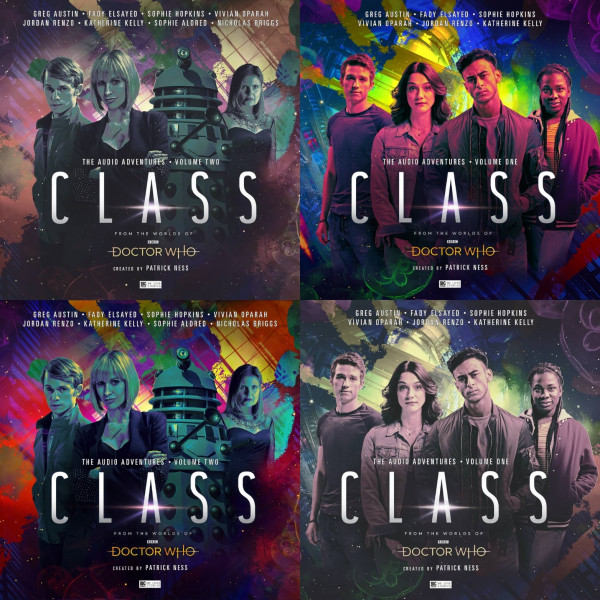 Set during the TV series, six new adventures from Coal Hill Academy have just been released on audio across two volumes. With more horrors of the universe emerging through the rip in time and space, plus Ace and the Daleks appearing at Coal Hill, are you ready for an extra lesson in Class?
1.1 Gifted by Roy Gill
When a talent scout arrives in Shoreditch, Ram sees an opportunity to further his goals, whilst April strikes up a friendship with new boy, Thomas Laneford. Their choices draw all three to Carterhaugh House – but who is the mysterious Mab that waits for them there…
1.2 Life Experience by Jenny T Colgan
After signing up for work experience at Sevelin Laboratories, Tanya and Ram find themselves thrust into the world of medical research. But dark secrets lie at the heart of Sevelin Industries – and not everyone can make it out alive…
1.3 Tell Me You Love Me by Scott Handcock
The school day has ended. Charlie and Matteusz find themselves alone – though not quite as alone as they first believed. Three little words could mean the difference between life and death… and Quill is the only person they can turn to.
2.1 Everyone Loves Reagan by Tim Foley
When Reagan Harper joins Coal Hill Academy, everybody instantly loves her – everybody except for April. Is there really more to Reagan than meets the eye? Or are there other forces at work in Coal Hill?
2.2 Now You Know… by Tim Leng
Following a series of freak attacks on staff and pupils, Tanya and Matteusz find themselves investigating a mystery that dates back to the 1960s. Together, they hope to solve it – even if that means turning on one another to do so…
2.3 In Remembrance by Guy Adams
When an alarm is triggered at Coal Hill Academy, Quill and Charlie encounter a mysterious intruder prowling around school premises. Worse, they also encounter a Dalek. Their only hope of survival lies with the stranger: a woman who calls herself 'Ace'…
Producer and director, Scott Handcock, tells us about bringing Class to Big Finish: "It's a real thrill having brought Torchwood back on audio, to do the same all over again with another slice of the Doctor Who universe, and to play in a world created by Patrick Ness. The characters and their relationships are key to the success of a series like Class, and the intimacy of the audio medium allows us to bring that to the fore.
"We've had a great deal of fun reuniting the original cast for the audio series, telling brand-new stories set within the TV run, whilst tackling a host of alien menaces. Of course I couldn't resist linking up to the Doctor Who universe, and bringing Ace and the Daleks into the world of Class has been an absolute treat. And for full authenticity, we're lucky to have series composer Blair Mowat return to the world of Class as well."
Each individual volume of Class is available now at £20 on CD (whilst stocks last, as this is a limited release) or £15 on download from the Big Finish website, and will remain at this price until October 31st 2018, when it will be available for £20 on download.
Class: The Audio Adventures Volumes One and Two can also be purchased as a bundle together at the price of £38 on CD and £28 on download. All CD purchases from the Big Finish website unlock a download exclusive from the Big Finish website and app.
CD stock may be available for purchase on Big Finish Day, but if you want to be sure of getting a physical copy we recommend that you place an order ASAP to avoid disppointment.
Let us know your thoughts about the world of Class on Facebook, Twitter and Instagram.