For The Love Of StoriesBig Finish produce fantastic full-cast audio dramas for CD and download.
Commander Ed Straker is at Breaking Point!
16 March 2023
The SHADO team battle personal demons, menacing aliens and time itself in a brand-new UFO box set of outer space full-cast audio adventures, released today by Big Finish Productions.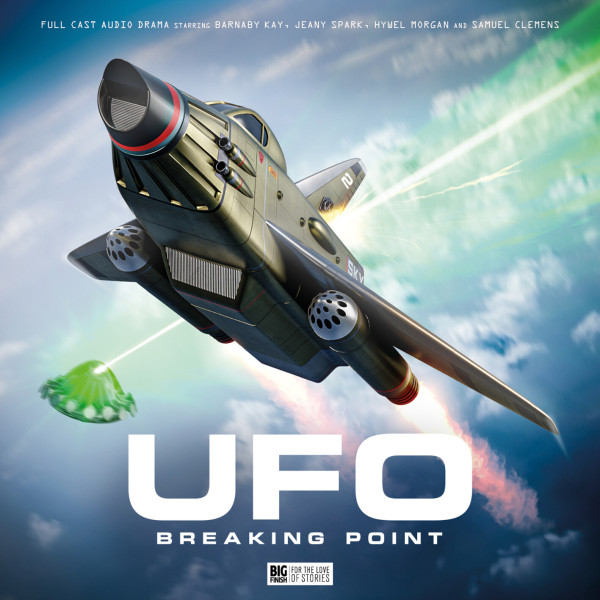 Originally broadcast in 1970, Gerry and Sylvia Anderson's sci-fi ITV series followed the missions of SHADO (Supreme Headquarters Alien Defence Organisation) set in the then-futuristic year of 1980. A new audio reimagining of the series from Big Finish debuted in August 2022.
UFO: Breaking Point, the latest volume, stars Barnaby Kay as Commander Ed Straker (originally played by the late Ed Bishop), alongside Jeany Spark (as Lieutenant-Colonel Virginia Lake).
New recruits. New technology. New threats. SHADO is nearly fully operational, but the alien menace is intensifying at a greater rate than the fledgling organisation can cope with. Under ever-increasing pressures, Straker is repeatedly put to the test. Facing unimaginable weaponry, warring factions, and near-insurmountable personal strain – can the man leading the fight to defend Earth survive?
UFO: Breaking Point is now available to own as a collector's edition CD box set (+ download for just £19.99) or a digital download only (for just £16.99), exclusively here.
The three adventures, all written by Nicholas Briggs and Jamie Anderson, are as follows:
Lost in Action
An unexpected confrontation at 30,000 feet leads to a civilian casualty. With no other options, Straker must recruit this stubborn but brave pilot to join SHADO. Meanwhile, Straker's team orders the early activation of Moonbase – without his consent. It's just in time. Now, the nascent organisation is being put to the ultimate test, and SHADO's latest recruit will have put his life on the line.
Assassination Time
In the wake of loss, SHADO's problems are brought into sharp focus by a series of unexpected and inexplicable events. A new threat from the aliens emerges – one that the organisation is ill-equipped to deal with. With few options left, Straker must follow his instincts and put SHADO's survival in the hands of a traitor.
Breaking Point
SHADO faces a severe security breach, swiftly followed by the most intense and highly-coordinated alien threat it has ever seen. Straker now faces unimaginable pressures from every angle. The strain on him, and his organisation, reach impossible levels. Mistakes will be made. Lives will be lost. Could this be the end?
Barnaby Kay said: "There's been a passage of time between the previous box set and this one. When we start in Lost in Action, things have moved on. There are many more characters and much more equipment. It's really exciting and great to listen to. The whole box set is fab – we've had a fantastic time."
Jeany Spark added: "It's so good to be back with the SHADO team. What an absolutely dreamy bunch of cosmic heroes. It's great fun to be having these enormous adventures through time and space alongside great actors. It's a dream job."
The talented ensemble cast also features Samuel Clemens (as Colonel Alec Freeman), Lynsey Murrell (as Lieutenant Gay Ellis), George Naylor (as Johnnie Straker), Hywel Morgan (as Paul Foster), Charlotte Harris (as Mary Straker), Wayne Forester (as SID) and Nicholas Briggs (as Dr Schroeder).
Big Finish listeners can save money by ordering both volumes of UFO together in a bundle for just £38 (collector's edition CD box set + download) or £33 (download only).
All the above prices include the special pre-order discount and are subject to change after general release.
Big Finish is currently operating a digital-first release schedule. The mail-out of collector's edition CDs may be delayed due to factors beyond our control, but all purchases of this release unlock a digital copy that can be immediately downloaded or played on the Big Finish app from the release date