For The Love Of StoriesBig Finish produce fantastic full-cast audio dramas for CD and download.
8 March 2021
There's more friends and foes than you could shake a Sonic Screwdriver at in Doctor Who: Dalek Universe.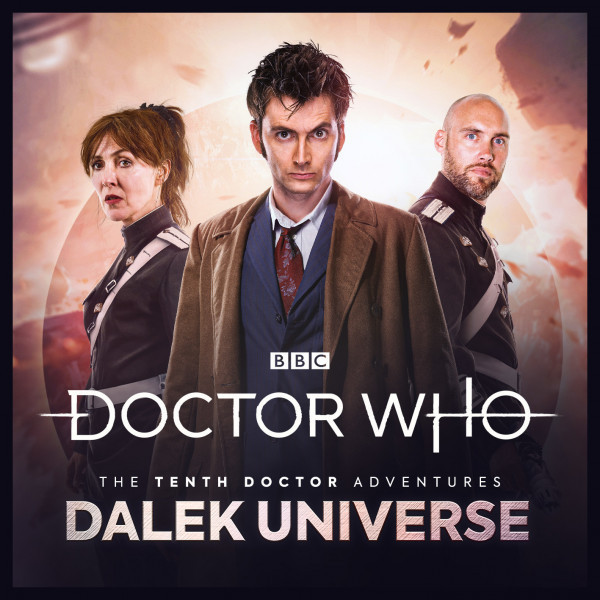 Those whom the Doctor encounters over these nine hour-long full cast audio drama episodes are played by a host of beloved actors, as they portray characters both old and new.
David Tennant, the Tenth Doctor himself, said: "When you've been involved in Doctor Who, it never really goes away, it's with you all the time. There is something particularly joyful about actually playing the character again. We've been very lucky with the people we've had coming on board..."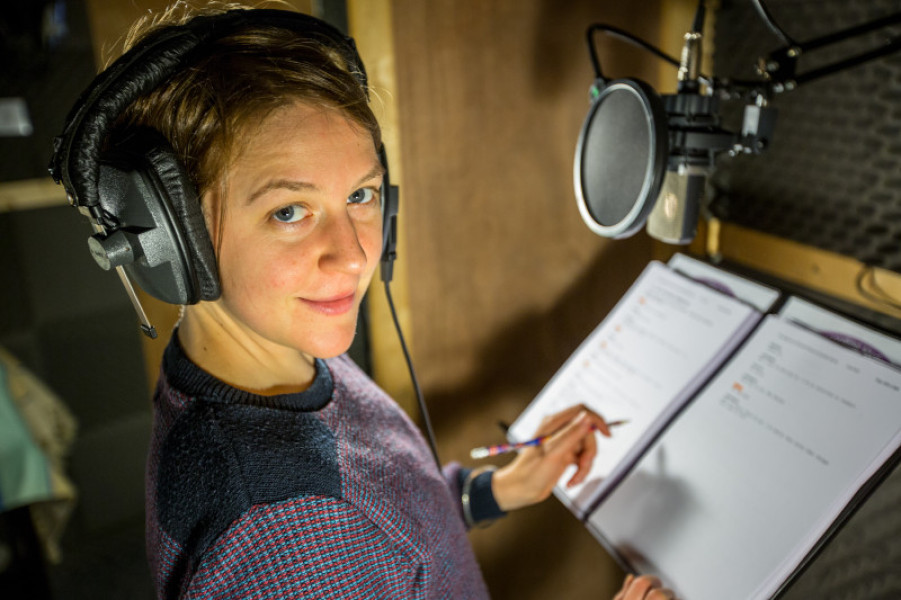 In Episode 1 of Dalek Universe 1, Buying Time by John Dorney, we meet the Newcomer, an impossible girl played by Gemma Whelan (Game of Thrones, Upstart Crow). She said of the script:
"It's very good, very witty, full of lots of interesting references and bits that people will be very pleased with themselves that they get. It's very nuanced and very funny, and it was just magic working with David Tennant. I really had a very thoroughly enjoyable day reading such a brilliant script."
David Tennant added: " Gemma was great, bonkers! She's a great actor, I've admired her in many, many things, so to get to work with her was fantastic...I think she was an inspired piece of casting.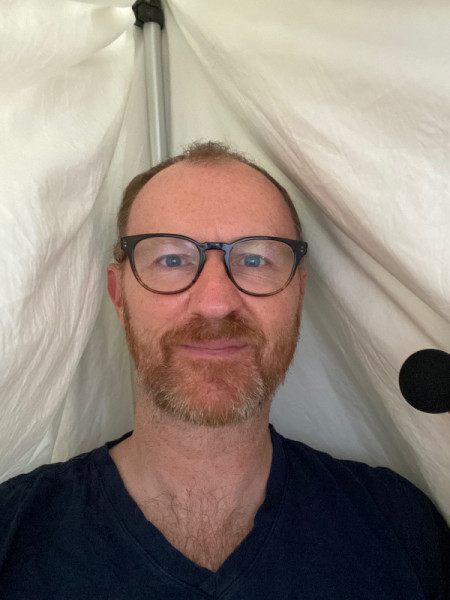 Also in Buying Time, we are introduced to malevolent businessman George Sheldrake, played by Mark Gatiss (Sherlock, Dracula), who said:
"There's something very lovely about that whole Dalek-mania period, when the Daleks were so insanely popular, and that sort of comic strip colourfulness, which this script reflects. And Sheldrake is a very familiar Doctor Who character, a sort of corrupt boss, I suppose."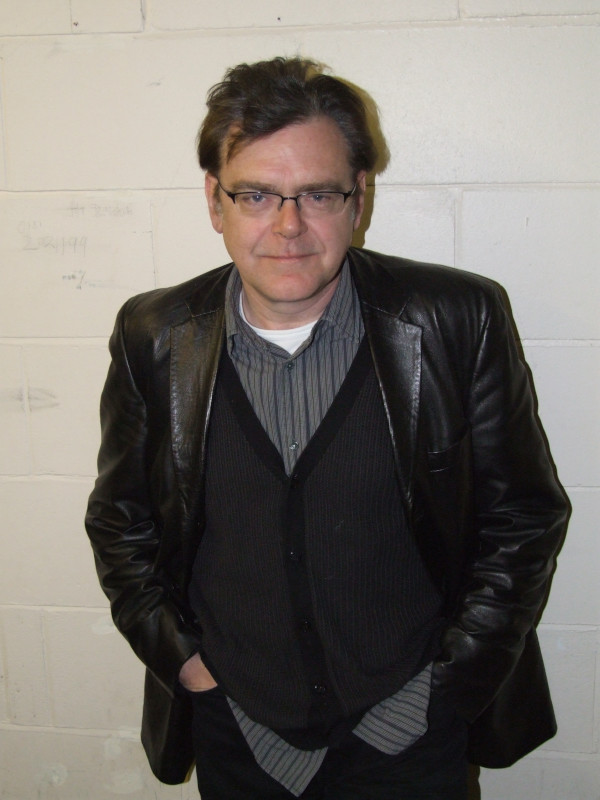 Then in Episode 3, The House of Kingdom by Andrew Smith, we delve deeper in to Anya Kingdom (Jane Slavin)'s family history as we encounter Merrick Kingdom, voiced by Kevin McNally (Pirates of the Caribbean, The Crown). He said:
"I was seven years old when Doctor Who started and I've enjoyed it all the way through to the present day. This is my third time – I did an actual Doctor Who back in the Eighties, and I've done one of these recordings before, so third time lucky, I hope! And David's certainly up there as one of my favourite Doctors, although it's very hard to choose as I've known them all! I think it's a wonderful creation."
And David Tennant revealed: "I've never worked with Kevin McNally before. He's a proper actor, isn't he? Lovely to do scenes with him, what a voice he has too, so resonant!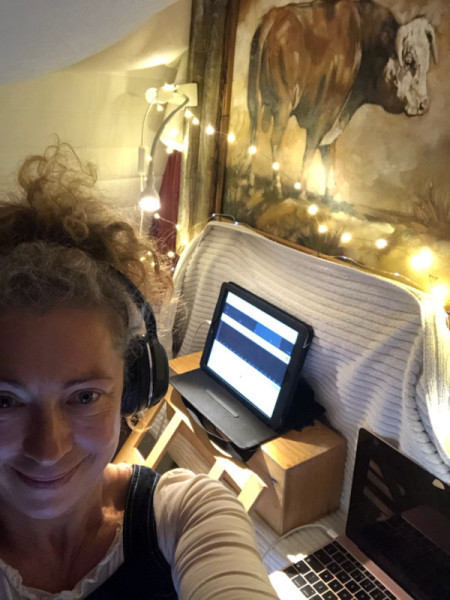 Then as we look ahead to Dalek Universe 3, a couple of classic characters make their return. Alex Kingston (ER, A Discovery of Witches) steps back into the shoes of the Doctor's wife River Song, on which David Tennant commented:
"It's lovely to have Alex Kingston in one's ears, of course. It's interesting, my Doctor's ending up having quite a history with River Song which he didn't really do on the telly, I just met her and she died! But it's nice to be filling in some of that story and giving them quite an in-depth relationship now.
And it's one of the baddest, biggest and best of them all – Terry Molloy (The Archers, Casualty) returns as deadly Davros, who said:
"This is something I've always wanted to do, ever since David took on the mantle of the Doctor. He's one of my favourite Doctors in terms of the stories, and the way he does it! And a lovely actor, just a fantastic actor...he's just so nice. He gives so much, there's so much bounce there, so much vitality to work against as Davros, and there's moments of seriousness along with the moments of flippancy and jokiness that he injects into it. It's an absolute delight to watch and work with in the studio."
And David Tennant was just as excited to work with Terry as he was to work with David, adding: "I get a real nostalgic kick from Terry Molloy being here. His voice as Davros is so exactly as it has always been, and having it burbling away in your headphones, burning through your ears, it's very exciting, so things like that are a real treat."
Each of the three volumes in Dalek Universe will be released as a four-disc collector's edition box set or download containing three brand-new full cast audio adventures, plus a selection of behind-the-scenes extras.
Doctor Who fans worldwide can also now pre-order all three volumes of Dalek Universe, which are available in three formats – collector's edition CD, digital download or limited edition gatefold triple LP vinyl – exclusively HERE!
Big Finish listeners can save by pre-ordering a bundle of the entire series for just £66 (as a collector's edition box set) or £58 (as a download).
The Dalek Universe triple LP vinyls are strictly limited to a pressing of 1,000 per volume, and can be pre-ordered at £35.99 each, or £99 for the bundle of all three albums, again exclusively HERE!
Please note: the vinyl editions do not include any behind-the-scenes extras. However, listeners purchasing vinyl LP editions will receive a download of the story automatically and be given access to the CD edits as a bonus download. Episodes will be edited specifically for the vinyl format, presented as two parts, one on each side, each with opening and closing music. In addition, all pre-orders of the vinyls will also receive the behind the extras as a bonus download.
Big Finish is currently operating a digital-first release schedule. The mail-out of collector's edition CDs may be delayed due to factors beyond our control, but all purchases of this release unlock a digital copy that can be immediately downloaded or played on the Big Finish app from the release date.