For The Love Of StoriesBig Finish produce fantastic full-cast audio dramas for CD and download.
Dark Shadows - Tony and Cassandra!
5 May 2017
Big Finish Productions are pleased to announce the forthcoming release of an exciting new full-cast Dark Shadows collection - The Tony & Cassandra Mysteries...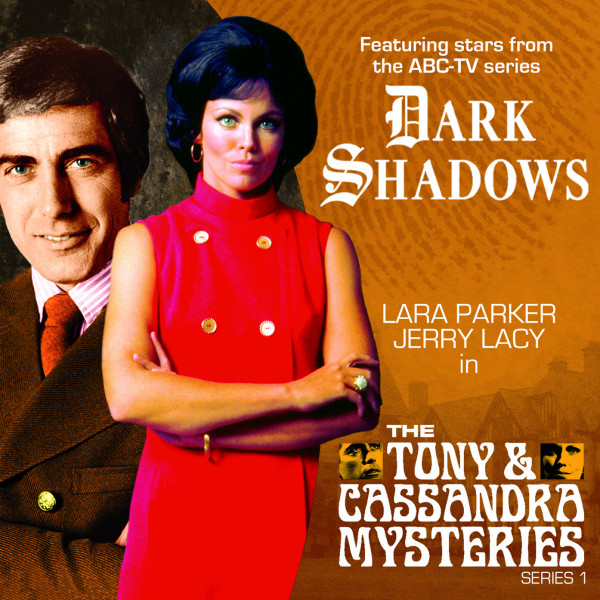 Coming in October is a brand new, four-story full-cast set of Dark Shadows adventures: Dark Shadows - The Tony and Cassandra Mysteries:
"When I attended the Dark Shadows 50th anniversary festival in mid-2016," says Dark Shadows producer David Darlington, "the feedback we started receiving - and then kept on receiving - was that more and more people wanted more and more of Tony and Cassandra. Jerry Lacy sat next to the Big Finish contingent for one of his many autograph sessions, and clearly enjoyed getting to point over at me and say 'Hey, ask this guy' every time someone brought the subject up…"
"But Tony and Cassandra who?" listeners who know Lara Parker and Jerry Lacy as Angelique and as various aspects of the Trask family respectively, might well be forgiven for asking. "During my first year on Dark Shadows, we commissioned Mark Passmore to write The Death Mask – a story that reunited lawyer Tony Peterson with the witch Angelique, now calling herself Cassandra," says co-producer Joseph Lidster. "Dark Shadows is primarily a gothic horror romance but The Death Mask was something a bit different – Agatha Christie meets screwball comedy meets horror meets pathos… she's a witch and he's a private detective, it's that simple – what's not to love? We knew that Jerry Lacy and Lara Parker were both fantastic actors but it wasn't until we heard the recording that we realised just how much chemistry they had together. The story proved to be incredibly popular so we quickly commissioned Mark to write a follow-up – The Voodoo Amulet. We then brought them back in The Last Stop and The Phantom Bride – with their journey coming to an end, we thought, in The Devil Cat."
"Joe and I had been looking for new ways into the Dark Shadows storyline and timeline," Darlington continues, "hence Blood & Fire last year and the start of a new short story range with Echoes of the Past – and of course our ongoing series continuing with Bloodline. The fact that we were suddenly aware of a groundswell of support for Tony and Cassandra at grass roots level gave us yet another lovely idea..."
"I've been busy script-editing the short story collections and Bloodline – the follow-up to Bloodlust," continues Lidster, "so we asked Alan Flanagan to commission and script-edit The Tony & Cassandra Mysteries."
"When Joe asked me to oversee this run of episodes I leapt on the chance, and all the writers have nailed that unique combination of screwball comedy and abject terror that has made these two characters legends in the Dark Shadows pantheon," says Flanagan. "Joe was a huge fan of Philip Meeks' work and his short story Lunar Tides is a charmer, while I'd gotten to know the certifiable madness of Aaron Lamont through our work on various Dark Shadows episodes -- and the final piece of the puzzle was newcomer Zara Symes, an incredibly exciting writer I've had the pleasure of writing and performing with at the Edinburgh Fringe."
The first story in the collection is The Mystery at Crucifix Heights by television and theatre writer Philip Meeks.
"The teaming up of Tony and Cassandra has to be my favourite spin-off ever," says Meeks. "You can't fail to fall in love with the pair and writing for them is fantastic. Their corner of the Dark Shadows world combines humour and horror with nostalgia and a huge amount of heart. The potential for their future forays into fear and the foes and fiends they could face is huge. Long may they reign as the King and Queen of the Supernatural Mystery."
Tony and Cassandra then travel to Boston to investigate The Mystery of La Danse Macabre.
"The Dark Shadows universe is so dark and there is such a rich history behind it," says writer Zara Symes. "I was delighted to be a part of bringing Tony and Cassandra's world to life; they are such strong, nuanced characters with a complicated relationship and backstory. I loved every minute of writing my small chapter of their story."
The Mystery of Flight 493 sees the intrepid duo trapped on a crashing airplane.
"The very first episode of Dark Shadows I got to script edit was The Phantom Bride," says writer Alan Flanagan, "so, in many ways, Tony and Cassandra were my mad, sass-filled, action-packed entry point to the series. The reason I love the series is that it's a world where you can truly do anything -- and Tony and Cassandra take that concept and give it a shot of steroids."
The series finale, The Mystery of Karmina Sonata is written by popular Dark Shadows writer Aaron Lamont.
"Way back when Mark Passmore was writing The Phantom Bride I'd sent him a message saying I loved Tony and Cassandra - but I never thought I'd get to write for them. They behave like Cary Grant and Katherine Hepburn in Bringing Up Baby - bickering flirtatiously and fighting supernatural nasties while they do it. So I had great fun watching old screwball comedies (and about three seasons of Moonlighting in a week) to nail the dynamic between them. And I really hope I get the chance to do it again."
Joining Jerry Lacy and Lara Parker as Tony and Cassandra is Emmy Award-nominated Julia Duffy as their acerbic secretary Rita Channing. The cover and story blurbs can be found here, with the trailer below. The series, available at pre-order prices for £30 on Download and £35 on CD, will be released in October 2017 exclusive to Big Finish before a general release at the end of November.
"What's brilliant about Tony and Cassandra," says Joseph Lidster, "is that I genuinely didn't expect their stories to be too popular with the fans. They're not set at Collinwood and they're a bit funnier and more adventure-y than the usual Dark Shadows story. I was so happy to be proved wrong – I'm thrilled that we've been able to bring them back."
News on further Dark Shadows releases will be announced soon - and check out all the Dark Shadows ranges here, and this weekend's 50% special offers here.