We love StoriesBig Finish produce great full-cast audio drama for CD and download, featuring many popular television fantasy series.
Dark Shadows: Echoes of the Past
29 April 2016
Big Finish is delighted to announce an additional release to celebrate 50 years of Dark Shadows, featuring four new stories from the town of Collinsport....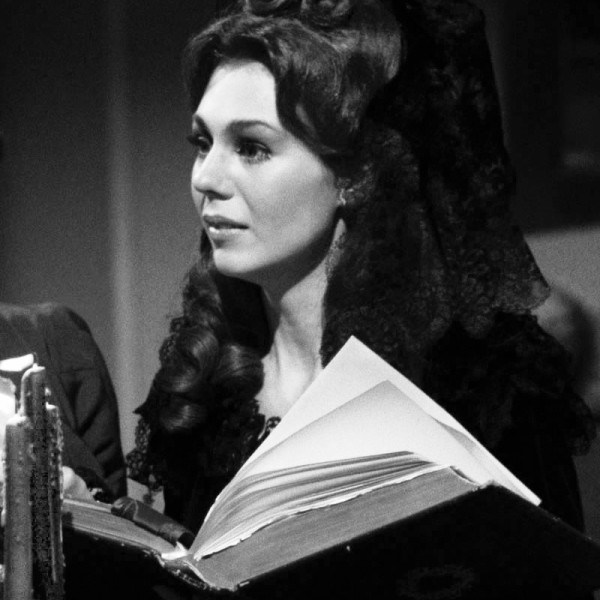 2016 marks fifty years since the iconic horror-soap opera Dark Shadows first aired on ABC, and ten years since Big Finish Productions began releasing their own audio adventures.
This year, Big Finish will be celebrating those anniversaries with two previously-announced stories – Dark Shadows: Blood & Fire, our full cast 50th anniversary special and a new 13-part serial, Dark Shadows: Bloodline – and today we're delighted to add a third title to the line-up!
Dark Shadows: Echoes of the Past features four new stories read by members of the original cast; with actors Jerry Lacy and Matthew Waterhouse writing for Dark Shadows for the first time, alongside two other writers who are new to the range.
'Over the years, we've moved very much into doing full-cast stories for the Dark Shadows range,' says co-producer Joseph Lidster. 'And, for the anniversary, we wanted to do something a bit different.'
'We've already got two very packed full-cast dramas on the slate to celebrate the anniversary,' says co-producer David Darlington, 'but it's good to vary the style and approach – Dark Shadows is ideally suited for small-scale, romantic stories like these.'
The first story is Lunar Tides, written by playwright Philip Meeks and performed by Kathryn Leigh Scott. The tale sees Maggie Evans making a new friend, Lettie Winslow.
'My writing nearly always revolves around resilient gutsy women' says Phillip, 'so penning a tale for Maggie Evans was a natural choice. I love writing for audio more than any other medium and I'm a huge fan of Big Finish. They've done so much brilliant work keeping cherished ideas alive and thriving and this includes their wonderful "Dark Shadows" range.
'I've always been a bit obsessed with this vintage series, probably because we didn't get it in the UK when I was a child. The idea of a soap opera featuring witches and ghosts was my idea of TV Heaven. Often when I was on the writing treadmill churning out dozens of Emmerdale episodes I would fantasise that I could write something like 'Scene Six. Interior Woolpack. Betty bares her fangs and discusses the secret behind her award winning marmalade. Finely shredded virgin skin.' But alas I always chickened out.'
Old Acquaintance, written by actor and writer Matthew Waterhouse and performed by David Selby, sees Quentin Collins bringing a terrible danger to Collinsport on New Year's Eve, 1971.
'I adore Dark Shadows in both its TV and audio incarnations,' says Matthew. 'I have hugely enjoyed acting in a number of episodes so I was delighted to be asked if I might have a go at writing a story. The audio versions of my own books have always been read by me so this is the first time I have written for another voice, which is exciting and a bit scary – after over thirty years spent acting and writing, it's another new adventure! Having worked with the excellent David Selby I was thrilled to have the chance to write for his voice and his character, Quentin Collins. I've always been fascinated by old, lost traditions, so I made a specific winter ritual the heart of the story. I was also pleased to have the chance to write a piece that takes place so soon after the final 'modern day' TV story – it is as if I am writing the very next episode!'
Confession, by Paul Phipps and performed by Lara Parker, features the witch Angelique being forced to write a confession over and over and over again…
'I always listen to Dark Shadows at night,' says Paul, a writer new to Big Finish, 'because you need the thought there's something hiding just out of sight. So when Joseph said 'write something frightening', I couldn't say no. I love Angelique - I love the complex passion she tries to keep hidden and the way she can forever change a person's fate with just one word. And there's still so much we don't know about her! But you can be sure of one thing - if she confesses her sins, there's going to be screaming.'
The collection's final story is Trask The Exorcist, written and performed by Dark Shadows star Jerry Lacy, which sees the original Reverend Trask being called to a farmhouse to investigate the apparent possession of a young girl…
'I certainly enjoyed the opportunity to stretch my writing wings a bit', says Jerry, 'and work on a short story in prose style, as most all of my previous work has been in the form of dialogue for stage or TV, with little thought given to descriptive passages. Previously all I had done for Dark Shadows were a few short skits, which were performed at various Dark Shadows Festivals in past years. When given the challenge to create a story for Trask, I jumped at the chance and went back to a time before 1795 to see where the good Reverend was coming from.'
Dark Shadows: Echoes of the Past is available to pre-order now for £14.99 on CD and £12.99 to download. It will be released in June, exclusive to the Big Finish website, before becoming available for other retailers on July 31st 2016.
Also released in June is Dark Shadows: Blood and Fire, which is available to pre-order now for £14.99 on CD or £12.99 to download. As with the majority of Big Finish releases, a complimentary digital download is included with all CD orders: so you don't need to wait to start celebrating!
Pre-orders for Dark Shadows: Bloodline will open later in the year….and in the meantime you can explore Big Finish's entire Dark Shadows range on the range pages here.