For The Love Of StoriesBig Finish produce fantastic full-cast audio dramas for CD and download.
Dark Shadows - The Horror Collection
31 October 2018
A new digital collection of Dark Shadows stories is available today - just in time for Halloween. Plus now's your chance to pick up our Dark Shadows serial Bloodlust at only 99p an episode - a spooky bargain!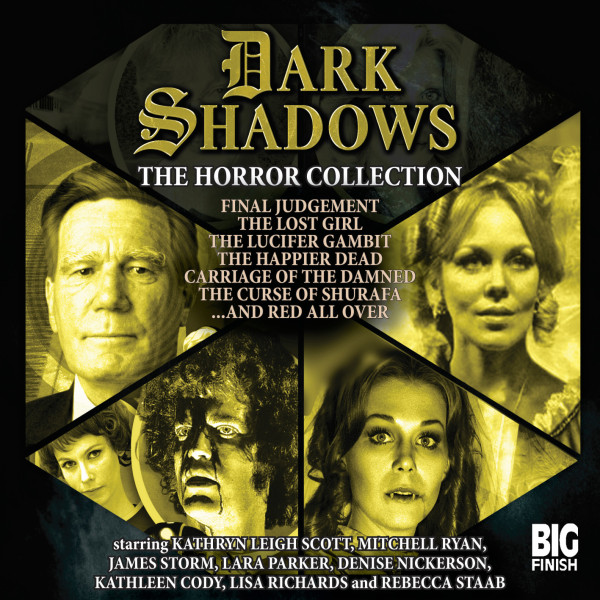 For fans of Dark Shadows we've a fantastic collection of Dark Shadows stories in our new release, Dark Shadows: The Horror Collection.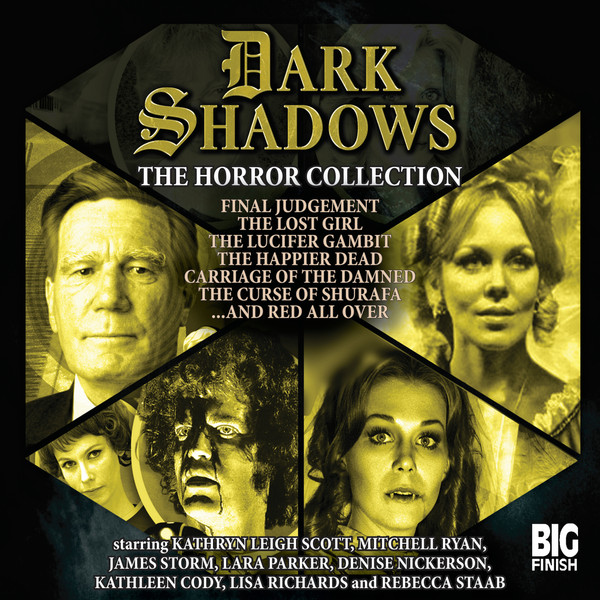 The Horror Collection features the stories Final Judgement starring Lara Parker and Kathryn Leigh Scott; The Lost Girl starring Kathryn Leigh Scott; The Lucifer Gambit starring Sheila Steafel and Stephanie Ellyne; The Happier Dead starring Stephanie Ellyne and Murray Melvin (who stars in our Torchwood releases as Bilis Manger); Carriage of the Damned starring Lisa Richards and Kathleen Cody; The Curse of Shurafa starring Andrew Collins and And Red All Over starring Kathryn Leigh Scott and Mitchell Ryan.
(Please be warned that the file size is very large so check your data-rates if downloading on mobile networks).
Available at just £25 per download for the next 48 hours (until 2359 UK time 2nd November 2018) this is the perfect treat for Halloween listening. After that it will rise in price to £35.
And don't forget, we have other horror treats available in our Horror promotion – see the news page for all the details.
To get these special offers, head to page URL: https://www.bigfinish.com/offers/v/horror18 and use access code SPOOKY (all upper case) for access. These special offers end at 23:59 (UK time) on 01/11/2018, so don't miss out.
And as if that wasn't enough, Dark Shadows: Bloodlust is currently available to download at just 99p an episode, with the first episode completely free.
Dark Shadows: Bloodlust is a collection of thirteen episodes originally released in 2015 twice-weekly in a nod to the soap operas that in part inspired this classic series.
Some describe it as the town at the edge of the world.
When Melody and Michael Devereux come to Collinsport on their honeymoon, they don't know the secrets that are hidden behind closed doors. But those secrets will be unearthed when an innocent is viciously murdered.
Collinsport will be a town divided. One woman's rise to power will lead to further death and destruction. Families will be ripped apart. Blood will be spilt.
And the dark forces that wait in the shadows will wait no more. For in Collinsport, death is never the end…
Head to URL https://www.bigfinish.com/bloodlust and use access code DARKSHADOWS2018, for purcahse episodes 2-13 of Bloodlust for just 99p each. This offer expires at midnight (UK time) on 31st October 2018!
And don't forget that next month, The Tony & Cassandra Mysteries is returning for a second series.
She's a witch. He's a private detective. And when they get together, it's magic…
The private detective and the witch are back investigating four new exciting mysteries:
Could cartoon characters really be coming to life at Stone Heart Studios? What is happening to the children at West Vale Sanitarium? What terrifying entity is haunting Cassandra's new apartment? And what is really happening to those seeking love at the Soulmates Hotel?
If you've never seen the original Dark Shadows tv series before, before you can find every episode on Amazon Prime. Discover the characters' origins on television before re-discovering them on audio!