For The Love Of StoriesBig Finish produce fantastic full-cast audio dramas for CD and download.
Dark Shadows in July - Love Lives On!
10 April 2017
Big Finish Productions are pleased to announce details and a date change for the third Dark Shadows short story collection of the year...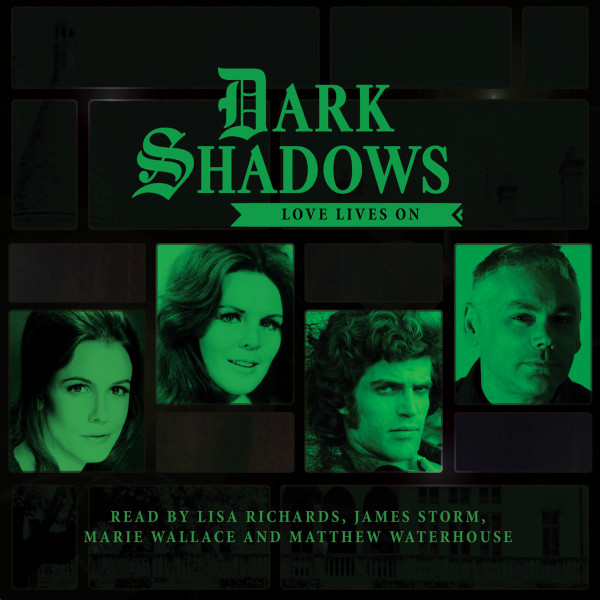 Coming later this year - now in July, rather than the originally-announced October date - is Dark Shadows - Love Lives On:
The first story in the collection is Tuesdays and Thursdays written by Cody Schell and performed by Matthew Waterhouse.
"The nice thing about Dark Shadows is that there is an unending supply of cobweb-filled corners in Collinsport in which to shine a flashlight." says Schell. "After putting two audio dramas under my belt (The Flip Side and …And Red All Over), I was really excited to have the opportunity to write something in an audio-book style. This meant I could use the magnificent Professor Stokes! I knew the I Ching would be involved in my story, so as an experiment I cast a Hexagram at random. I researched it, and incorporated it into my story. I think Stokes would be proud. I was able to show glimpses of his past… and that of another beloved character."
The second story is The Velvet Room by new writer Antonio Rastelli. It stars James Storm as returned-from-the-dead-seafarer Gerard Stiles.
"I can't express how honoured I was when Joe asked me to pitch for Dark Shadows," says Rastelli. "I have fond memories of throwing ideas at him a couple of years ago, thinking nothing would come of it. I've been a huge fan of the series for a long time and even had the privilege of appearing in one or two of the audios as an actor. I'll admit that it was a daunting task. The series has 50 years of rich history and dedicated following of fans and I wanted to do it justice. Gerard Stiles and Hallie Stokes are both such complicated yet interesting characters that I jumped at the opportunity to write for them. Between you and me this is my first gig as a writer, so I do hope you all enjoy your visit to the Velvet Room."
The third story, performed by Marie Wallace, is Behind Closed Doors by Paul Phipps.
"Marie Wallace is such a wonderful actor," says Phipps, "and the character of Jessica Griffin is now firmly established as one of the new shining stars of Dark Shadows. We've had hints about her life before she took over The Blue Whale, and I really wanted to explore the journey she's been on over the last few years - and the future she's now looking forward to after the events of Bloodline. This is a woman with a past, and in true Dark Shadows style, everyone has to face their past one day. I'm thrilled that I've been given the chance to spend so much time with Jessica – even if it means I had to be the one to put her through her very worst nightmares. I thought my last story for Big Finish – Confession, in Echoes of the Past – was dark, but there are five words in Behind Closed Doors which terrify me on a completely different level..."
The final story in the collection is The Suitcase by Alan Flanagan. The story – featuring the popular duo of Sabrina and Cyrus Longworth-Jennings – is performed by Lisa Richards.
"My first story for Dark Shadows was Carriage Of The Damned," says Flanagan, "so I was chomping at the bit to return to telling a story about Sabrina, especially after all the great work building up her and Cyrus' relationship since then. She's another classic example of how Big Finish have taken a character whose arc felt unfinished on the show, and developed her into this strong, multi-faceted person. The Suitcase delves deep into Sabrina and Cyrus' relationship as they consider starting a family, but their plans are interrupted by a new arrival - a woman who has a gift for granting people their wishes in the worst possible way..."
The cover and trailer for the collection have been revealed today:
Dark Shadows - Love Lives On will be released in July, and can be pre-ordered for £12.99 on Download or £14.99 for a CD purchase (which also unlocks a digital version in your Big Finish account).
Check out all our Dark Shadows ranges and stories here, including single stories, short story readings, our epic Bloodlust serial, and even some free episodes...