For The Love Of StoriesBig Finish produce fantastic full-cast audio dramas for CD and download.
Dark Shadows: Joanna Going and Matthew Waterhouse join Blood and Fire!
4 May 2016
Our 50th anniversary adventure for the popular horror-soap opera is coming soon! Check out our new reveals now...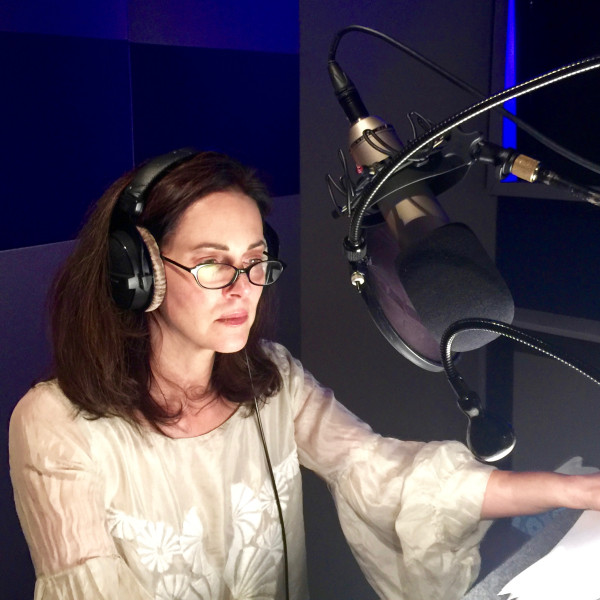 2016 marks fifty years since Dark Shadows first aired on ABC, and ten years since Big Finish Productions began releasing their own Collinsport audio adventures.
This year, Big Finish will be celebrating those anniversaries with three stories – Dark Shadows: Echoes of the Past, a new collection of short story readings, Dark Shadows: Bloodline, a new 13-part serial and a full-cast anniversary special Dark Shadows: Blood and Fire: today we're delighted to reveal some behind-the-scenes photos from this eagerly awaited story, as well as announce some further casting...
Joanna Going, who recently starred as First Lady Tricia Walker in House of Cards, joins the cast as young widow Laura Murdoch Stockbridge. As well as roles in Columbo, CSI: Crime Scene Investigation and Mad Men, Joanna played the iconic role of Victoria Winters in the 1990s revival of Dark Shadows.
Matthew Waterhouse, best known for playing Doctor Who companion Adric, features as Reverend Samuel Cunningham. Matthew, recently announced as one of the writers for Dark Shadows: Echoes of the Past, is known to Dark Shadows fans for playing John Cunningham in Dark Shadows: The Creeping Fog and Andrew Cunningham in last year's acclaimed miniseries Dark Shadows: Bloodlust.
Also joining the cast are Ursula Burton as Peggy Griffin, Alexandra Donnachie as Sarah Filmore, Scott Haran as Lamech Gifford, Walles Hamonde as Roderick Haskell, Daniel Collard as Robert Hanley and Natalie Britton as the mysterious Storm Elemental.
'It's a real thrill to have Joanna playing the role of Laura,' says co-producer Joseph Lidster. 'We wanted someone who could go head-to-head with Lara Parker's Angelique. Dark Shadows fans will know that Laura will go on to play an important role in the lives of the Collins family.'
'It's always great to have old friends like Matthew, Ursula, Alexandra, Scott, Walles and Daniel back,' says co-producer David Darlington. 'When Victoria Wood sadly died recently, I re-watched a documentary that the BBC screened as a tribute to her. She, famously, kind of had her own repertory company of performers, and her comments on the joys of working with familiar actors struck a chord with me - reminding me a lot of how Dark Shadows always worked. Of course, you shouldn't work with just the same ten people for ever, but one of the delights of the television series is watching familiar actors turn up in new roles – often playing their own ancestors. So it's fun to meet more Cunninghams and Griffins…'
Dark Shadows: Blood and Fire can be pre-ordered today for just £14.99 on CD or £12.99 to download, with Dark Shadows: Echoes of the Past also available. As with the majority of Big Finish releases, CD orders also contain a complimentary digital copy – allowing you to begin the celebrations as soon as the stories are released!
Pre-orders for Dark Shadows: Bloodline will open later in the year. You can explore Big Finish's entire Dark Shadows range on the product pages here.