For The Love Of StoriesBig Finish produce fantastic full-cast audio dramas for CD and download.
Dark Shadows - more coming soon!
5 September 2018
A second and third series of the magical The Tony & Cassandra Mysteries is coming out soon. Plus Bloodline, the follow-up to the Dark Shadows release, Bloodlust, has been confirmed today where we'll see the future history of the world of Collinsport.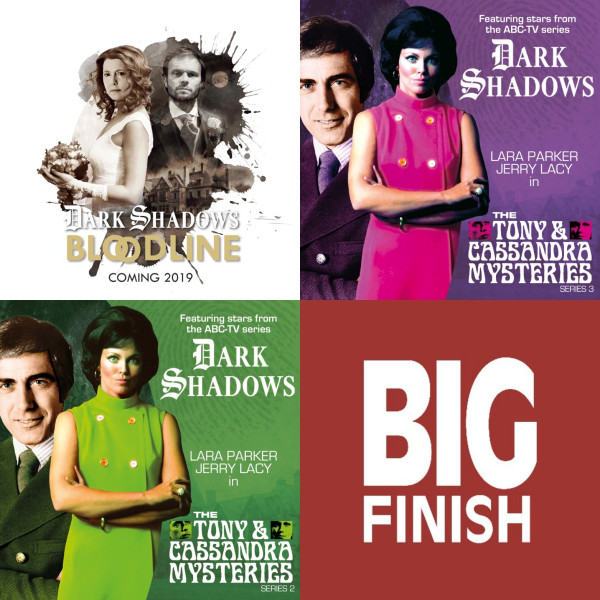 Big Finish is delighted to announce a whole host of treats from the world of Dark Shadows, and they promise to be scarier than ever…
This November sees the return of the private detective, Tony Peterson, and the witch, Cassandra Collins in Series 2 of The Tony & Cassandra Mysteries.
Co-producer Joseph Lidster says: "People seemed to like the first series, so we spoke to Big Finish about producing more adventures for the detective duo. We didn't want to do just more of the same, though, so Series 2 delves into their relationship a lot more. They get a new secretary, Alice Wilkes, who they previously encountered on the doomed Flight 493, and Cassandra is starting to try and settle down to life in the 1970s. She's even rented an apartment!
"The second series features cartoon characters coming to life, a spooky sanitarium, a two-hander told in real-time and a mysterious lonely-hearts hotel where Tony and Cassandra have to go undercover because obviously they most definitely, absolutely, don't have any romantic feelings for each other at all. Doing more of The Tony & Cassandra Mysteries has also allowed us to bring some new writers into the world of Dark Shadows – with Grace Knight, Joshua J Price and Tanja Milojevic joining returning writers Alan Flanagan and Philip Meeks."
She's a witch. He's a private detective. And when they get together, it's magic…
The private detective and the witch are back investigating four new exciting mysteries:
Could cartoon characters really be coming to life at Stone Heart Studios? What is happening to the children at West Vale Sanitarium? What terrifying entity is haunting Cassandra's new apartment? And what is really happening to those seeking love at the Soulmates Hotel?
The series stars Jerry Lacy and Lara Parker with Sydney Aldridge returning as pregnant, Molotov-cocktail-maker, secretary Alice Wilkes. "We've also managed to bring together a fantastic set of actors to play the supporting cast including Tom Michael Blyth, Abi Harris, Doireann May White and Jake Wardle," continues Joseph Lidster. "I was especially thrilled that Jake agreed to record for us as he recently starred in Twin Peaks: The Return which was just the most amazing television experience I think I've ever seen. It was hard to stay professional in studio and not bombard him with questions about David Lynch!"
Co-producer David Darlington told us about reuniting these two iconic characters for their own series: "When I attended the Dark Shadows 50th anniversary festival in mid-2016 the feedback we started receiving – and then kept on receiving – was that more and more people wanted more and more of Tony and Cassandra. Jerry Lacy sat next to the Big Finish contingent for one of his many autograph sessions and clearly enjoyed getting to point over at me and say, 'Hey, ask this guy' every time someone brought the subject up!"
"What's brilliant about Tony & Cassandra," continues Joe, "is that I genuinely didn't expect their stories to be so popular with the fans. They're not set at Collinwood and they're a bit funnier and more adventure-y than the usual Dark Shadows stories. I was so happy to be proved wrong – I'm thrilled that we've been able to bring them back."
You can pre-order Series 2 and 3 of The Tony & Cassandra Mysteries at £30 on CD or £25 on download. Or they are available together in a bundle at £56 on CD and £48 on download.
And speaking of things returning… what about that far-too-long-awaited return to Collinsport itself? Dark Shadows – Bloodline now has an official release date of April 2019!
Bloodline, written by Alan Flanagan, Will Howells, Aaron Lamont and Rob Morris, features the return of the cursed Collins family – those that survived the events of Bloodlust.
As family and friends gather at the Collinwood estate for the wedding of David Collins and Amy Jennings, a new mystery starts to unfold…
"Bloodline is finally happening!" says co-producer David Darlington. "Joseph and the writers wanted the scripts to be in the best possible shape before we went in to studio so there have been rewrites going back and forth for about two years now."
More details about Bloodline will be announced soon but the 13-part serial will be released in April 2019. As well as many of the regular residents of Collinsport, the series will also introduce the mysterious Vivian Bell, played by Georgina Strawson.
"Georgina is one of the stars of a children's television series, Hetty Feather, that I'm lucky to write for," says Joe. "When I first saw some rushes of her playing Lady Rosamund Calendar, I couldn't take my eyes off her. It's a stunning performance, and I knew, as soon as I saw it, that we needed to get her into Dark Shadows. So, welcome to Collinsport, Vivian Bell…"
Bloodline is available in individual episodes on download at £3.49, which will be released bi-weekly beginning in April 2019. Or you can pre-order the complete series in two boxset releases on CD at £25 or download at £20 each – or pre-order both together on £48 on CD or £35 on download.
The third and final series of The Tony & Cassandra Mysteries will be released in October 2019. Although not the end for these two iconic characters, this series wraps up their solo adventures.
"We always knew we wanted the series to be finite," explains David. "We didn't want to start repeating ideas, and we knew that the series had to eventually lead into The Phantom Bride." Joe continues: "It's been really great, working with Alan Flanagan, plotting out the character arcs across the two series and knowing that this has an actual ending. But it might not be the last we see of their characters, of course…!"
"Again, we've managed to assemble a fantastic guest cast," continues David. "With Adam Hall, Sarah Pitard and Doctor Who regular Dan Starkey joining the team. Plus Zehra Jane Naqvi co-stars as gypsy nightclub singer Mari, and Eva Pope – who Joe worked with on Hetty Feather – plays the mysterious Briar Stevenson."
And that's not all from Collinsport! April 2020 will see the release of a further 13-part-serial – Dark Shadows: Windcliff.
Written by Penelope Faith, Aaron Lamont, Rob Morris and Paul Phipps-Williams, Windcliff sees many of our regular characters making a night-time visit to Collinsport's local sanitarium.
"All we'll say for now is that we, again, wanted to do something we haven't done before so Windcliff is very different to both Bloodlust and Bloodline," explains Joe. "The writers are working on the scripts now and we're looking forward to releasing more details in the future."
More stories are scheduled for September 2020 and April 2021. "September 2020's story is something we've been wanting to do for a long time," continues Joe. "And the following April will see the release of a further 13-part-serial provisionally titled Thirteen. What will happen? Who knows..."
Make sure you keep an eye out for more information on these upcoming Dark Shadows titles, plus Dark Shadows special offers in the spookiest month of year, October.