For The Love Of StoriesBig Finish produce fantastic full-cast audio dramas for CD and download.
David Bradley returns to the TARDIS in Doctor Who - The First Doctor Adventures!
15 September 2017
Materialising in time for the New Year, The First Doctor Adventures features David Bradley reprising his role in a new set of stories for a very familiar, yet very new, Doctor.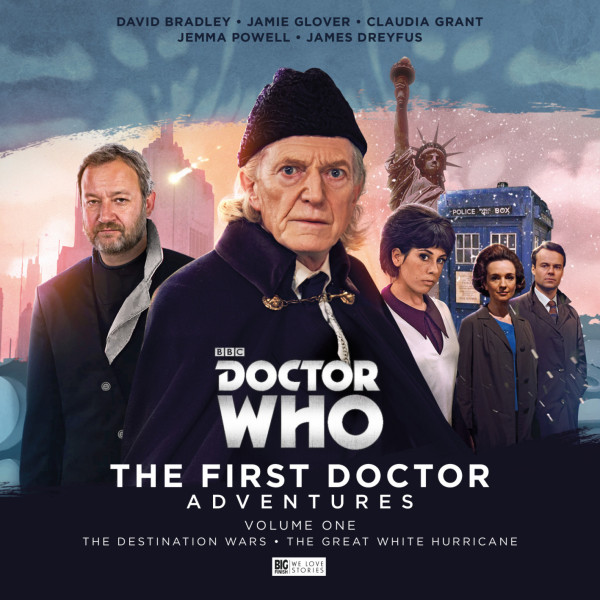 Following his stellar portrayal of William Hartnell in BBC Two's An Adventure in Space and Time, David Bradley (Game of Thrones, Harry Potter, Broadchurch, Captain America) is set to star as the First Doctor in this year's BBC One Doctor Who Christmas Special alongside Peter Capaldi. And now Big Finish Productions, in arrangement with BBC Worldwide, are giving this reimagined First Doctor another chance to explore the cosmos!
Joining David Bradley are his co-stars from An Adventure in Space and Time reprising their roles as the iconic first TARDIS team. Jamie Glover (Elizabeth, Waterloo Road, Holby City) plays Ian Chesterton, Jemma Powell (Alice in Wonderland, Angel, Foyle's War) plays Barbara Wright, and Claudia Grant (Harry Potter and the Cursed Child) plays Susan – the Doctor's granddaughter and the original 'Unearthly Child'.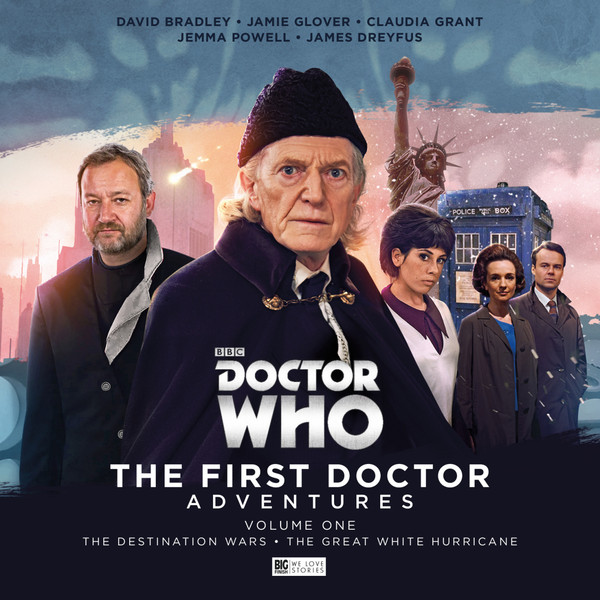 "The adventures of the First Doctor are all about discovery," says script editor and writer Matt Fitton, "finding out what this infinite universe contains, and also who our fellow travellers are. As we journey with Ian, Barbara, Susan and the mysterious Doctor, we come to see what they are capable of when confronted with the strange, the unjust and the dangerous."
Executive producer Nicholas Briggs: "Having worked with David twice now on TV, it's great to be working with him again. Matt and his team of writers have come up with such a beautifully authentic set of scripts. We forget how different Doctor Who was, back in those early days – and here it all is, painstakingly recreated. I find that rather thrilling."
Nick adds: "What's fascinating about the cast and their performances is that they're not impersonating William Hartnell and his TARDIS crew. They're playing those parts as written in the scripts. No one can replace the brilliance of those original performances. What we're presenting here is a kind of reinvention of that era, completely in the spirit of the original. They are new but entirely faithful interpretations of these characters."
"I've always been a great admirer of David Bradley's work", says executive producer Jason Haigh-Ellery, "and thought that he was an excellent choice to play William Hartnell in An Adventure in Space and Time. After his brilliant performance, we immediately thought about bringing David in to play the First Doctor for Big Finish – it took us a while – but we got there in the end! I'm so looking forward to seeing David in the Christmas Special and then listening to his further adventures with us."
This series of adventures pays homage to the beginning years of Doctor Who, and each of the four episodes in each story will be given an individual title. Two of the four stories are historical, focusing on tales from Earth's history pre-1963. Back in its first few years, Doctor Who was intended to be an educational programme using time travel as a means to explore scientific ideas and famous moments in history, while still captivating the minds and imaginations of generations to come.
Not only will the Doctor be exploring our history, but he will also encounter strange new life forms – the Dalmari and the Ashtallans.
And in a Big Finish exclusive, the First Doctor will encounter his greatest foe, the first incarnation of fellow Time Lord, the Master, played by James Dreyfus.
Available in January, the stories in The First Doctor Adventures - Volume 1 consist of:
1.1 The Destination Wars by Matt Fitton
1.2 The Great White Hurricane by Guy Adams
And to follow in July 2018, Doctor Who: The First Doctor Adventures – Volume 2:
2.1 The Invention of Death by John Dorney
2.2 The Barbarians and the Samurai by Andrew Smith
Doctor Who: The First Doctor Adventures – Volume 1 is available for pre-order now at £23 on CD or £20 on download from Big Finish and will remain at this price until general release when it will be available for £35 on CD or £30 on download.
Doctor Who: The First Doctor Adventures – Volume 1 can also be purchased as a bundle with Doctor Who: The First Doctor Adventures – Volume 2, to be released in July 2018, at the price of £45 on CD and £40 on download (all CD purchases from the Big Finish website unlock a download exclusive from the Big Finish website and app).