For The Love Of StoriesBig Finish produce fantastic full-cast audio dramas for CD and download.
Doctor Who - Series 10 Special Offer Week 11
23 June 2017
This weekend we have some Cybernetic special offers to celebrate another brand new episode of Doctor Who on BBC1, and the return of the Cybermen!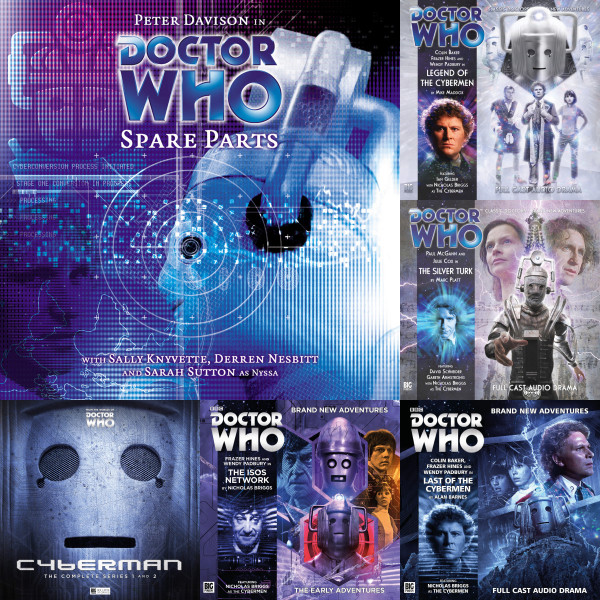 And as we head to the end of this series of Doctor Who, we welcome the return of the Mondasian Cybermen to our TV screens. Big Finish have had many stories continuing the adventures, and exploring the origins of, the Cybermen.
You can try Spare Parts, a favourite amoung fans of Big Finish. This is available on Download for 99p this weekend! Or it is also a limted edition Vinyl release. This critically acclaimed Big Finish release tells the birth of the Cybermen, and the end of their homeworld Mondas, and stars Peter Davison and Sarah Sutton as the Fifth Doctor and Nyssa.
Or try their own range, Cybermen, with the Series 1-2 box set available exclusively from the Big Finish website. This is available this weekend only at the special price of £18 a CD or £15 a download.
For this weekend you can purchase The Silver Turk, starring Paul McGann, written by Marc Platt and directed by Barnaby Edwards, at the reduced price of £6 on CD or £5 as a download.
Or starring Colin Baker, Frazer Hines and Wendy Padbury, Legend of the Cybermen and Last of the Cybermen are both available at £6 for a CD or £5 a download. Check out the trailer for Last of the Cybermen below!
And Frazer Hiines voices the Second Doctor, and costars alongside Wendy Padbury in The Isos Network. This release is also available for £6 on CD and £5 on Download.
Any CD purchase of these titles will unlock a download version as a Big Finish exclusive - which you can also listen to on our free Big Finish App.
These offers last until midday (UK time) on Monday 26th June, so hurry before they are deleted….
And at the time of writing, we still have offers on any of our Bernice Summerfield stories, to celebrate the fabled former companion of Doctor Who, now striding out through our universe and the Unbound worlds of Big Finish! With offer code BENNY17 you can save 40% on any Bernice story or bundle this weekend, until midnight on Monday 26th June (UK time). And The Worlds of Big Finish is still available on CD for £15 or £12 on download.