For The Love Of StoriesBig Finish produce fantastic full-cast audio dramas for CD and download.
Doctor Who - The Plague of Dreams
11 March 2017
Today we unveil the cover for June's Doctor Who - Companion Chronicles release, as well as details of the second and fourth stories: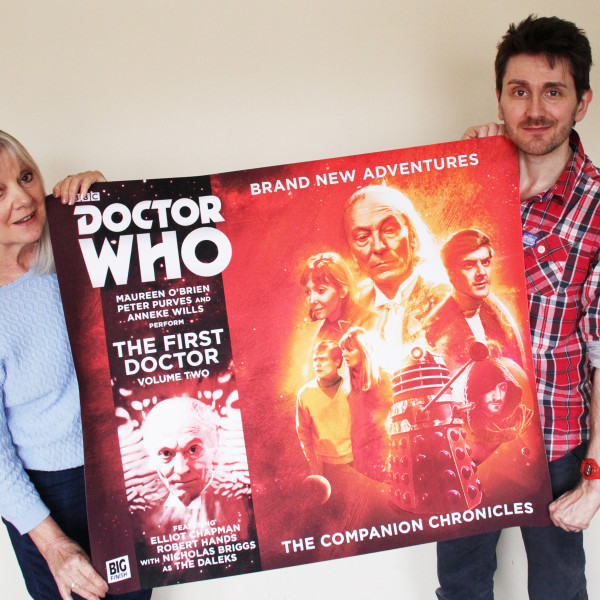 Designed by Lee Binding, the cover for Doctor Who - The Companion Chronicles: The First Doctor Volume 2 is now online, featuring the set's selected companions in the shape of Vicki (Maureen O'Brien), Steven (Peter Purves), and Polly & Ben (Anneke Wills and Elliot Chapman, both pictured). There's also a very familiar shape present from the second story, Across the Darkened City by David Bartlett:
Producer Ian Atkins confirms the presence of the Daleks in this June release, "The Companion Chronicles range enables you to work with ideas which would struggle to be told the same way elsewhere, and David's story is just such a case. It brings a new perspective to the Doctor's arch foes, while also getting under Steven Taylor's skin. This range has benefitted several times in the past from some cracking performances by Peter Purves, and I'm pleased to say it has again."
Ian continues, "I've worked for Big Finish for nearly three years now, and yet it's been a rarity to be in studio with Nicholas Briggs in full Dalek mode. It's also a privilege - you're plugged straight into the heart of Doctor Who's 53-year-old heritage with every rasp of that ring modulator. Nick and Peter brought out the best in each other, and I think listeners are going to really enjoy this one."
Details for the last story in the set have also now been confirmed - it's a second Ben and Polly story, entitled The Plague of Dreams and written by Guy Adams:
Pray welcome, one and all, to this, a fantasy in two acts, presented, most humbly, for your pleasure. We bring you drama and magic, angels and demons, a tale of mysterious plague... of nightmares made flesh... of a war fought both in this world and those immeasurably distant. A war, in fact, fought through the mists of time itself. It will make you gasp! It will make you weep! It may even make some of you wake-up…
"I was really lucky to get Mr Adams," Ian said. "I was immensely moved by his Torchwood script More Than This, and really wanted someone with such a great sense of character in on the Companion Chronicles - it's a natural home for that sort of talent. He's a very busy Guy (sorry) and I just managed to beat the rush! He puts Polly through an enchanting journey on this one, which Anneke Wills performs beautifully."
Doctor Who - The Companion Chronicles: The First Doctor Volume 2 is released in June and is currently priced at just £15 on Download and £20 on CD, going up by £5 when the release is no longer a Big Finish exclusive at the end of July. Any CD purchase through the Big Finish website unlocks a download version in your account - why not download the free Big Finish app for Android or Apple devices to make the most of it?
Check out the full range of Doctor Who - The Companion Chronicles stories here.