For The Love Of StoriesBig Finish produce fantastic full-cast audio dramas for CD and download.
13 February 2018
The Fifth Doctor is dead! Or so it would seem in the latest tale in the Doctor Who Main Range, out now. Peter Davison stars as the Fifth Doctor with companions Adric, Nyssa and Tegan, in this latest spooky adventure.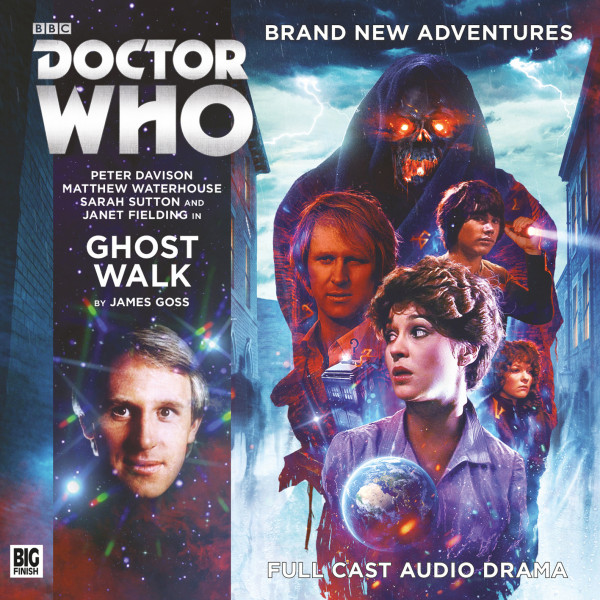 Ghost Walk is available on CD and download now.
This is a city of ghosts and no-one knows them better than Leanne. Twice a night she leads tourists to visit the most haunted sites – the Hanging Yard, the Witch Pool, the Screaming House, and, of course, the Catacombs.
Leanne's realised the ghosts of the city are real. Something's lurking in the Catacombs – an ancient force that has been growing in the darkness for centuries. Sabaoth is returning and they must be stopped before they devour the world.
Leanne knows this, because a ghost told her. A ghost called the Doctor.
Writer, James Goss, told us more about killing off the Doctor: "I thought the Fifth Doctor would make a lovely ghost. Most ghosts are scary, gloomy things – but the Fifth Doctor's just going to be bashful, and terribly apologetic about being a ghost.
"The fab four are my TARDIS team – they're the ones I grew up with, so it's a real joy getting to write Tegan sparring with Adric, and have horrible things happen to Nyssa, and, of course, have the Doctor standing to one side wishing he'd stayed in bed with the Beano!
"And Guy Adams wasn't just the script editor for me – he also used to be a ghost walker so he provided me with endless background information, and he's also the inspiration for one of the characters."
This release features Peter Davison as the Fifth Doctor, Janet Fielding as Tegan Jovanka, Sarah Sutton as Nyssa and Matthew Waterhouse as Adric. And joining them are some special guests: Fenella Woolgar, who Doctor Who fans will recognise as Agatha Christie in TV episode The Unicorn and the Wasp; Sacha Dhawan who starred in An Adventure in Space and Time; Stephen Greif who plays Travis in Blake's 7; and Carolyn Seymour who plays Abby Grant in Survivors.
"As soon as James sent me this idea revolving around a ghost tour I knew we were in for something special," says script editor Guy Adams. "James has a great skill in balancing the epic with the mundane, those lovely little everyday details that make his scripts pop with realism. Ghost Walk is an unusual story and offers real heart as well as apocalyptic danger and – as always from James – dialogue so sharp I had to handle the script with gloves! It moves from shadow to light then right back into the shadows again."
Ghost Walk is available now at £14.99 on CD or £12.99 on download. All CD purchases unlock a download option via the Big Finish app and the Big Finish website.
Or you can subscribe to the Main Range in either six or twelve month subscriptions. Subscribers enjoy a range of bonuses including exclusive extras from behind-the-scenes, up to four exclusive subscriber Short Trip releases, PDFs of each script and a free Big Finish release.
Coming out next month in the Doctor Who Main Range is Serpent in the Silver Mask by David Llewellyn.
You are cordially invited to Argentia, the galaxy's most exclusive tax haven, to attend the funeral of mining magnate Carlo Mazzini. The memorial service will be followed by music, light refreshments, and murder!
Carlo's heirs have come to say their final goodbyes (and find out how much they've inherited) but when a masked killer begins picking them off one by one, Argentia goes into lock-down, closed off behind its own temporal displacement field.
Can the Doctor, Nyssa, Tegan and Adric apprehend the murderer before Argentia – and everyone on board – is forever cut off from the rest of the universe?