For The Love Of StoriesBig Finish produce fantastic full-cast audio dramas for CD and download.
Doctor Who – Once and Future reaches its endgame
25 October 2023
The Doctor, his granddaughter Susan, and his future wife, River Song, face an unimaginable threat in the climax of Doctor Who – Once and Future, released today from Big Finish Productions.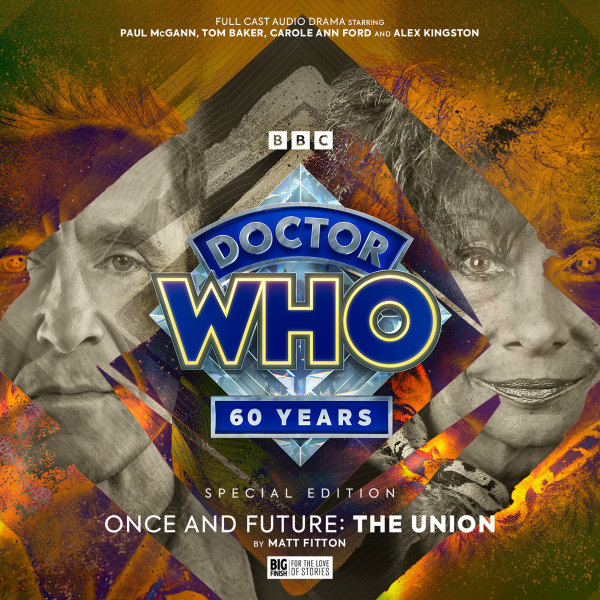 All anniversary parties must come to an end. Once and Future has been an epic 60th birthday adventure for the Doctor, his companions, friends and enemies, as he's lurched from one body to another after being struck by a degeneration gun during the Time War.
But which Doctor was shot with it? Was it the War Doctor (Jonathon Carley)? The Eighth Doctor (Paul McGann)? The Fourth (Tom Baker)? And who was responsible for this diabolical device resulting in our favourite Time Lord shifting through his different incarnations at pace?
Answers will be provided as the Doctor, River (Alex Kingston) and Susan (Carole Ann Ford) visit the Union.
Doctor Who – Once and Future: The Union, written by Matt Fitton, is now available to own as a single-disc collector's edition CD (+ download for just £10.99), or digital download only (for just £8.99), exclusively here.
The Doctor responds to a distress call from his granddaughter, Susan, taking him to the Diamond Array: a huge multidimensional space station. Once there, his instability increases, as the Fourth and Eighth Doctors discover the Array's terrible purpose.
Meanwhile, River Song has made a deadly alliance to try to save her husband. And the truth about the Doctor's degeneration will finally be revealed.
As exclusively revealed in Doctor Who Magazine issue 597, the Union is portrayed by actress Maureen O'Brien, better known to Doctor Who fans as 1960s companion, Vicki (a part she is set to recreate at Big Finish in 2024's Fugitive of the Daleks).
Of working with her TV predecessor, Maureen O'Brien said: "Carole Ann Ford came on my very first day of rehearsal on Doctor Who to wish me well, which I was very touched by. Since those very early days, this is the first time we've ever worked together. We've hardly ever met – just in passing – but to actually work together is extraordinary, and very nice."
Carole Ann Ford added: "That's the thing about Doctor Who, you just never really say goodbye to anyone because you always seem to bump into each other again and it's always a great pleasure. It's a wonderful thing, this series – it brings people together."
Producer David Richardson said: "After six different stories, and six different Doctors, we enter the endgame… Matt Fitton's mind has been working on overdrive to deliver this huge finale with its reveals and secrets and beautiful moments aplenty. You might need a lie down after listening to the last half of it!
"And with so much story to tell, it is a bumper episode that runs at a whopping 73 minutes. A massive audio movie for Doctor Who's massive 60th anniversary!"
Writer Matt Fitton added: "Finally, it's time for the truth – the who, how, where and what of the Doctor's degeneration!
"Facing an enemy who knows him well and wants a certain kind of revenge, the Doctor's state of mind is deteriorating. He'll need the help of friends – and family – to survive. After a rollercoaster ride through past and future, this anniversary adventure dives into what it really means to be the Doctor."
An epilogue to the Doctor Who – Once and Future series, entitled The Final Act, will be released in November 2024.
Big Finish listeners can purchase all eight Once and Future audio adventures together in a standard edition series bundle for just £72 (on collector's edition CD and download) or £60 (download only).
The special edition series bundle, which contains extended behind-the-scenes extras and music suites for each story, is also available to purchase for just £62 (as a digital download only).
All the above prices include the special pre-order discount and are subject to change after general release.
Big Finish is currently operating a digital-first release schedule. The mail-out of collector's edition CDs may be delayed due to factors beyond our control, but all purchases of this release unlock a digital copy that can be immediately downloaded or played on the Big Finish app from the release date.