For The Love Of StoriesBig Finish produce fantastic full-cast audio dramas for CD and download.
Doctor Who Short Trips confirmed to 2020
13 October 2018
The Doctor Who Short Trips range will continue to be released every month during 2019 and 2020 at £2.99 on download from Big Finish Productions. Featuring new writing talent and a new producer, Alfie Shaw, these quick journeys in the TARDIS are a perfect introduction to Doctor Who on audio.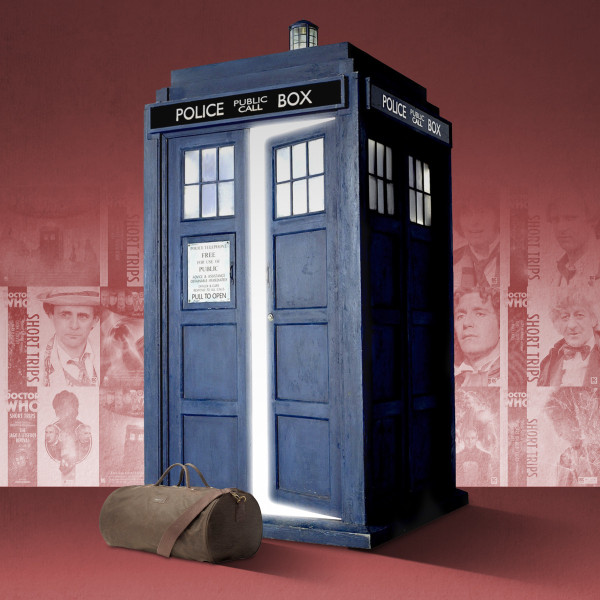 Also for the first time at Big Finish these new Short Trips will include adventures told from the perspective of the Twelfth Doctor, plus there are first time encounters for classic companions as we continue exploring the Doctor Who universe.
In the first Short Trips coming out in 2019, Leela will be meeting Brigadier Lethbridge-Stewart in a Fourth Doctor story. Then there's a Twelfth Doctor (a first for Big Finish) historical tale that sees him meeting a female pioneer of literature, plus the Seventh Doctor – master strategist that he is – will be playing the most deadly game of all of his lives, and finally we'll find out how the Doctor learnt Venusian Aikido!
The first four Short Trips for release next year are:
The Revisionists by Andy Frankham-Allen
Guests at the Hôtel des Rois are being haunted by ancestors that never existed. The Brigadier was only in Geneva to finalise his retirement, but how could he resist? Investigating, the Brigadier quickly finds something unusual. A warrior in leathers. A warrior called Leela…
History is about to catch up with both of them. History that neither of them thinks is real.
The Astrea Conspiracy by Lizbeth Myles
The conspirators sit in Antwerp, plotting to kill King Charles the Second. Aphra Behn's mission is simple, get former lover William Scot to turn against his treasonous comrades. But her money is running out and the complications don't stop there. A strange Scottish man arrives at her inn with troubling news.
William Scot is out and the Doctor is in.
Doctors and Dragons by Alfie Shaw
Reya always knew she was different. Only she could see the numbers that govern the universe. When her sister is poisoned, Reya quests for the only substance that can save her. The blood of the last dragon. All that stands between her goal is a strange little man called the Doctor. He's refusing to let her kill the dragon, even though it will save her sister.
Defeat the Doctor, kill the dragon, save her sister. What could be simpler?
Year of the Drex Olympics by Paul Ebbs
All the Doctor wanted to do on Venus was learn their aikido. But as ever, his plans have gone awry. The TARDIS has been stolen to be a prize in the Venusian Olympics. The Doctor is furious, not only at the theft but also that it is the third place prize! Jamie and Victoria compete to win TARDIS back, but soon find themselves winning every event.
The TARDIS crew normally win, but this time it might cost them everything…
Short Trips is one of the many Doctor Who audio ranges produced by Big Finish. After four superb years of being produced by Ian Atkins, the reigns are now being handed over to a new producer, Alfie Shaw.
Alfies tells us more, "Joining Big Finish has been a dream come true. Growing up between the end of the classic series and the beginning of the new one, Doctor Who has always been, to me, a show on audio as much as it was a TV one. Not only did Big Finish provide new stories for a show I love, but introduced me to new favourites, such as The Prisoner, Jago & Litefoot and Survivors.
"It's a privilege to be producing new Doctor Who adventures for Big Finish and David, Ian and Nick have all been so supportive and made me feel very welcome."
"Doctor Who on audio is Doctor Who unchained. As a TV show, its storytelling ambitions have, at times, exceeded its budget or the technology available. On audio, there's none of that. The walls don't wobble unless you want them to! The sound designers and composers are uniformly fantastic and do such wonderful, evocative work that really highlights how a show like Doctor Who naturally lends itself to audio."
"Short Trips is a range that succinctly showcases the inherent flexibility of the format of Doctor Who. From comedic stories to heart-breaking character studies to more action orientated pieces, and from the First Doctor to the Twelfth, there really is something for everyone! All of writers, whether returning or new, have created beautiful scripts and I'm looking forward to getting them out to the listeners.
"To tease what's coming up between now and December 2020 more directly, the Eleventh Doctor reunites with an old friend, there's an unsolvable conundrum for the Ninth Doctor and the Third Doctor witnesses the impossible."
Nicholas Briggs, executive producer, tells us more: "I met Alfie during my work as a presenter for BBC Radio 4 Extra as he was producing the segments I was recording. We were chatting in the studio between takes and I instantly discovered he was not only a massive Doctor Who fan, but a big follower of Big Finish. And when I asked him how he'd ended up being a trainee producer at the BBC having succeeded in getting the placement when there had been over a thousand candidates, he said that Big Finish was sort of responsible because that's what had got him into audio.
"We kept in touch and spent lots of time talking about stories and the kind of stories we liked. I could see he already knew how to produce and was a very intelligent, enthusiastic person, quick to learn, so I told him I'd love him to come and produce for Big Finish but that unfortunately there weren't any vacancies! Then when Ian decided he'd gone as far as he wanted to with producing Short Trips, the vacancy perfectly coincided with Alfie's availability.
"Big Finish always needs new blood and new ideas, so I encouraged Alfie to come up with his own ideas for stories and writers. He's also taken a lot of great advice from Ian who has really mastered this genre at Big Finish. I've been acting as story editor of the range with Alfie, and I can tell you there are some really trailblazing, challenging, exciting stories coming up all thanks to Alfie's imagination and enthusiasm. It's great to have a younger creative voice guiding one of our ranges."
Doctor Who Short Trips series 9 and 10 are both available to pre-order now, either at £2.99 an episode each, or save by ordering a bundle of a full series with 12 episodes a year, at £30 per series.