We love StoriesBig Finish produce great full-cast audio drama for CD and download, featuring many popular television fantasy series.
The Lives of Captain Jack - Reviews Round up!
28 August 2017
We look at the reviews for The Lives of Captain Jack, which goes on general release at the end of this month!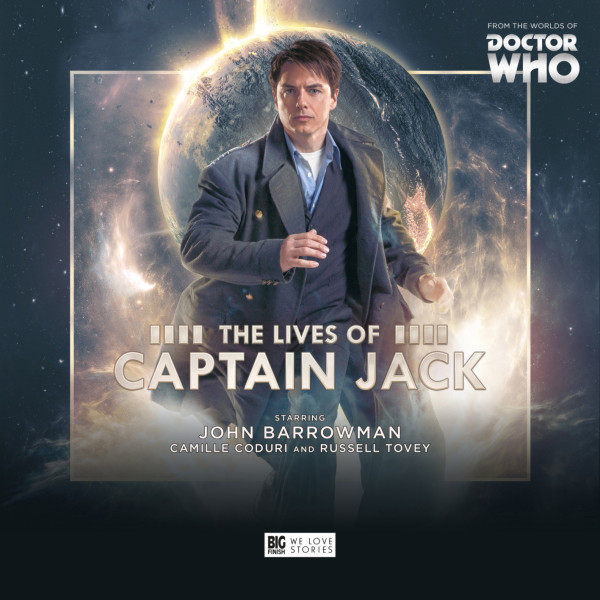 The Lives of Captain Jack takes tales from the many chapters of the rogue time agent's life (and the life of the time agent rogue!), and sees how far he's come, with tales from before Jack met the Doctor, to during Torchwood and his future. We even learn his true name!
John Barrowman, who plays the eponymous hero delighted fans and reviewers who remember him from Doctor Who, "Barrowman has no trouble getting back into character, quotes Blogtor Who, "but he really gives Jack some new texture. The fact that this is not Torchwood-era Jack, the one he plays most often, has informed his performance well.
"The Lives of Captain Jack is a release positively dripping with fan-service and an absolute joy for any New Who aficionado. The score is sublime, giving the whole thing a very Western feel. This works particularly well in the first story where Jack is the lone hero in a war torn land. Despite my criticisms, the last story is probably my favourite for the amount of world-building it achieves. It proves that Captain Jack stories can work without other established TV characters or concepts."
"I love this set." Indie Mac User gives it 9/10! "After having so much of Torchwood Captain Jack, this feels like the Doctor Who era Jack. Yes, the same person, but there is a lightness, a silliness, that because of Torchwood's more adult themes is sometimes not as pronounced. It's a little cheesy, but that's ok. Cheesy done right can be fun.
"Captain Jack is absent from maybe about a quarter of each story. I'm guessing the stories were written like that to make the time in Barrowman's ever busy schedule. This is even more testament to the writers, actors and director Scott Handcock that the stories don't feel less for it. The supporting cast is excellent and you care about what is happening to them as much as Jack. It doesn't hurt that, like in the Churchill boxset releases, they have used some favourite past Who Characters to step into the breach.
"Sometimes sets take a while to hit their stride, so it's a real complement to the Captain Jack range that is comes out so strong and fully formed right out of the gate.
"All in all then," sums up Mass Movement's review courtesy of Bex Ferriday, "this set of stories paints a well-rounded, character-driven picture of one of Doctor Who's most memorable characters. The stories are all of a very high quality, and John Barrowman gives a consistently solid performance throughout. The Lives of Captain Jack is more than just a tribute to its title character, though. By focusing heavily on characters and storylines from the first four series of modern Who, it's actually a worthy tribute to the Russell T. Davies era, so if you're a fan of either the Captain or of Russell, then this box set is pretty much an essential purchase.
Gallifrey Archive's review poses a philosophical question: "On a daily basis, I often ponder to myself the age old question "What is art?" and I think I've come up with a definitive answer whilst listening to Wednesdays For Beginners. Art is a process of having your assumptions questioned, and the feeling of self-discovery when trying to find the answer. Art is raw and emotional, art is not afraid to ask you questions that you'd never imagined. In that respect, I think it's safe to say, that James Goss has written a work of art.
"Saying that though, I absolutely adore Katy Manning's performance as Mother Nothing," it continues as they look at One Enchanted Evening: "I think that it's safe to say that Manning is a great voice actor, as it's incredibly difficult to tell it's her performing. If you know her as Jo Grant/Jones and Iris Wildthyme, you may not even recognise that it's her.
The Lives of Captain Jack was an exclusive Big Finish release in June, and is unleashed on the wider world at the end of this month. As this marks the end of the frozen pre-release price, fans have just a couple more days to make the most of savings of £10 on CD or Download formats - with Big Finish customers getting exclusive access to a download version in their account if they buy on CD!
For more adventures with Captain Jack and friends, check out Torchwood at Big Finish today, including the start of our immensely popular Torchwood - Aliens Among Us as the series continues beyond Miracle Day...