For The Love Of StoriesBig Finish produce fantastic full-cast audio dramas for CD and download.
Donna Noble saves the world!
15 July 2019
Catherine Tate returns as Donna Noble – the much-loved companion from the Russell T Davies era of Doctor Who – in her own set of audio adventures made by Big Finish Productions in association with BBC Studios.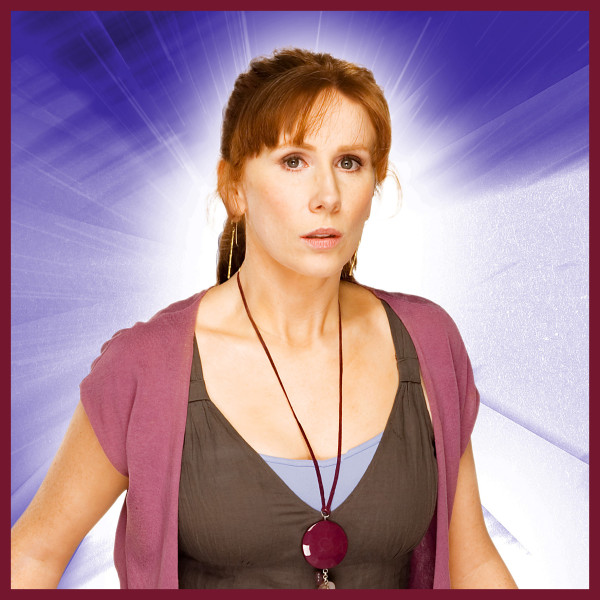 Donna Noble is returning in a new Big Finish release, Donna Noble: Kidnapped!, but can she manage on her own? She'll fly the TARDIS, make new friends and take the mantle of Earth's protector in four fantastic adventures coming out in May 2020. We hope the universe is ready for her!
Catherine Tate made her debut as Donna in December 2006, in the glorious Christmas special The Runaway Bride and, fortunately for fans, re-appeared as the Doctor's companion in 2008. One series and two Christmas specials later, Donna made her final on-screen appearance alongside David Tennant's Tenth Doctor on 1st January 2010.
Catherine went on to reprise her role for Big Finish in two sets of audio adventures with her best mate, the Doctor, in The Tenth Doctor Adventures Volumes One and Three – perfectly replicating the beloved pairing.
And now Donna will be fighting monsters (and her overbearing mother) with a new companion in four more thrilling audio adventures:
Out of this World by Jacqueline Rayner
Spinvasion by John Dorney
The Sorcerer of Albion by James Goss
The Chiswick Cuckoos by Matt Fitton
Script editor and writer, Matt Fitton, told us more about bringing back Donna: "Donna – on her own and saving the world! It's just irresistible, isn't it? There were a few directions we could take for a solo Donna Noble set – from before her travels to during them – but I thought an interesting angle would be the fallout from the Library (when she experiences life with a perfect family then has it ripped away from her). After that she just wants the comfort of home for a bit.
Catherine Tate will be joined by actor Jacqueline King reprising her TV role as Sylvia Noble – Donna's mother. Matt continues: "Donna and her mum are such brilliant Russell T Davies creations. Perfectly formed and completely believable in their dysfunctionality – it's a joy to see Donna's journey from the self-doubt Sylvia's drummed into her to discovering she can really make a difference. At this point in her travels she's starting to believe in herself, even without the Doctor.
"And Donna's best friend from school is along for the ride. Nat, played by Niky Wardley, is everything Donna isn't: a career woman, happily married, successful and confident – Sylvia hopes it'll rub off on her daughter! But when Nat sees what Donna's life is really like, Nat starts to question her own; perhaps it's not all as perfect as it's painted. It's a lovely relationship, and great to give Donna an 'assistant' to herself."
This box set also includes Isla Blair as Marge, David Schofield as Parval, Phil Cornwell as Parsnip, Nisha Nayar as Coleridge, Sebastian Armesto as Garrison, Anthony Howell as Adrian, Lydia West as Vivien, Tim Bentinck as Ganthak, Dan Starkey as Dennis and James Joyce as UNIT's Josh Carter.
David Richardson, producer of Donna Noble: Kidnapped!, tells us more: "I've been lucky enough to produce something starring Catherine Tate twice before. I'd call her a national treasure but I think that undersells her – she's an international treasure who has populated our entertainment industry with so many beloved characters.
"Donna Noble is the stardust which was sprinkled over Doctor Who TV series four; she and the Tenth Doctor deservedly became a hugely popular pairing. And here she is at Big Finish, with her own spin-off series. We are so fortunate to have her."
Catherine Tate told us more in studio, "It's lovely that Donna is in charge! The characters carry on developing and having a life on audio. You get a glimpse into the richness of what Donna did. It all adds to the tragedy that at the end Donna loses everything, and it's all the worse to be forgotten."
Donna Noble: Kidnapped! will be crashing into Earth's atmosphere in May 2020 and is available to pre-order now from BigFinish.com priced at £24.99 on CD or £19.99 on download.