For The Love Of StoriesBig Finish produce fantastic full-cast audio dramas for CD and download.
Fireball XL5 and Stingray Adventures Incoming!
16 March 2023
A pair of rare audio dramas based on two beloved Gerry Anderson TV shows are set for general release in March and April 2023 from Big Finish Productions.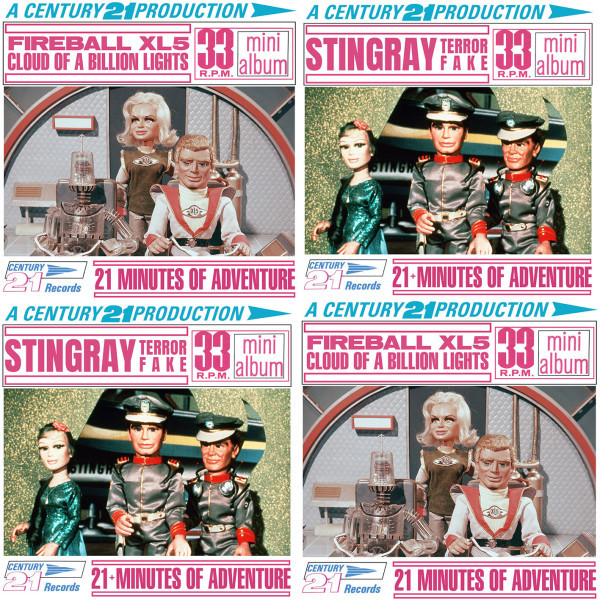 Originally launched in 1962, Fireball XL5 was created by Gerry and Sylvia Anderson and chronicled the interplanetary missions of the World Space Patrol crew policing Sector 25 of the galaxy in the year 2062.
Stingray, which aired from 1964 to 1965, followed the exploits of the World Aquanaut Security Patrol (WASP) protecting the Earth's oceans in the 2060s!
In these two full-cast audio adventures, previously only available on CD as Blu-ray box set extras, each squad faces a bigger threat than ever before...
For the first time, Fireball XL5: Cloud Of A Billion Lights and Stingray: Terror Fake (which both star the superb voice artist Marc Silk) are each available to pre-order as a stand-alone download (for just £7.99 per title), exclusively at Big Finish.
The two retro-futuristic stories are as follows:
Fireball XL5: Cloud of a Billion Lights by Nicholas Briggs, due for release on 31 March 2023
Fresh from rescuing ruler Teng-Dit and the people of planet Zed-Nought from a fiery death, the crew of Fireball XL5 tackle a mysterious, uncharted sparkling cloud in space. Colonel Steve Zodiac, Dr. Venus, Professor Matt Matic and Robert the Robot have a real fight on their hands as billions of alien creatures seek to take them over and conquer the Earth.
The talented cast features Marc Silk (as Colonel Steve Zodiac), Genevieve Gaunt (as Dr Venus), Nicholas Briggs (as Professor Matthew Matt Matic) and Jamie Anderson (as Robert the Robot).
Jamie Anderson, Managing Director of Anderson Entertainment, said: "Originally produced for the 60th anniversary Blu-ray set, this mini-album style story allowed us to bring together a new cast to create an authentic-sounding XL5 adventure.
"For me, it was an extra special experience because I was able to take on the role my late father, Gerry Anderson, played. It was a really lovely thing to do, and I think the story that Nick has delivered feels like something straight out of the 1960s. Full power!"
Stingray: Terror Fake by Nicholas Briggs, due for release on 14 April 2023 (Gerry Anderson Day)
The World Aquanaut Security Patrol is facing one of its most important and challenging missions to date – a visit from finance director Taylor! But before they can deal with their accountancy assignment, Troy, Phones and Marina will have to contend with Titan and Surface Agent X20's latest attempt to destroy Marineville using high-tech sub-aquatic skulduggery!
Starring in this adventure is Marc Silk (Captain Troy Tempest) alongside Wayne Forester (as Lieutenant Phones), Jules de Jongh (as Atlanta Shore), Nicholas Briggs (as Commander Samuel Shore), and Ben Page (as Aquaphibians).
Jamie Anderson added: "Stingray was another great opportunity to bring back the mini-album format with our established cast. Nick came up with a super story – very 1964 – and even worked in a little tribute to John Taylor who sadly passed away during production.
"John, together with his wife Jean, were instrumental in creating the wonderful soundscapes you hear in Stingray, so finance director Taylor is our tribute to John. P.W.O.R."
Fireball XL5: Cloud Of A Billion Lights and Stingray: Terror Fake are now available to pre-order for just £7.99 per title (on digital download), exclusively at Big Finish.