For The Love Of StoriesBig Finish produce fantastic full-cast audio dramas for CD and download.
Flames in France! Doctor Who - Scorched Earth is out now.
13 May 2020
World War II is over. France is liberated. But some fires continue to burn. Doctor Who: Scorched Earth, a new adventure for the Sixth Doctor, Constance and Flip is released today.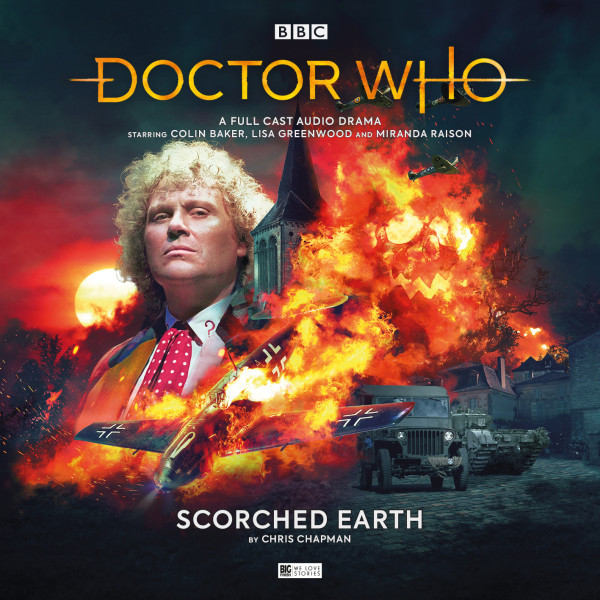 Something's burning! The Sixth Doctor and his companions visit liberated France at the end of WWII, in a brand new, full-cast audio drama.
Colin Baker, Miranda Raison and Lisa Greenwood star in Doctor Who: Scorched Earth, written by Chris Chapman.
The TARDIS lands in a French village at the end of World War II. The Allies have arrived and the Germans are being driven out, but not everything is black and white in this battle between good and evil.
This story finds Constance confronting the truth about the end of World War II as France is liberated from German occupation. She also finds herself at loggerheads with Flip when the locals take justice into their own hands. Meanwhile, the Doctor becomes aware that a dangerous alien entity is at large.
Doctor Who: Scorched Earth is now available to own as a collector's edition CD or digital download. Click HERE to get it from just £12.99.
July 1944: The TARDIS materialises in a small village near Rouen, where celebrations are in full swing. A joyful France is in the midst of liberation as the local population welcome a battalion of Allied soldiers – along with a colourfully dressed Doctor and his two rather excited friends.
But there are screams amidst the celebrations as an angry crowd dish out their brand of justice to one of their own that they have branded a traitor. While Constance and Flip find themselves on opposite sides of a war beyond a war, the Doctor has other concerns. The local community is used to the fires of battle, but a new type of blaze is burning – leaping from aircraft to aircraft, man to man – and this fire seems to be just as eager for revenge as the village mob.
Writer, Chris Chapman said: "My grandfather was a mobile radar operator in World War II who arrived on the beaches of Normandy in 1944, on D-Day plus 27 (one of the later troops in Operation Overlord). He missed the fight and had this incredible journey all the way to Berlin. He travelled through many French villages, and he told me the reactions of the locals in the aftermath of their liberation. I'd seen quite a few documentaries about that and thought it would be an interesting thing to encounter. There were wild celebrations with the French kissing everyone and enjoying their freedom, but there was a darker side too with big public displays of anger."
"A lot of the smaller towns and villages targeted this anger against local people, especially those who they saw as collaborators – and it was usually women, so it was quite misogynistic. Many women who were seen as having helped the Germans or, even worse, having had a relationship with a German, were hauled in front of the mob. They then had their hair shaved off or a swastika branded into their scalp, so everyone would recognise them and nobody would forget their 'betrayal'."
Actor, Colin Baker said: "It's a very clear story, set in an interesting time, with all the attendant confusion in having Constance - someone so closely involved in that event - ahead of her time, participating in it. It also exposes quite a nice tension between Flip and Constance because of the treatment of a collaborator in a French village. Those things happened."
Doctor Who: Scorched Earth is now available to own as a collector's edition CD or digital download. Click HERE to get it from just £12.99! All CD purchases unlock a download option via the Big Finish app and the Big Finish website.
Big Finish listeners can save money by getting a subscription to Doctor Who: The Monthly Adventures. Subscribers get 30% off the price, free specially recorded Short Trips stories, PDFs of the scripts, and extended downloadable extras. Subscription lengths are available for either 6 or 12 releases and can be retrospective. Get a Doctor Who: Monthly Adventures subscription HERE.
Please note that Big Finish is currently operating a digital-first release schedule. The mailout of collector's edition CDs will be delayed, but all purchases of this release unlock a digital copy that can be immediately downloaded or played on the Big Finish app from the release date.