We love StoriesBig Finish produce great full-cast audio drama for CD and download, featuring many popular television fantasy series.
20 March 2019
The Time Lords and the Daleks have opposed one another across millennia. Their conflict has turned into an all-out Time War, and nowhere across the universe of spacetime is safe. Starring Lalla Ward as Romana, Seán Carlsen as Narvin and Terrence Hardiman as Rassilon, find out what happens next in Gallifrey: Time War Volume Two.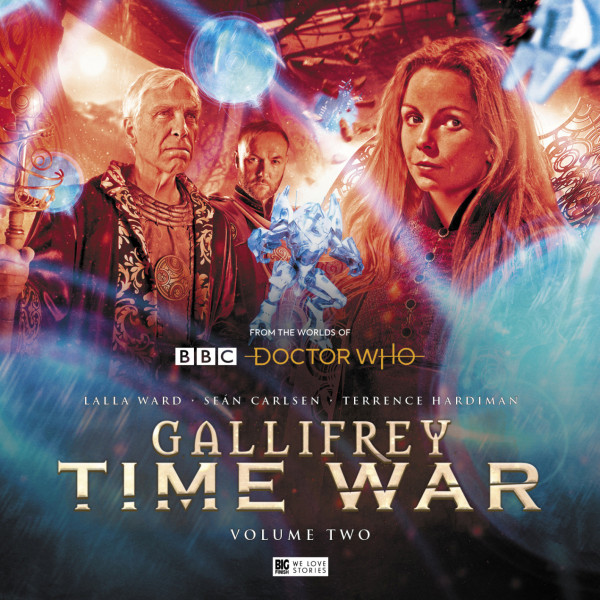 Gallifrey – Time War 2 is available now.
Rassilon has returned – summoned back from the dead, to lead his people through their greatest crisis.
But the Time Lords will reap what they have sown, and the consequences of this resurrection will determine Gallifrey's fate.
And in among the schemes and strategies of war, Romana and Narvin are losing friends and allies, as they become ever more isolated…
Havoc by David Llewellyn
In the aftermath of Rassilon's return, Romana finds herself at the heart of the War Council's machinations, with the High Council, the CIA, and the Lord President's new security force all vying for control.
But then, a mysterious stranger arrives in the Capitol itself. And they bring a terrible warning from the future…
Partisans by Una McCormack
When the world of Ysalus becomes a strategic target for the Time Lords and their opponents, Gallifrey takes an interest in the planet's civil unrest.
But the CIA and the War Council each have their own strategy.
And, as good intentions only make things worse, the true horror of the Time War will be visited upon the people of Ysalus.
Collateral by Lisa McMullin
As the scavenging Sythes descend on Ysalus, Narvin discovers how far his people will go to protect their interests.
The universe is discovering that no place is safe from the fury of battle.
Every victory in the Time War comes at a price, and too often it is the innocent who will pay…
Assassins by Matt Fitton
Pushed to the brink by Rassilon's actions, Romana is thinking the unthinkable.
A new threat has breached Gallifrey'sdefences. And its target is clear. A race of assassins has evolved at the heart of the Time War, dedicated to one purpose. The Sicari are coming for Rassilon…
Producer of the Gallifrey range, Scott Handcock, told us more in February's Vortex Magazine: "We ended the first box set on a cliffhanger – the resurrection of Rassilon – so this volume deals with the fallout from that. It's a bit like bringing a figure like Churchill back to campaign in the present day. How would a modern society actually deal with politics from the past? Rassilon's not a tyrant necessarily, but he's very black and white. He doesn't mess about or play games, he gets things done, and so this box set explores Gallifrey's reaction, on a world where some wish to temper Rassilon's choices, whilst others want only to invigorate them.
"Everybody loses in wartime, and this set allows us to focus on the Time Lords and what they may or may not be willing to do in order to defeat the Daleks. It's as much about the personal and political conflict as it is about the greater war…"
Gallifrey: Time War Volume Two is available now priced at £23 on CD or £20 on download. It will be available at this price until May 2019, when it will rise to £35 on CD or £30 on download.
Gallifrey: Time War Volume One is also available now.
Gallifrey: Time War Volumes Three and Four are available for pre-order ahead of their release in February 2020 and 2021, each at £23 on CD or £20 on download from Big Finish.
Or why not save money with a bundle and order all four box sets of Gallifrey: Time War at £90 on CD or £80 on download; or Volumes Two, Three and Four at £68 on CD or £60 on download.
And don't forget, Gallifrey – Intervention Earth is available at just £4.99 on download throughout March.
To get Gallifrey – Intervention Earth at the special Big Finish Book Club price head to www.bigfinish.com/offers/v/bookclub and enter access code STORIES. Once purchased, why not head over and sign up for our new Facebook group, The Big Finish Book Club, who will be meeting tomorrow night for a good natter about Gallifrey.
And to celebrate the latest release in the Gallifrey Range, there are savings on other boxsets in the Gallifrey range. Head to page https://www.bigfinish.com/offers/v/gallifrey19 and use access code NARVIN to access these special offer prices.
Don't forget that series 1-3 are available on CD whilst stocks last, don't miss out (although these are not included in the special offers at this time).
These offers end at 23:59 (UK time) on 25/03/2019, so move fast!