For The Love Of StoriesBig Finish produce fantastic full-cast audio dramas for CD and download.
Giant BBC Audiobooks Clearance Sale
14 June 2022
Big Finish has joined forces with BBC Audiobooks to offer massive discounts on a huge range of Doctor Who audiobook releases.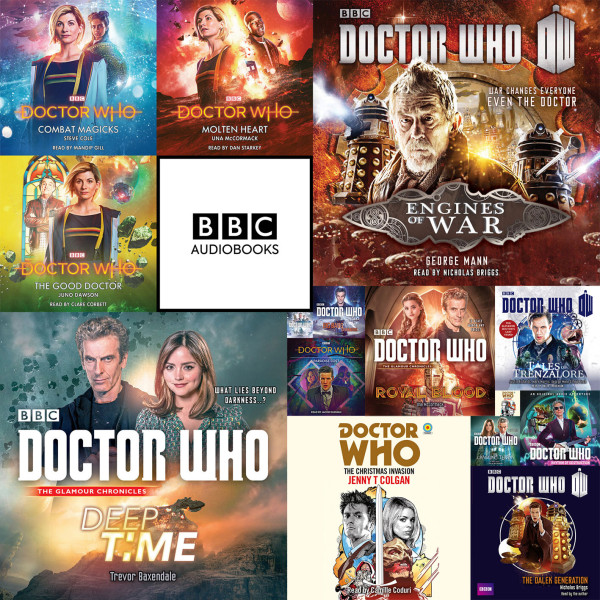 HOW TO GET THE DEALS
Head to the offer page at https://bigfinish.com/ranges/v/bbc-audiobooks - NO CODE IS REQUIRED TO RELEASE THE DISCOUNTS. These individual CD offers and bundles are strictly limited quantities - once they're gone, they're gone - so move quickly to secure the deals.
CLICK HERE TO ACCESS THE DEALS
All bundles which are sold out are still listed below but with strikethrough text.
The special conditions of this offer are:
BBC Audiobooks CD and bundle offers are available in a limited quantity, and once each allocation has been sold, the offer will be withdrawn.
The postage cap does not apply to these offers - a fee will be applicable for each order.
Purchase of each offer is limited to one per customer - additional orders placed will be cancelled and refunded.
We have stock on hand for immediate despatch.
PLEASE NOTE: we are not able to provide digital downloads for these purchases.
This offer expires no later than 23:59 (UK time) on 16 June 2022 (while stocks last).

Full details for the offers are as follows:
BBC Audiobooks: Doctor Who - Ninth Doctor Novels Volume 01 @ £4.98 (£3 UK postage, £5 international postage)
Nicholas Briggs and Camille Coduri are the readers of these three original novels featuring the Ninth Doctor and Rose.
Doctor Who - The Clockwise Man by Justin Richards
Doctor Who - The Monsters Inside by Stephen Cole
Doctor Who - Winner Takes All by Jacqueline Rayner
Each audiobook has a running time of approximately 6 hours.
BBC Audiobooks: Doctor Who - Tenth Doctor Novels Volume 02 @ £4.98 (£3 UK postage, £5 international postage)
Freema Agyeman, Debbie Chazen, Bernard Cribbins, Georgia Moffett, Russell Tovey and David Troughton are the readers of these nine original novels featuring the Tenth Doctor, Martha and Donna, as played on TV by David Tennant, Freema Agyeman and Catherine Tate.
Wishing Well by Trevor Baxendale, narrated by Debbie Chazen
The Many Hands by Dale Smith, narrated by David Troughton
Martha in the Mirror by Justin Richards, narrated by Freema Agyeman
Snowglobe 7 by Mike Tucker, narrated by Georgia Moffett
Ghosts of India by Mark Morris, narrated by David Troughton
The Doctor Trap by Simon Guerrier, narrated by Russell Tovey
Shining Darkness by Mark Michalowski, narrated by Debbie Chazen
Beautiful Chaos by Gary Russell, narrated by Bernard Cribbins
The Eyeless by Lance Parkin, narrated by Russell Tovey
Duration: 22 hours approx
BBC Audiobooks: Doctor Who - Tenth Doctor Novels Volume 03 @ £4.98 (£3 UK postage, £5 international postage)
Freema Agyeman, Nicholas Briggs and Debbie Chazen are the readers of these eight original stories featuring the Tenth Doctor and Martha.
The Story of Martha by Dan Abnett. Read by Freema Agyeman
The Weeping by David Roden. Read by Freema Agyeman
The Frozen Wastes by Robert Shearman. Read by Freema Agyeman
Breathing Space by Steve Lockley & Paul Lewis. Read by Freema Agyeman
Star-Crossed by Simon Jowett. Read by Freema Agyeman
Judgement of the Judoon by Colin Brake. Read by Nicholas Briggs
The Slitheen Excursion by Simon Guerrier. Read by Debbie Chazen
Prisoner of the Daleks by Trevor Baxendale. Read by Nicholas Briggs
Duration: 23 hours 25 mins approx
BBC Audiobooks: Doctor Who - Tenth Doctor Novels Volume 04 @ £4.98 (£3 UK postage, £5 international postage)
Christopher Ryan, Georgia Moffett and Will Thorp are the readers of these three original stories featuring the Tenth Doctor, as played on TV by David Tennant.
The Taking of Chelsea 426 by David Llewellyn. Read by Christopher Ryan
Autonomy by Daniel Blythe. Read by Georgia Moffett
The Krillitane Storm by Christopher Cooper. Read by Will Thorp
Duration: 16 hours 30 mins approx
BBC Audiobooks: Doctor Who - Thirteenth Doctor novels bundle @ £8.94 (£3 UK postage, £9 international postage)
This 3-release CD bundle features unabridged audiobooks of the Thirteenth Doctor adventures.
Doctor Who - Molten Heart by Una McCormack, narrated by Dan Starkey
Doctor Who - The Good Doctor by Juno Dawson, narrated by Clare Corbett
Doctor Who - Combat Magicks by Steve Cole, narrated by Mandip Gill
Duration: 16 hours 30 minutes approx
BBC Audiobooks: available individually @ £2.98 (£2.50 UK postage, £4 international postage)
Each of these CD audiobooks is available to buy individually. Duration varies.
Doctor Who: Tales of Trenzalore by Paul Finch, George Mann, Mark Morris, Justin Richards, read by David Troughton
Doctor Who: Twice Upon a Time by Paul Cornell, read by Mark Gatiss
Doctor Who: The Christmas Invasion by Jenny T Colgan, read by Camille Coduri
Doctor Who: Engines of War by George Mann, read by Nicholas Briggs
Doctor Who: Silhouette by Justin Richards, read by Dan Starkey
Doctor Who: Royal Blood by Una McCormack, read by David Warner
Doctor Who: Big Bang Generation by Gary Russell, read by Lisa Bowerman
Doctor Who: Deep Time by Trevor Baxendale, read by Dan Starkey
Doctor Who: The Crawling Terror by Mike Tucker, read by Neve McIntosh
Doctor Who: The Dalek Generation by Nicholas Briggs, read by the author
BBC Audiobooks: available individually @ £2.98 (£1.50 UK postage, £3 international postage)
Doctor Who: Rhythm of Destruction by Darren Jones, read by Dan Starkey
Doctor Who: Paradise Lost by Darren Jones read by Jacob Dudman