For The Love Of StoriesBig Finish produce fantastic full-cast audio dramas for CD and download.
Harry Sullivan is trending!
29 August 2019
Louise Jameson narrates a fantastic new Short Trips story from the Fourth Doctor's era – as the Doctor, Sarah Jane and Harry Sullivan encounter the dark side of PR…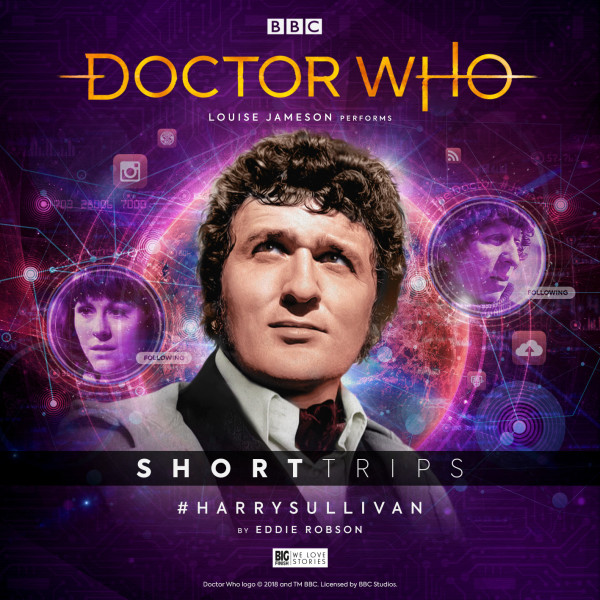 Doctor Who Short Trips – #HarrySullivan is available to download now at just £2.99 from bigfinish.com
En route to answer the Brigadier's summons, the TARDIS is dragged off course. The Doctor, Sarah Jane and Harry find themselves trapped on The Zephyr, a spaceship that is going at full speed and yet is unable to move. With fuel running dangerously low, their only hope lies on Alderasea, a nearby world exclusively for the famous and celebrated.
However, Alderasea has never heard of them and has no intention of letting them land…
Producer Alfie Shaw told May's edition of Vortex magazine about bringing Harry Sullivan to the front and centre: "Harry is a character I've loved for ages, and as soon as I took over as producer I knew I wanted to do a story with Harry. And luckily when we announced these four releases, it seemed that a lot of people agreed with me! Eddie Robson has created a gem of an adventure, it's glorious fun from beginning to end."
Doctor Who Short Trips – #HarrySullivan is available now at just £2.99 on download (only) from Big Finish.
Or why not save money with a bundle of the Short Trips range and get the 12 stories from series 9 for just £30 – a whole year's worth of adventures to keep you going!
If you purchase a bundle today you'll immediately unlock the previous Short Trips from 2019 as well as #HarrySullivan – Battle Scars, The Same Face, Under ODIN's Eye, Doctors and Dragons, The Revisionists, The Astrea Conspiracy and Year of the Drex Olympics.
Coming next in the Doctor Who Short Trips range, the Twelfth Doctor hosts his own podcast! Jacob Dudman brings the Doctor to life in the fantastic new adventure, Dead Media.
Like everyone else in 2017, the Doctor is doing a podcast.
Named the 'People of St Lukes', the podcast is about the everyday lives of students at the university. Only, with the Doctor involved, the everyday is dangerous and extraordinary.
Something's lurking in the A/V department, something that is trapped in old equipment… as the Doctor quickly discovers, outdated technology does have a role in the modern world.
That role? Ending it.