For The Love Of StoriesBig Finish produce fantastic full-cast audio dramas for CD and download.
Have You Heard...? Bernice Summerfield
25 June 2016
From the New Adventures to the Unbound Universe, we take a look at the extraordinary career of Professor Bernice 'Surprise' Summerfield - archaeologist, companion, mother and hero!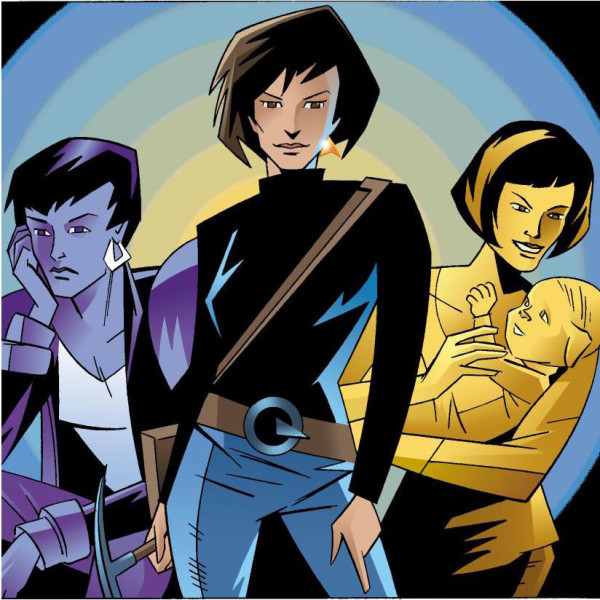 'Professor Bernice Summerfield awoke with a start, sat up in bed, and laughed her head off.' - Doctor Who: Love and War (1992) by Paul Cornell.
Bernice Summerfield began at the end. Three years after Doctor Who had vanished from TV screens, the Seventh Doctor's journey had continued in the Virgin New Adventure novels – dynamic tales with an adult tone. With this new dimension came a need for a new dynamic. Teenage companion Ace was reaching the end of her journey and now an adult companion was required to aid the Doctor against the darker threats he would face.
That companion would be Professor Bernice Summerfield. Created by author Paul Cornell, Benny was born in the 26th century on the deep space Colony Beta Capris. Her mother was killed by the Daleks and her father went missing in action, leaving Benny to be raised at a military boarding school. After years of rebellion, she escaped her home and faked a life as an expert archaeologist; eventually making her way to the planet Heaven for an encounter with the Seventh Doctor.
Benny offered readers an intelligent, mature companion who could challenge the Doctor as much as she assisted him. She was an expert on Earth and Martian artefacts, a crack shot with a rifle and used her wry sense of humour to overcome the villains they faced. In her time in the TARDIS she battled Chelonians, Vampires and the Hoothi, and found lifelong friends with a newly returned Ace and later companions Chris and Roz. Eventually, she fell in love with intergalactic rogue Jason Kane and left the Doctor to enjoy a happily married life.
But a year after the character left the series, Virgin publishing lost the licence to produce Doctor Who novels and the New Adventures were reformatted as a separate range; with Benny as the star! Across twenty-two further novels, Benny divorced Jason, adopted a cat named Wolsey, found herself employed at St Oscar's University and saved the galaxy more times than even she could count. The continuing series established Benny as a science-fiction hero in her own right; one who couldn't be confined to the written page.
In 1997, two life-long friends held a meeting over pizza. Their names were Jason Haigh-Ellery and Gary Russell and they had a plan to make good on a lifelong ambition. They wanted to approach the BBC with a proposal to create original-full cast audio dramas based on Doctor Who; a series now ten years off the air, and which both Gary and Jason had been lifelong followers of. But the BBC, still anticipating a new television series, turned the idea down.
Emboldened by their experience with pitching, the pair decided to turn to Virgin for the rights to adapt the Bernice Summerfield novels for audio. An agreement was quickly reached, and work on an adaptation of Paul Cornell's Oh No It Isn't! began, under the banner of Jason's company Big Finish Productions. Nicholas Briggs was invited to direct, Nicholas Courtney appeared as a suddenly sentient Wolsey the Cat; and Lisa Bowerman was cast as Bernice Summerfield.
Lisa had already enjoyed a successful career as an actress, appearing in a national tour of Blood Brothers, the first two series of Casualty and as Cheetah Person Karra in Doctor Who: Survival, the final serial of the original television series. It was this Doctor Who connection that led Lisa to Big Finish, as Gary remembered her from a documentary interview he produced. He invited Lisa to audition for the part; and the rest is history...
The first series of Bernice Summerfield audios all adapted storylines from the New Adventures range (occasionally exorcising the Doctor's role from proceedings). Stephen Fewell appeared as Jason Kane alongside several Doctor Who alumni, including Colin Baker, Sophie Aldred, Anneke Wills, Elisabeth Sladen and Richard Franklin. The success and quality of the titles was immediately apparent, and by September 1999, the BBC were sufficiently impressed that they reversed their decision on licensing Doctor Who; production began immediately.
But Benny would not be forgotten in this exciting new era. Plans soon turned to expanding her series with new, original stories. Along with an appearance in Doctor Who: The Shadow of the Scourge, Benny's adventures would continue with at least four new audio plays a year, alongside a new range of novels.
The ongoing stories added many new friends and enemies to Benny's life. Alongside Jason's continuing (and unwelcome) presence, her affections were chased by Adrian Wall (Harry Myers), a canine-like Killoran who, thanks to some alien brainwashing, would father Benny's son Peter Summerfield (Thomas Grant). All four members of Benny's 'family' were invited to live on the expansive Braxiatel Collection, an asteroid archive owned by the mysterious Irving Braxiatel (Miles Richardson). Alongside master thief Bev Tarrant (Louise Falkner) and the robotic porter Joseph (Steven Wickham), the group regularly encountered the worst enemies the 26th century had to offer; including Rutans, Draconians, Monoids, Cybermen and even a full-scale Dalek invasion.
Gary Russell continued to produce the range up until the seventh series, after which Simon Guerrier, Eddie Robson and John Ainsworth each took a turn guiding Benny's story; where she experienced crippling loss, strange new worlds and a final, desperate mission to the planet Zordin in the climatic Bernice Summerfield: Dead Man's Switch.
Despite the ending of the ongoing series, Benny's adventures continue to this day across multiple box-sets. Benny began a long journey to the planet Legion for a reunion with a now-grown up Peter, along with new friends Ruth (Ayesha Antoine) and 'Spring-Heeled' Jack (David Ames). Together they re-encountered Braxiatel, faced the might of the Epoch, met a suddenly non-fictional Dorian Gray (Alexander Vlahos), and even found themselves in a recording studio making Bernice Summerfield audio dramas...
Sometime afterwards, Benny found the Seventh Doctor (Sylvester McCoy) who enlisted her on a mission to rescue Ace from an alien world, before she was flung into an epic battle to defeat Sutekh (Gabriel Woolf), a resurrected Osirian war criminal. And in just a few weeks' time, Benny's adventures will continue, when an alternative Doctor from a parallel dimension (David Warner) recruits her to battle all new evils in an Unbound Universe. No matter where this new Doctor takes her, Benny will always be ready to battle whatever darkness she faces with a sarcastic quip, resourceful genius and an unwavering ability to do the right thing.
For more of the story behind Bernice Summerfield, check out Bernice Summerfield: The Inside Story, an in-depth hardback guide by former producer Simon Guerrier, available from the Big Finish website for just £10 this weekend.
The complete Bernice Summerfield range is available at special offers prices today. Click here to explore the offers.