We love StoriesBig Finish produce great full-cast audio drama for CD and download, featuring many popular television fantasy series.
Have You Heard Doctor Who: The Lost Stories? Part 2
27 March 2016
Our range of audios recreating unmade Doctor Who classics is on special offer this weekend. Discover how the Lost Stories were found with the second part of our complete guide to the range.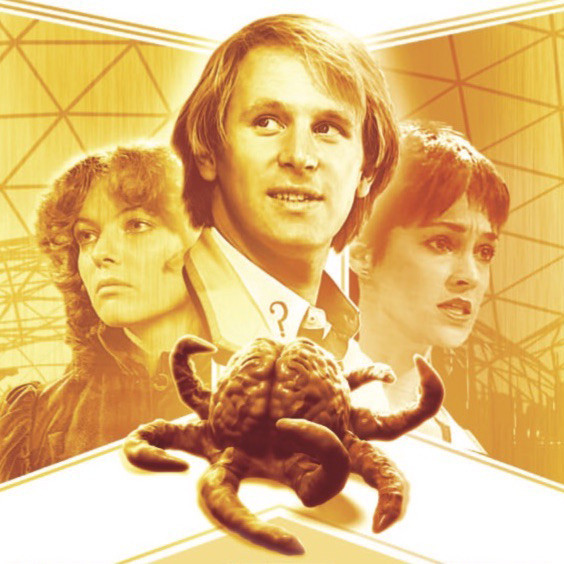 Read Part 1 of our complete guide to the Lost Stories here
During development of the first two series of Lost Stories, Big Finish announced that Tom Baker would be returning to the role of the Fourth Doctor in brand new full-cast audio plays. This exciting development opened up a whole new era for the Lost Stories to explore, and range producer David Richardson quickly got to work in researching suitable storylines.
Robert Banks-Stewart's unmade serial The Foe from the Future had been well documented thanks to its influence on the later television story The Talons of Weng-Chiang. The rights to the story were quickly obtained. In the process former series producer Phillip Hinchcliffe offered up his own unmade script The Valley of Death. The stories were released together as part of the Doctor Who: The Fourth Doctor Box-Set, released in January 2012. Tom enjoyed recording the scripts, an experience shared by his co-star Louise Jameson.
'I make notes when I read through scripts,' said Louise, 'and note five for the set was "good old classic chasing down corridors with guns. Classic Doctor Who tension and adventure." It reminded me of that whole era and I think the cliffhangers are brilliant.'
Released slightly ahead of the box-set, Series 3 began with three new adventures for the Fifth Doctor (Peter Davison), Nyssa (Sarah Sutton) and Tegan (Janet Fielding). With the series now well established, David was open to adapting rough storylines as well as completed scripts for the range.
'I have to credit Doctor Who historian Richard Bignell for his invaluable help in bringing lost storylines to my attention,' explained David. 'Over the years he's been on a personal mission to track down all these missing treasures, and he's brought many of them my way. Though other people have helped too – it was Robert Shearman who told me about the existing material on The Children of Seth, as he'd just done a DVD interview with writer Christopher Bailey. John Dorney had suggested The Guardians of Prophecy after he remembered the storyline being printed in Doctor Who Magazine. Gary Hopkins was suggested to me by Marc Platt, who knew of the existence of Power Play. It was fate bringing a lot of great material my way.'
The subsequent series provided a number of treats for listeners. Adapted from a story by Barbara Clegg, Doctor Who: The Elite by John Dorney contains one of the most surprising cliffhangers in Doctor Who history, while Doctor Who: Hexagora (by Paul Finch, from a story by Peter Leng and Hazel Adair) features one of the first weddings for the Doctor, to the villainous Queen Zafira (Jacqueline Pearce). Doctor Who: The Children of Seth by Christopher Bailey and Marc Platt features an all-star guest cast, including Honor Blackman, Adrian Lukis and David Warner.
Colin Baker and Nicola Bryant returned for three more stories in Series 3, with Doctor Who: The Guardians of Prophecy by Johnny Byrne and Jonathan Morris finding the TARDIS back in the Traken Union (first seen in Johnny's TV story The Keeper of Traken, destroyed in Logopolis and revisited in Big Finish's Doctor Who: Primeval).
Doctor Who: Power Play by Gary Hopkins is an intriguing look at a planned companion-reunion story: twenty years before such an event occurred in 2006's School Reunion. Deborah Watling returned as Victoria Waterfield, the Second Doctor's Victorian companion who left the TARDIS in 1968's Fury from the Deep.
'It wasn't that I was anxious to bring back an old companion,' explained Gary 'because that would just be a gimmick – nice as it always is to see familiar face – but while I was planning the story itself, I needed a character who would have ended up being similar to Victoria had it not been Victoria. We were talking about how she was born into an age of steam, and it was interesting how we were now talking about an age of nuclear power, and wouldn't it be good if she was still around and involved in the lobbying... I just wanted to know how she might react in that situation and how she, as a character, might view such a development.'
The Sixth Doctor's Lost Stories concluded with Andrew Smith's Doctor Who: The First Sontarans, an epic adventure which revealed the origins of Robert Holmes' classic cloned shock-troopers.
The final two stories of Series 3 set the tone for the range's remaining releases, which would all be dramatic readings. Doctor Who: The Masters of Luxor (scripted by Anthony Coburn and adapted by Nigel Robinson) was - like Farewell Great Macedon - a well known story for Doctor Who fans, having originally been considered for production as the series' second ever serial – a spot eventually be taken by The Daleks.
'I think The Masters of Luxor was an obvious story to make on audio,' said David, ' given that it had been released as a script book some years ago. I'd read it back then and always liked it, and after the success of our adaptation of Farewell, Great Macedon it seemed a good choice for a follow-up.'
'The thing about The Masters of Luxor is that there is (obviously) no visual record of the story,' said Nigel on adapting the story, 'and most of the script provides little description of, for instance, the robots, or even Tabon of Luxor. I really enjoyed playing costume designer and casting director and imagining how they might have looked on screen! The basic Mark One robots I saw as the sort of tin soldiers you might see in a 1950s science fiction B-movie. The more sophisticated Derivitron robots I based on the Maria robot in Metropolis, one of my favourite all-time movies and, without doubt, one of the most influential sci-fi movies of all time. I love how Alex Mallinson rendered the Derivitrons on the CD cover – exactly how I had imagined them!'
Doctor Who: The Rosemariners presented another (and this time, more traditional) Second Doctor adventure, written by First Doctor-era script editor Donald Tosh. The adventure takes place within a space lab, where dangerous (and familiar) plant creatures are slowly taking over.
'The idea of having a race of creatures who were "powered" by roses came to me while I was assisting my late wife in creating a rose garden,' remembers Donald. 'The plants and their roots frequently seemed to have a life of their own, no matter what you wanted to do with them and in the ensuing struggle, one got scratched. They were therefore ideal villains and heroes. They were beautiful, but could also respond viciously, they also had a propensity for exotic names.'
The fourth and final series featured three stories originally submitted by Brian Hayles. Doctor Who: The Dark Planet was adapted by Matt Fitton and depicted a literal war between Shadow and Light. Such a visual storyline proved a challenge for Matt, but one he was eager to rise to.
'The sense of ambition they had in those first few seasons is incredible, and I wanted to have a go at keeping that sense in my script,' said Matt. 'David Richardson and script editor John Dorney both said that we were telling a story about very visual creatures, so to make them characters and give them strong voices was important. It helps flesh out the reality of the world.'
The Second Doctor's two remaining Lost Stories both delved into the series' past. Doctor Who: The Queen of Time (adapted by Catherine Harvey) introduced Hecuba (Caroline Faber) the sister of the Celestial Toymaker, while Doctor Who: Lords of the Red Planet (adapted by John Dorney) depicted the origins of Hayles' most famous creations: the Ice Warriors.
The final Lost Story was also the only release to feature the Third Doctor. Doctor Who: The Mega - written by Bill Strutton and adapted by Simon Guerrier - starred Katy Manning and Richard Franklin as Jo Grant and Captain Mike Yates respectively. The story examines themes of the military's place in society, when an alien race declares war on war itself.
'I think it's a very interesting story,' said Richard during recoding. 'It's quite complex, [with] a very interesting anti-war theme and it comes out at the beginning in a discussion between the Doctor and Mike, in which Mike states quite clearly – which is actually the position of the British Army – that we're there to prevent war. We're not an "I want to kill" machine and the question is how you prevent it, and Mike is saying sometimes, unfortunately, you have to use force. And Jo, of course, takes an extreme view of "never use force". So I think there's a very interesting theme that runs through this, and with Cassie (Bo Poraj) as well; I think in some ways they're all aiming for the same objective, to avoid violence and killing.'
After four series and 27 releases, the Doctor Who Lost Stories range finally came to an end in December 2013. But the spirit of the range continued in three series of original stories. Doctor Who: The Early Adventures explore the time of the First and Second Doctors, while the 1970's eras are represented with Doctor Who: The Third Doctor Adventures and Doctor Who: Phillip Hinchcliffe Presents. Many of the Lost Stories contributors continue to work on these new titles; with David producing all three series.
You can order the entire run of Doctor Who Lost Stories this weekend at special offers prices, with complete bundles of the entire series also available. See here for more details.