For The Love Of StoriesBig Finish produce fantastic full-cast audio dramas for CD and download.
Have You Heard...? Sherlock Holmes
21 June 2016
Enter the world of Sir Arthur Conan Doyle's Great Detective with a complete guide to Big Finish's Sherlock Holmes range - now available in a new discounted bundle!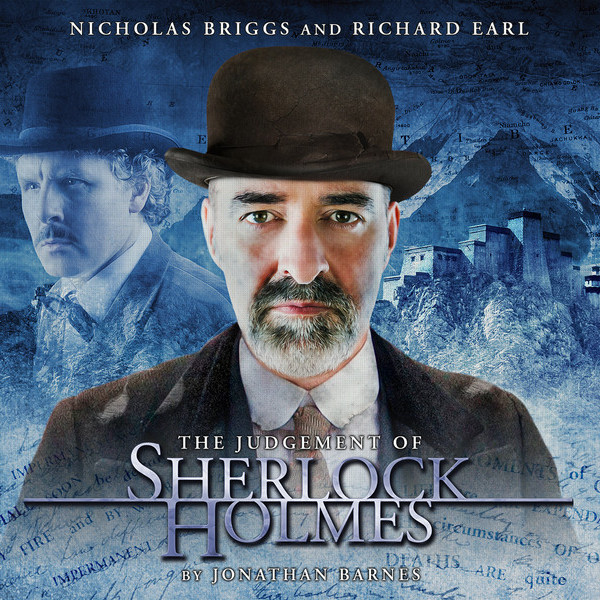 Big Finish has a rich history of delivering new adventures for Britain's best loved characters. From the Doctor and Roj Blake, to Judge Dredd and John Steed, the UK's heroes have been well represented in our audio dramas. So it's only natural we'd eventually turn our attentions to perhaps the most iconic of them all... Sherlock Holmes.
In 2016, Sir Arthur Conan Doyle's legendary detective is once again a household name; but back in 2008, modern demand for the Victorian icon was no sure thing. Luckily, recently appointed Executive Producer of Big Finish Nicholas Briggs – who had portrayed Holmes on stage in July 2008 – had a cunning plan to convince Head of Big Finish Jason Haigh-Ellery to commission a run of stories.
'I always have to convince Jason to put Big Finish money into something,' says Nick, 'so I said there are these really successful one man shows; and then I put on top of that the fact that I'd done Holmes and the Ripper. To him, it was important these successful things already existed and that we could just pick them up. And he said "Yeah, that sounds viable".'
The two shows spearheading Nick's projected series were The Last Act and The Death and Life, both written by David Stuart Davies, and performed on audio by original stage actor Roger Llewellyn. The stage productions of both shows had premiered to great success, with The Last Act receiving five gold stars at its original run in the Edinburgh Fringe in 1999.
'I went along to the one-man show and was completely blown away,' said Nick. 'The only thing that distracted me was that about half an hour in I thought, "This would be brilliant on audio as well, wouldn't it?" I started looking away from the action on stage and thinking how it worked without seeing it. Roger's performance is a very physical performance, but he also had got a very physical voice; every single exertion is also present in his vocals. It's an enormous thing to take on such a work of emotional depth and sustain it for that amount of time, on stage and alone!'
Roger reprised his role for the audio versions of the plays – which both feature a non-linear twist on the traditional Holmes canon. The Last Act is narrated by Holmes at the end of his life, reminiscing over past adventures; while The Death and Life takes a meta-textual view of the series, focusing on Conan Doyle's decision to kill off the character in 1893's The Final Problem and his creation's attempts to escape his fate. The unusual structure of the stories has led Nick to affectionally christen them as 'Sherlock Holmes Unbound'.
Big Finish's version of Sherlock Holmes debuts properly in Sherlock Holmes: Holmes and the Ripper, a full-cast adaptation of the very production the Nick had appeared in on stage.
Written by Brian Clemens – well known for his work on such cult series as The Avengers and The Professionals – the story sees the great detective face his ultimate test as he sets off on the trail of Jack the Ripper. Guest-stars included India Fisher (Doctor Who's Charlotte Pollard), Beth Chalmers (Doctor Who's Raine Creevy) and Richard Earl, making his debut as Dr John Watson; a role he would continue to play throughout the series.
'I think I may well be the only Holmes actor who has ever chosen his Watson,' reminisced Nick. 'I chose Richard because I think he's rather like Watson. I don't really know Richard all that well outside of acting with and directing him. But what I do know of him, I like very much. I think Richard is such a splendid actor. There's something curiously old-fashioned about him. He's just Watson through and through for me; and we sound nothing like each other which was an important consideration, naturally! And he seems to have some sort of respect for me – although when I'm in Holmes mode, I'm curiously immune to other people's opinions – so we have a kind of mutual respect, "We're in this together, come hell or high water" mentality when we go into the studio.'
The plays were released between 2009 and 2010 to great success; with a bonus, multi-voice audiobook reading of Sherlock Holmes: The Speckled Band (read by Briggs, Earl and Jane Goddard) following in May 2010.
The success of the plays led to a near immediate commissioning of a second series, which were ultimately released from October 2011. The new wave of releases drew from both Conan Doyle's tales and some more recent creations. Sherlock Holmes: The Final Problem/The Empty House adapted the classic short-stories which saw the 'death' and eventual return of the detective, while Sherlock Holmes: The Hound of the Baskervilles brought the classic novel to life in all its terrifying glory.
David Stuart Davies' original novel Sherlock Holmes: The Tangled Skein was adapted by Richard Dinnick and saw Holmes take on the one and only Count Dracula, while the range's first original story was told in George Mann's Sherlock Holmes: The Reification of Hans Gerber.
A key part of the production's success has been down to the work of composer Jamie Robertson and sound-designer Martin Montague who together built up a rich and evocative soundscape of 19th Century London.
'We've been very lucky to have Martin Montague onboard for a number of the Holmes releases.' enthused Nick. 'In the first series we were using stock music, and Martin did an amazing job of sculpting it so that it felt like it had been specially composed.
'Jamie is, of course, a master of theme tune composition. I gave him a brief of "violins and a touch of Tim Burton," and he hit exactly the right thing straight away. His incidental music has been, frankly, inspirational for me. He has not only a huge talent for composition, but also an incredible knack for knowing where and when to place music and when to leave things quiet.'
But the range's future was only set in stone with a special, extra release: Sherlock Holmes: The Adventure of the Perfidious Mariner written by Jonathan Barnes, and featuring Holmes entangled in a case connected with the sinking of the Titanic...
'The Perfidious Mariner is the result of my wanting to do something about the Titanic,' recalled Nick, 'since it was the centenary of the sinking. Jonathan cunningly combined the idea with one of my other favourite things, Sherlock Holmes, in order to get the commission. Jonathan came up to me at Big Finish Day and informed me that I'd inspired him to write when he was a mere sixteen years old. I didn't know whether to call security or the police, but then he showed me the highly acclaimed novels he'd since written (The Somnambulist and The Domino Men), and I started to calm down. I invited him to pitch a one-parter for Doctor Who, which I liked, but I wanted an opportunity to work with him earlier, so I contacted him about the Titanic thing, knowing that he was a very well-read writer, interested in history.'
The popularity of Perfidious Mariner with both producers and listeners proved there was an appetite for original cases – and so Jonathan was given the task of creating four brand new stories for the Great Detective. The Ordeals of Sherlock Holmes, a sequel to Perfidious Mariner, was released in December 2013, and presented four investigations across four decades; with one solution binding them all.
'The Ordeals of Sherlock Holmes is – if it's not too grand a statement! – my attempt to tell the ultimate new Sherlock Holmes story. The set contains four one-hour dramas, each about a different period in Holmes' life, which build into a much bigger narrative. I've tried to tell stories that Sir Arthur Conan Doyle might have given us, but with an edge – as if he'd had more time or greater license or some slightly different perspective, perhaps.
'I'm very grateful to Nick and all at Big Finish for letting me loose on so big a project which was, a real labour of love. I'm not sure I ever felt it was too much, though. It is, in many ways, like a novel and I'm very proud of the results – the scripts have been just beautifully brought to life. '
The box-set led to a sequel the following year, with The Judgement of Sherlock Holmes filling in the gap between The Final Problem and The Empty House. The story saw Holmes and Watson battle the same international conspiracy without ever coming into contact with one other.
A third box-set – The Sacrifice of Sherlock Holmes – will be released in August 2016, continuing on from the events of Judgement.
But Big Finish's Holmes has also managed to escape from the bounds of Victorian London. He solved a crime with Dorian Gray (Alexander Vlahos) in The Confessions of Dorian Gray: The Ghosts of Christmas Past, aided his fellow Big Finish heroes against a pan-dimensional threat in The Worlds of Big Finish and boarded the TARDIS with the Doctor, Ace and Bernice Summerfield in Doctor Who: All-Consuming Fire. These extra curricular activities have cemented Sherlock Holmes as one of Big Finish's most elementary heroes; one who will be on the case for years to come.
You can enjoy selected titles from our Sherlock Holmes range at special offer prices until noon Wednesday June 20th. Click here to explore the offers.