We love StoriesBig Finish produce great full-cast audio drama for CD and download, featuring many popular television fantasy series.
Have you heard: Toby Hadoke's Who's Round
14 August 2015
There's a Trailer and Toby picks his favourites of his interview podcasts...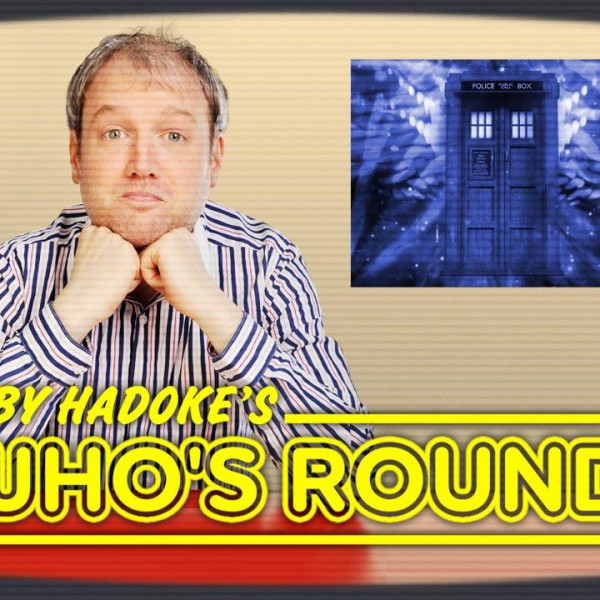 Exclusive to Big Finish - Toby Hadoke's Who's Round!
Since 2013, Doctor Who Uber-Fan and Comedian Toby Hadoke (Moths Ate My Doctor Who Scarf, My Stepson Stole My Sonic Screwdriver) has been on an epic quest - to interview someone from every story from Doctor Who's first 50 years!
Actors, writers, production crew, stunt men and extras - Toby has so far sought them all out, travelling the country and building up one of the most extensive and indepth collections of anecdotes from across the entire history of Doctor Who!
Toby's podcasts are free to download from the Big Finish website - but if you enjoy the chats, the subject of each episode nominates a charity close to their heart that you can donate to: so not only can you enjoy exclusive insights into the worlds of our favourite programme - you can even feel good about it by giving to charity. Even a small contribution helps, and we've heard from a couple of the charities that a real difference is being made.
With 133 podcasts currently available so far, we've asked Toby to select ten of his favourite interviews. Podcasts range from 20 minutes to hour long specials; so plenty for the weekend.
And if you feel like donating - we've also added hyperlinks to the nominated charities websites!
We come right up to date with someone who has been at the helm of some of the most recent episodes and - in a first for Who's Round - we get an anecdote from a couple of stories that... have yet to be transmitted! This open and perceptive gentleman explains why he thinks that Doctor Who is a like a musical, tackles a couple of moral dilemmas, and explains which villain was modelled on Peter Stringfellow!
Saul's nominated charity is The World Wildlife Fund.
A much-hoped-for addition to the Who's Round roster, this fine actor made a milestone utterance during his brief stint in Doctor Who, which was a minor entry onto a CV that has over 300 screen appearances on it. He has been referred to as the "patron saint of the acting profession" and discusses collecting autographs, appearing in the autobiographies of other actors and being 29th choice for a role.
Vernon's nominated charity is Unicef.
In this instalment, Toby finds anecdotes aplenty - some even about Doctor Who... Or should that be Don Juan? Changing names is just one of the many fascinating things that have happened to this genial fellow who only dimly recalls his one episode of Doctor Who. This matters not, because it is one of the most interesting Who's Rounds yet, as James Bond, sword fighting and… er… getting arrested, court martialled and co-opted into the French army are all in a day's work for this extremely interesting fellow.
John's nominated charity is Prostate Cancer UK.
47. BBC Tech Ops Reunion & Nicola Bryant
Several interviews for the price of none as Toby gatecrashes a reunion lunch and gets a number of quick anecdotes from various behind the scenes bods before stopping off at a pub to cover something that probably isn't canon (but what the heck: it's a pub and he had his phone on him) and then stopping off at another pub (nice work if you can get it) to grab a quick story or two off of a genuine Doctor Who companion. Hic!
Nominated charities: Medicins Sans Frontieres and Great Ormond Street.
He was there at the beginning and has plenty to say about key players at the dawn of Doctor Who. No punches are pulled in this entertaining first part of an interview with the man who helmed some of the key serials of the 1960s, so buckle up for tales of fractured fingers, swearing Sydney and squashed studios.
Richard's nominated charity is Children in Need.
Quite a noisy background in this one. Apologies, but it's worth it for a bit of a small screen legend who has very unabashed things to say about his time in front of the cameras in pretty much every important series screened on British television in the 70s and 80s. The anecdotes flow as freely as the wine, and the resulting conversation is definitely convivial.
Brian's nominated charity is The Terrance Higgins Trust.
Part one of a conversation with a woman who worked behind the scenes at the BBC at almost every level. Her three Who stories are just the tip of an iceberg of a woman at the very core of the corporation responsible for entertaining the nation these past many decades. Here she recalls combustible actors, doing the casting when a director goes home for the day, and being tricked by the crew into giving them an extra breakfast.
Marcia's nominated charity is The Alzheimer's Society.
This esteemed gentleman holds a very special place in Doctor Who history. He and Toby discuss cricket, Corrie, and a meeting between two gentlemen dressed all in black...
Edward's nominated charity is Wildfowl and Wetland Trust.
One of the country's busiest actors whose contribution to Doctor Who was small but perfectly formed. This enthusiastic and engaging interviewee discusses the role of entertainment in society, how it could be better, and how he was enthused to take part in the arts as a schoolboy. It's a great one this, from an actor who has been at the forefront of the profession for most of his career.
Anthony's nominated charity is Cancer Research.
The Who's Round with the longest genesis - two versions were recorded over Skype before this one which actually took place face to face. This globe trotting interviewee was for many years untraceable and has never spoken publicly about Doctor Who before - but there's more to her life than Daleks, as this inspiring interview proves over and over again.
Joy's nominated charities are Canadian Breast Cancer Foundation, Breast Cancer Campaign and Cancer Research (Breast Cancer).